Description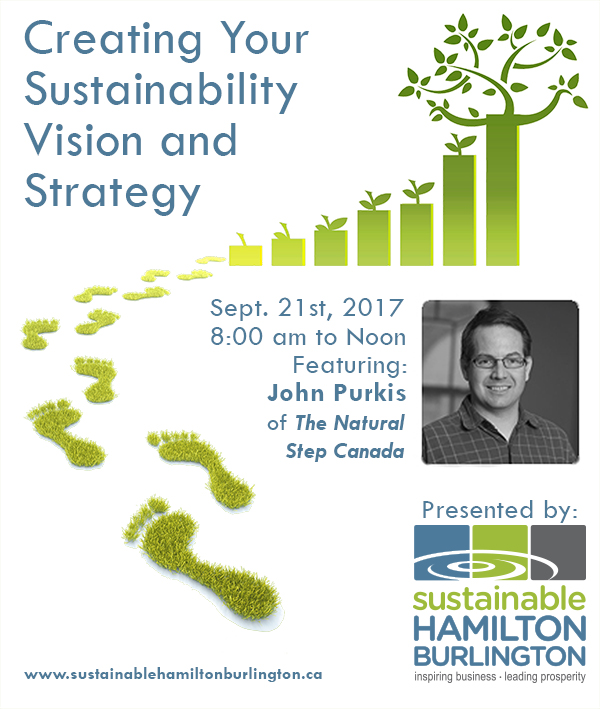 On September 21st, 2017, Join Sustainable Hamilton Burlington and the Natural Step's John Purkis to learn about how to turn those ideals into a vision and how to map a strategy to realize that vision. In "Creating Your Sustainability Vision and Strategy", you will:
Gain a better understanding of sustainability and learn how to evaluate the relative sustainability of every-day product/service/process options
Come away with a framework and practical tools for developing a sustainability vision and plan for your own organization – and understand the importance of a vision and plan
Learn from real world case studies and hear best practices to take action
Have the chance to give input on learning goals before the event through a participant survey
Understand how the sustainability visioning and planning processes fits within Sustainable Hamilton Burlington's Sustainable Business Initiative (SBI)
To maximize the your learning opportunities during the workshop, Mr. Purkis has provided a series of video clips that provide an overview of the key concepts of The Natural Step Framework. The videos were prepared by Sustainability Illustrated and may be found by clicking here. This advance exposure to the concepts will provide an important foundation for workshop participants. With the building blocks of a common language for sustainability, participants will get more out of the program.
In addition, when you register, you will be sent a link to a survey that will help Mr. Purkis shape the learning goals to take participants interest and needs into account - tell us what you need to know so we can try to include it in the presentation!
Speaker Information:
John Purkis is a sustainability expert, facilitator and systems change specialist. He works with municipal governments and other organizations to generate and implement bold visions for a sustainable future. He has delivered numerous presentations and workshops, and he facilitates the transformational change process with organizations both in Canada and around the world. John has worked with clients such as the Ramsay Community Association, the British Virgin Islands, Ste Anne de Bellevue, the Town of Whitby, the Region of Peel, the City of Edmonton, the City of Ottawa, the City of Saskatoon, the City of Halifax, the City of Airdrie, the Town of Lacombe, the Town of Markham, the Abu Dhabi Department of Municipal Affairs, the Halifax Shambhala Centre, and many more. John collaborates with others to develop beneficial tools, resources and reports. Read more at the Natural Step Website.
Agenda:
Registration, Networking, Continental Breakfast (breakfast is included with your registration): 8:00 am.
Workshop 8:20 am – noon.

Room OJN 213
McMaster University Centre for Continuing Education
One James North, 2nd Floor (Adjacent to Jackson Square)
This event will use clean power courtesy of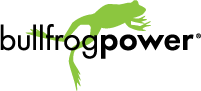 Thank you to our Sponsors: