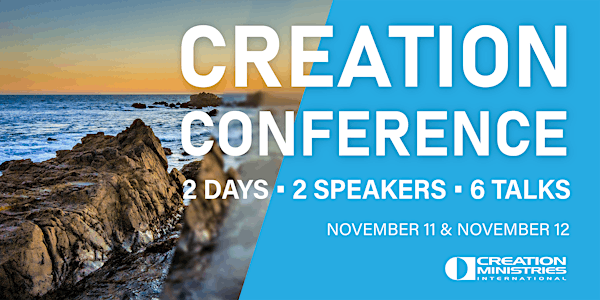 Creation Conference
Join us for two days of creation talks with two of our CMI-Canada speakers!
When and where
Location
Parkdale Baptist Church 514 Sidney Street Belleville, ON K8P 4A2 Canada
About this event
You will be encouraged that you can trust the Bible from the very first verse! Your faith will be enriched, and you will become equipped to defend your faith and witness more effectively.
Schedule (guests are welcome to pick and choose what sessions they would like to attend):
Fri 7:00PM - Origins by the Book
Fri 8:30PM - Noah's Flood: Key to understanding Earth's history
Sat 9:00AM - I am Fearfully and Wonderfully Made
Sat 10:30AM - Dinosaurs and the Bible
A Free lunch will be provided! Thank you for registering to help us know food numbers!
Sat 1:00PM - The heavens are telling of the glory: Cosmological evidence for Creation
Sat 2:30PM - Evangelism Strategies for an Evolutionized World
A freewill offering will be taken to support Creation Ministries International.
Speakers
Jim Mason
Jim Mason has a B.Sc. in Engineering Physics from Queen's University, Kingston, Ontario, Canada and a Ph.D. in experimental Nuclear Physics from McMaster University, Hamilton, Ontario.
After a year on the faculty of the Physics Department at the University of Windsor, Windsor, Ontario, Canada immediately following completion of his Ph.D. studies, he took a job with one of Canada's major defence electronics system integration companies where he worked for 37 years.
Since retiring, he has felt called to use his scientific background to show others that the Bible is believable from first verse to last. Before joining CMI, he gave presentations on the creation-evolution issue to the College and Career groups at two local churches and facilitated a multi-week discussion group on the topic at the church he attends.
Richard Fangrad
Richard is CEO of CMI-Canada, and producer and co-host of the weekly, half-hour TV show Creation Magazine LIVE!.
Richard has been speaking on the creation/evolution issue since 1994. The Canadian CMI office began as a room in his home in late 1998. As a speaker, he is known for his easy-to-understand scientific presentations.
Background: Richard grew up in a Christian home but by high school he had many unanswered questions about creation, Genesis and the accuracy of the Bible that greatly hindered his spiritual growth. This began to change in 1994 after hearing Dr Carl Wieland (from CMI-Australia), subscribing to Creation magazine, and reading other resources on apologetics.
Richard's education and professional training is in electronics and he had the privilege of working on some of the most technologically advanced electronics for more than a decade before joining CMI.
Past hobbies included skydiving (8 times) and hang gliding (nearly 300 flights!).
Richard is married and lives in Kitchener, Ontario with his wife and 5 children.
Creation Ministries International is coming to Parkdale Baptist Church!
Video About Creation Ministries International