Creative Cards and Crafts with Brenda Wilson at Hunt Club-Riverside CC
Persons with dementia and their caregivers are invited to join Creative Cards and Crafts IN-PERSON!
About this event
Join our Creative Cards and Crafts in-person session where our instructor, Brenda Wilson, will teach people living with dementia and their caregivers how to create stunning cards.
For this session, Brenda will be embracing the snow with these bright holiday cards!
And this program is free!
This program is a partnership between Creative Treats and the Dementia Society of Ottawa & Renfrew County
Tuesday December 7th
Time: 1:30pm to 2:30pm
Participation Cost: Free!
Sessions will be IN-PERSON!
Venue: Hunt Club-Riverside CC
3320 Paul Anka Drive, Ottawa, ON K1V 0J9
A reminder email will be sent out before the event with all instructions, and meeting location.
Please connect with the Program Assistant, Zoe, if you have any questions or trouble registering at zkirschner@dsorc.org or 613-523-4004 ext. 3240.
-------Ottawa Public Health COVID-19 measures------
The Dementia Society following Ontario's Government Health policies will require Vaccination certificates to all participants attending indoor events.
*****Inclement Weather Policy*****
Please note: Inclement weather (heavy snow, freezing rain, tornado, excessive heat, etc) conditions may force the cancellations of our programs for safety reasons. At such times, we will contact known participants by e-mail to inform of the cancellation, with a request to respond. We will also update on our social media channels of any program cancellations. When programs are cancelled every effort will be made to provide participants with a makeup session, a credit, or where appropriate, a refund.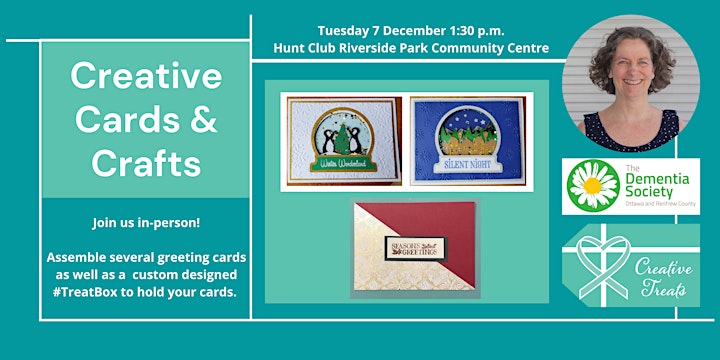 Organizer of Creative Cards and Crafts with Brenda Wilson at Hunt Club-Riverside CC