Creative Collisions - AI, Quantum Computing, IoT & the future of Healthcare
Join us for FREE this time thanks to the support of our partners such as Johnson & Johnson, Servier, AstraZeneca, and Desjardins Innovation
About this event
*** We just passed the 550 registrations *** Proud to have a ratio of almost 1/3 startups 1/3 enterprises and SMBs and 1/3 students and researchers joining to foster open innovation! ***
Artificial intelligence, Quantum computing, Internet of Things, and 5G are drastically changing whole industries, and even more so in healthcare and life-sciences. What is the impact of data science, wearables, robotics, AI, on personalized or precision medicine, drug discovery and cancer research? How could startups, industry players and researchers collaborate to advance innovation and entrepreneurship in these fields? Join us for FREE this time thanks to the support of our amazing partner organizations such as Johnson & Johnson's JLabs, Servier, AstraZeneca, and Desjardins Open Innovation.
Creative Collisions is where startups, researchers, companies, students and professionals meet to foster innovation opportunities:
Companies join to present collaboration opportunities;
startups come to show their tech solutions;
and researchers come to expose their applied research projects.
Students and professionals are invited to network, learn, share and hopefully be inspired by some groundbreaking innovative projects to potentially join.
Whether you're a veteran in the field or interested in innovation, a researcher, current or aspiring entrepreneur, you are welcome to this unique gathering.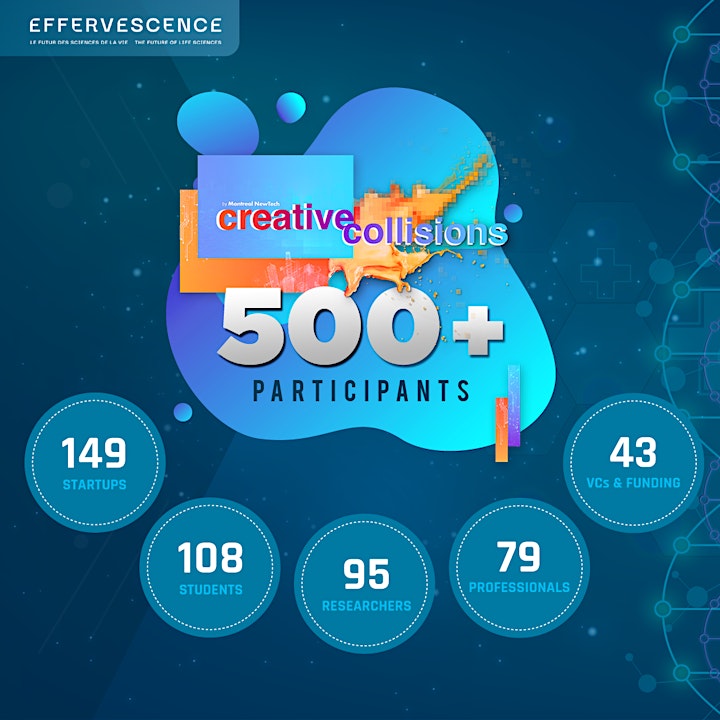 Featured topics:
How can Quantum computing transform drug discovery? - Presented by JLabs
How can machine learning and data science improve patient selection, prediction of treatment response to personalized medicine? - Presented by Servier
How can wearables, sensors, and digital biomarkers improve patients' treatment outcomes? - Presented by AstraZeneca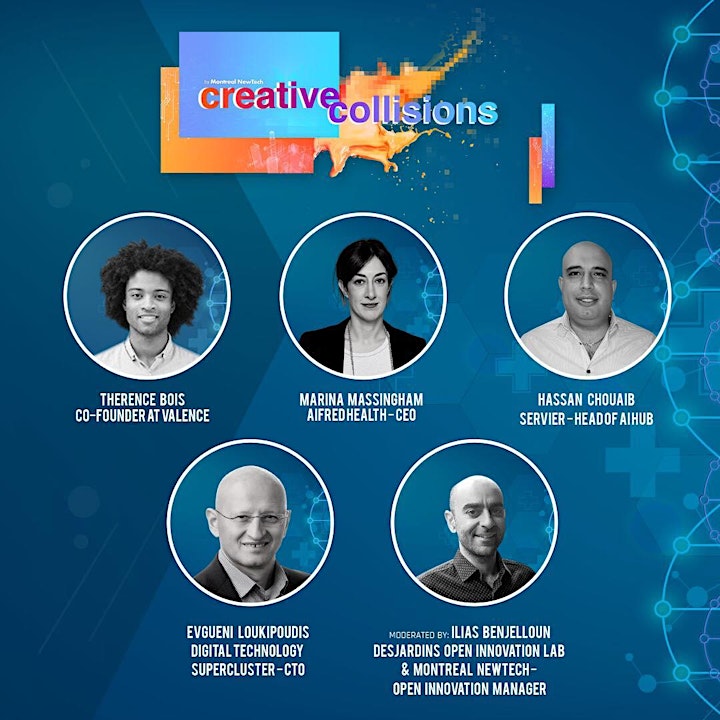 This "Creative Collisions" edition is a co-organized conference and work-tables with MTLInvivo, District 3, Centech and Desjardins Open Innovation Lab (Coopérathon, Foundry, Startup in Residence)
"Creative Collisions" builds upon 12 years of experience with more than 150+ startups innovation demo nights of Montreal Newtech since 2008 and is part of its STARTUPME Open Innovation program supported by the Ministère de l'Économie et de l'Innovation. Grateful for their support to help us continue having a positive impact on our tech and startup innovation ecosystem.