Description
CREATIVE CONVERSATIONS : From Idea to Impact
Join with your creative event planning peers as we discuss how to move a good idea through the creative process so it can truly make a big impact in the world.
You'll enjoy this evening if you are crazy about pushing the limits on your creativity and want to make a living doing what you love best. Topics will vary every session - as will our special guests - so don't miss this injection of creative ideas, practical support, and time with other creative event professionals.
Here are some fellow creatives you'll meet at this energizing meetup: Event Planners, Event Producers, Decor Specialists, Graphic Designers, Marketing Professionals, Writers, Artists, Social Media Experts, Floral Artists, Sketch Artists, Photographers, Videographers, Entertainers, Speakers, Musicians, Product Sylists, Communications Pros, and others.
We are looking forward to be hosted by Paula Timm, Artist in her studio at the beautiful CSpace! Paula will share with us how she keeps moving forward - creating art and opportunities for Calgary's creative community!

Join us for an evening of discussion and networking:
6:30 - Registration + Mingle
7:00 - Welcome + Introduction
7:15 - Presentation + Interaction
7:30 - Creative Conversation
8:30 - Q & A + Candy Give-away
9:00 - Wrap Up + Thank Yous
*Personal Creative Consultations will be booked at a time most convienient for you.
*A big thank you to Paula Timm for opening her studio to the Candy Community - see the beautiful space below and more photos on her website at www.PaulaTimm.com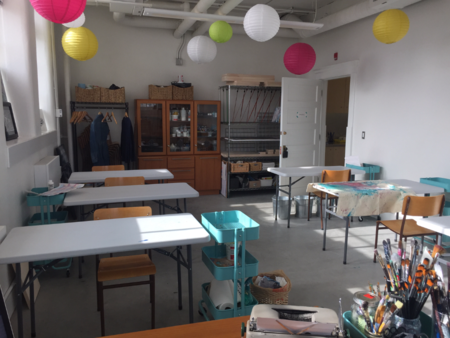 Creative Conversations : From Idea to Impact is Presented by:

Candy Academy of Event Management + Promotions
www.CandyAcademy.ca
Candy Event Consulting : Making Your Team Stronger
www.CandyConsulting.ca
Moments Magazine - Event Planning Ideas + Inspiration
www.MomentsMagazine.ca
ABOUT PAULA TIMM : www.PaulaTimm.com
Believing that it wasn't possible to be an artist, Paula didn't originally pursue an education or career in art. Instead she sought work in a variety of quasi creative jobs – graphic design, promoter, project manager, teacher's aid, and purchaser, just to name a few. When Paula was diagnosed with autoimmune disease at age 25, she began to immerse herself in the healing power of creativity and art throughout numerous required medical leaves. But the ultimate wake up call for Paula was when she awoke in the ICU after near-fatal complications during surgery. In that moment she realized her creative passion could no longer take a back seat to the perception of job security. It was then that Paula dedicated herself to living an authentic, creative and joyful life. Today Paula has a thriving art practice that blends her love of teaching, writing, and creating fine art. In addition to her own fine art practice, Paula partners with Calgary artists and non-profit organizations to foster community engagement initiatives that promote and encourage the healing relationship between wellness and creativity. Her hope is to inspire others to consider their own personal journey and its important connection to self-expression.