Description
Creative Neighbours Salon: Andree Karas, Artistic Director
7-8pm Salon Presenter: Andree Karas
United Players Artistic Director, Andrée Karas, has been the driving force behind the "little theatre that could" for the past thirty-plus years and the development of the Jericho Arts Centre. There, she has created an environment for actors, directors, designers, artists and backstage volunteers to learn, develop and practise their craft.
Andrée has been a part of live theatre in the lower mainland as producer, director and actress for over 30 years. In her 17 years as Artistic Director of United Players, she has become known for her artistic abilities, her courage, tenacity and integrity. She is highly respected in the Arts community and has given United Players the reputation of a unique amateur theatre company offering high-standard live theatre of critically acclaimed playwrights. Her philosophy of inclusion and encouragement has proved invaluable to the careers of many aspiring artists. Andrée received the Mary Phillips Award for Behind the Scenes Achievement at the 2012 Jessie Awards. http://www.unitedplayers.com/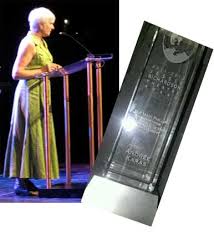 Date: Sunday, March 25th, 2018
Place: David Eby MLA's Community Office, 2909 West Broadway, Vancouver, V6K 2G6
Time: 6-7 pm Potluck finger food; 7-8 pm Presentation:; 8-9 pm Socialize and network
Bring: Dessert or finger food for sharing. There will be a networking table for flyers and cards about upcoming performances and exhibitions.
We provide reusable cups, napkins and plates.
You can follow Creative Neighbours Salon on:
www.facebook.com/creativeneighbourssalon
Twitter @KitsilanoSalon
Instagram @Creativekitsilano
Questions? Contact creativeneighbourssalon@gmail.com
RSVP: http://creative-neighbours.eventbrite.ca
And see details of this and other upcoming salons at creativeneighbourssalon.wordpress.com
Thanks for a Neighbourhood Small Grant to: