Creative Neighbours Salon, May 2018: Barbara Hannah aka Txi Whizz, Stage Cl...
Description
Creative Neighbours Salon: Txi Whizz, Stage Clown
7-8pm Salon Presenter: Txi Whizz
Txi Whizz is an old new immigrant, who arrived in Canada in 1981 and has been living in a housing co-op in Kitsilano ever since. Her training is in the tradition of the European stage clown, a profession that has sustained her and her family for more than 45 years. Txi toured the Americas and Europe performing in theatres, at festivals, in schools and in the street. As the companion of a new puppy, Txi does not expect that things are going to quiet down any time soon. She will share stories from her colorful life and invite you to participate in some easy, fun group interactions.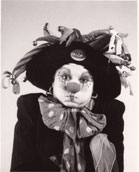 Date: Sunday, May 27th 2018
Place: David Eby MLA's Community Office, 2909 West Broadway, Vancouver, V6K 2G6
Time: 6-7 pm Potluck finger food; 7-8 pm Presentation; 8-9 pm Socialize and network.
Bring: Dessert or finger food for sharing. There will be a networking table for flyers and cards about upcoming performances and exhibitions.
We provide reusable cups, napkins and plates.
You can follow Creative Neighbours Salon on:
www.facebook.com/creativeneighbourssalon
Twitter @KitsilanoSalon
Instagram @Creativekitsilano
Questions? Contact creativeneighbourssalon@gmail.com
RSVP: http://creative-neighbours.eventbrite.ca
And see details of this and other upcoming salons at creativeneighbourssalon.wordpress.com
Thanks for a Neighbourhood Small Grant to: