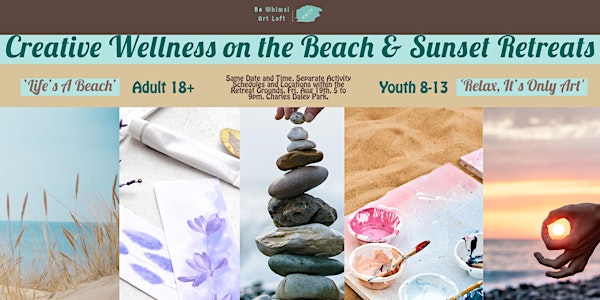 Creative Wellness Beach Retreat - Therapeutic & Fun Arts and Self-Care
A Relaxing and Creative Arts Retreat for those seeking calming self-care experience led by qualified Facilitators, Early Evening to Dusk.
When and where
Location
Charles Daley Park 1969 North Service Road Lincoln, ON L0R 1S0 Canada
Refund Policy
Contact the organizer to request a refund.
Eventbrite's fee is nonrefundable.
About this event
Be Whimsi Creative Activities and Wellness Retreats is delighted to offer two low-cost and accessible Beach Retreats for Adults and Youth.
Leave feeling relaxed and refreshed with the art pieces and memories from participating in this experience! Two separate retreats take place on the same grounds in different activity locations. Come alone, send your child, or even arrive and depart together.
There is also a 'Just Yoga' option for those wanting to dip their toes in the retreat experience.
There is also an 'Arrive late' option for those unable to make it right at 5 pm.
************Schedules of Activities*******
For YOUTH:
'Relax It's Only Art' is a carefully curated mini-retreat for youth. Featuring a no-pressure, no-judgement 'Expressive Arts Bar' containing three make-and-take crafting activities, including a slime bar and an abstract Plein air beach painting. Also featured is a Self-care and Grounding workshop and Yoga at Dusk overlooking the lake.
Bring Your Snack and a refillable container; we provide water and juice boxes
5:00 - Welcome
-Icebreaker Game
-Wellness Session: Law of Attraction and Grounding
-Snack
-Art Bar Featuring 3 make-and-take craft stations (Slime Bar, Plein Air Painting, and a Craft)
-8 pm - Hatha Yoga at dusk overlooking the lake: a 45-minute Gentle yoga class for everyone and 'every body.' Bring your mat/blanket and enjoy the fabulous sunset over Lake Ontario. Bring a drum if you have one.
-Farewell Draw
*************************
ADULTS:
'Life Is A Beach' is a carefully curated mini-retreat full of Therapeutic Art Activities, Introspective Workshops, and a Group Yoga session overlooking the beach. We are also close to a forested trail and a grassy lawn. Meet in a beautiful beachfront pavilion and enjoy creating, socializing, and sharing with like-minded individuals.
A Tea and Coffee Station is included with light refreshments is included. Bring a refillable bottle.
-5:00 - Welcome and Introductions
-Yoga Nidra: a meditative-like practice that promotes rest of the body and mind. It is an inward journey to the space between sleep and awake, a space to plant your seeds of intention and connect with yourSelf.
-Intuitive Neurographic Art Making: A co-facilitated, no judgement-guided studio immersion activity all about expressing the inner self: neurographic art transforms your inner thoughts into art resembling brain synapses and neurons while strengthening new positive pathways. Followed by an Art Reading and Artist Talk.
-Free Time to Explore OR Beach Combing Windchime Crafting: A self-guided leisurely treasure-hunt & craft incorporating suncatchers and driftwood. Construct yours onsite or take home your kit for another day.
-Align Your Mind: a 30-minute group coaching session about simple and tangible ways of connecting with yourself every single day to enhance your mood, reduce your reactivity and experience more peace with a song sung by the Facilitator to close the session.
-8 pm - Hatha Yoga at dusk overlooking the lake: a 45-minute Gentle yoga class for everyone and 'every body.' Bring your mat/blanket and enjoy the fabulous sunset over Lake Ontario. Bring a drum if you have one.
-Farewell Draw
****************
How Social Arts Increase Positive Wellbeing: With others or when self-guided, painting and crafting allows one to focus on the moment and provide an opportunity to enjoy the present. It will enable the everyday stresses to subside and, in the end, there is something unique to look at or share with others. Sharing our art with others provides a sense of belonging and builds confidence. https://bewhimsiartloft.ca/2021/08/25/creative-wellness-activities-vs-art-therapy-a-brief-explanation-of-the-differences/
Disclaimer: Be Whimsi coordinators and facilitators are not therapists, doctors, nutritionists, nurses, or lawyers. Any coaching or creative activities are not considered advice from one of the professionals mentioned above. We have experienced art instructors, community service workers, artists, wellness support workers, and professional helpers. Therefore, some may have certificates or credentials or may pursue certifications in the social sciences. If accredited, their accreditation will appear following their name or workshop.