Description
CreativeMornings/Ottawa *BOOK TOUR*
Tuesday, November 12th from 5:00 PM to 6:45 PM + light refreshments.
For the latest updates follow our Twitter account @Ottawa_CM
#creativemornings #ottawa_cm #empathy @realizempathy
---
Stop the press! CreativeMornings Ottawa is lucky enough to be a stop on a book tour this month! Check out the details below!
Currently, there is much buzz in the U.S. surrounding the word empathy. Unfortunately, there is also much confusion. Many reduce it to being emotionally affected by, feeling sorry for, or be- having nicely toward others, while also conclud- ing that it is absolutely incompatible with reason and logic. This is no surprise—psychologist Daniel Batson has identified 8 significantly different ways people use the word empathy.
What if realizing empathy was the driver/enabler for the creative process? for innovation? How would that affect the way you think about creativity? About educating students to be more creative? About managing organizations to promote innovation? About developing technology to foster creativity? Above all, about what it means to be human?
---
SPEAKER BIO
Seung Chan Lim (Slim) believes that realizing empathy is the source of both our creativity & dignity, that it is what it means 'to make,' that it is our human right. Through his work, he aims to help realize the potential we all have to collaborate, to innovate, and to love and learn as human beings.
He is a computer scientist & manager by training, designer, researcher, and engineer by trade, performer & speaker by birth. He is the author of Realizing Empathy: An Inquiry into the Meaning of Making, in which he draws a parallel between the creative process of "making" with that of having an empathic conversation with another person.

After nearly a decade-long career in the domain of human-centered design consulting and pervasive computing systems research at MAYA Design, he spent 4 years exploring the disciplines of craft as well as the visual and performing arts at Rhode Island School of Design and Brown University, during which he developed a way of approaching the design process as a multi-dimensional empathic conversation.
Prior to embarking on this project, Seung Chan split his time between conducting basic research into the future of human-computer interaction and consulting for clients to design innovative products and services through human-centered design. His clients included companies such as ADT, American Eagle, Career Builder, Dun & Bradstreet, Eaton Cutler Hammer, General Dynamics, GE Energy, Merrill Lynch, Siemens, and Whirlpool. They represented a diverse array of industries such as consumer electronics / appliances, government, industrial automation, financial services, and retail.

Products he helped design have won a number of awards including the AIGA 365, CES Innovation award, EC&M Product of the Year, and Infoworld Top 100 IT Project of the Year.

He holds an M.F.A. from the Rhode Island School of Design, an M.B.A. from Point Park University, and a B.S. from Carnegie Mellon University in Computer Science.
Website: realizingempathy.com
Facebook: fb.com/realizempathy
Twitter: @realizempathy
Blog: blog.realizingempathy.com
---
HOST SPONSOR
For this one off special event we're back in the friendly confines where it all began... HUB Ottawa!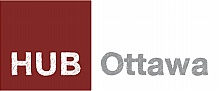 Individuals and organizations join HUB Ottawa because of the inspiring work environment, diverse community, and the focus on collaboration, peer learning, and member engagement. As a part of the Global HUB Network, HUB Ottawa members have immediate access to a vibrant global community and a brain trust of over 7000 individuals leading social innovation around the world.
HUB Ottawa believes the future of learning, knowledge creation, and innovation is through collaboration. We are the only space in Ottawa that connects talent, knowledge, ideas, best practices and opportunities across 200+ members in sectors and industries that are making positive change. Members are social entrepreneurs, professionals, artists, designers, freelancers, corporate intrapreneurs, public servants, nonprofits, technologists, and more.
Check them out on the world wide web here, and on the twitter here
---
SUPPORTING PARTNERS
This event has been generously sponsored by the one, the only Magpie Jewellery. Magpie has been our (and Ottawa's emerging creative scene's) biggest supporter since day 1 and we definitely wouldn't be here without all of their incredible generosity and commitment to building Ottawa's creative community together.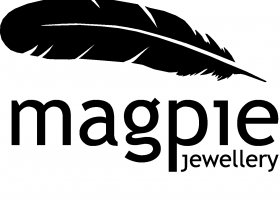 An Ottawa institution, Magpie Jewellery takes pride and care in selecting only the finest jewellery from designers across Canada and the world and in bringing them together in unique displays that entice and inspire.
With 3 locations Rideau, Glebe and the home of our fantastic support local collaboration "Arts Nest" at the new Westboro location, Magpie Jewellery is the first stop for designer and alternative bridal jewellery in Ottawa.
Magpie Jewellery's support of CreativeMornings is just one of the ways in which they help foster a culture for creativity and art in Ottawa, we are thrilled to have Magpie Jewellery in the CreativeMornings community!
---

ABOUT CREATIVEMORNINGS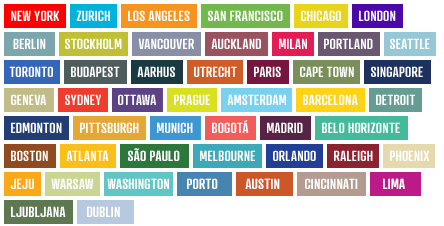 CreativeMornings is a monthly morning gathering for creative types. Each event includes a 20 minute lecture, followed by a 20 minute group discussion. The gathering begins at 8:30am with the topic presentation starting at 9:00am and everyone taking off for work at 10am. CreativeMornings are free of charge!
For the latest updates follow our Twitter account @Ottawa_CM
#creativemornings #ottawa_cm
Organizer of CreativeMornings//Ottawa *BOOK TOUR EDITION* w/ Seung "Slim" Chan
CreativeMornings is a monthly breakfast lecture series for the creative community with chapters in nearly 200 cities around the world. Each month we host an event that is always on a Friday, always in the morning, and always free. 
Since 2012 the CreativeMornings Ottawa team has been hosting these monthly gatherings with some of Ottawa's top creative minds creating a fresh sense of optimism and collaboration among local citizens and businesses.
The series has been a huge success welcoming speakers from such varied occupations as psychologists, architects, artisanal sign painters and brew masters. CreativeMornings has given the Ottawa arts community a brand new platform with which to showcase people doing creative and inspiring things, as well as a consistent and energetic opportunity to cross-pollinate and build the city's creative community.