CreativeMornings/Vancouver with Ian Ruhter

Friday, April 5, 2013 from 8:30 AM to 10:00 AM (PDT)
Event Details
IMPORTANT INFO: 
Tickets will not be available until Monday April 1st.
When tickets become available please click the "Add to waitlist" link to be entered into a "lottery" from which registrant names will be drawn and informed via email.
If you cannot use your ticket, please inform us ASAP so we can allocate the ticket to individuals on waitlist.
Remaining applicants will remain on the waitlist and informed if a ticket becomes available. Anyone who hasn't checked in by 8:45am on morning of the event forfeits their tickets.
SPEAKER: Ian Ruhter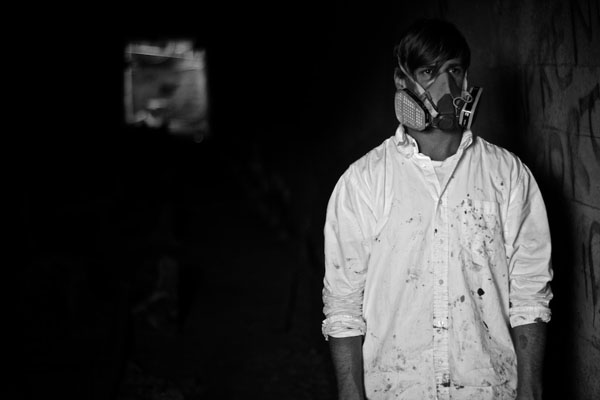 Ruhter really is both photographer and alchemist. When for him the craft of photography evolved into something less personal and true, even vapid and uninspiring, he sought a new way to approach his craft, and he found his future in the past. By using a very old approach to photography, he is now exploring stories, people and places though the lens of the world's largest portable camera and records life using a wet plate process from the 1850's. His project Silver and Light is a risky exploration of inspiration, passion and creative process, and his videos have become an Internet sensation.The project tells many stories both in print (metal plates) and the videos that offer compelling insight into peoples' lives, fears and success. Ian will share how how, by losing his way and journeying back to the mid-nineteenth century where one paints with silver and light, and how this revelation in which he embraced the past while utilizing the technological advances of the future, allowed him to find the component—and creative fulfillment—he was searching for.
SUSTAINING SUPPORT PARTNERS

This month's event will be hosted by the generous folks over at Dodson House and co-presented by the BC Chapter of the Society of Graphic Designers of Canada. Thanks also to our media partner VancouverIsAwesome.com and technology partner Matrix Video. Please visit them online to learn more.
PRESENTING SUPPORT PARTNER
Breakfast will be generously provided by this month's support partner Pencilneck Software.

HOW YOU CAN SUPPORT CREATIVE MORNINGS 
Click here or press the "Donate" button below to make a donation via PayPal, helping us continue to produce these important creative community events in Vancouver.
About CreativeMornings
CreativeMornings is a monthly breakfast lecture series for creative types started in New York by Tina Roth Eiesenberg (Swiss-Miss.com). Each event is free of charge, and includes a 20 minute talk, followed by a group discussion and Q&A. The gathering begins at 8:30am with the topic presentation starting at 9:00am and everyone taking off for work by 10am.

CreativeMornings now has chapters in approximately 40 cities around the world, including New York, Chicago, London, Zurich, LA, San Francisco, Berlin, Auckland, Milan, Paris, and Vancouver among others. The Vancouver chapter of CreativeMornings is run by Mark Busse (MarkBusse.ca) and his dedicated team of volunteers.

For the latest info on upcoming CreativeMornings, head over to creativemornings.com 
or follow us on Twitter!

CONNECT
EMAIL vancouver@creativemornings.com
VIMEO vimeo.com/creativemorningsvan
TUMBLER creativemorningsvancouver.tumblr.com
FACEBOOK www.facebook.com/CreativeMorningsVancouver
TWITTER twitter.com/#!/vancouver_cm
FLICKR flickr.com/photos/creativemorningsvancouver
SUBSCRIBE newsletter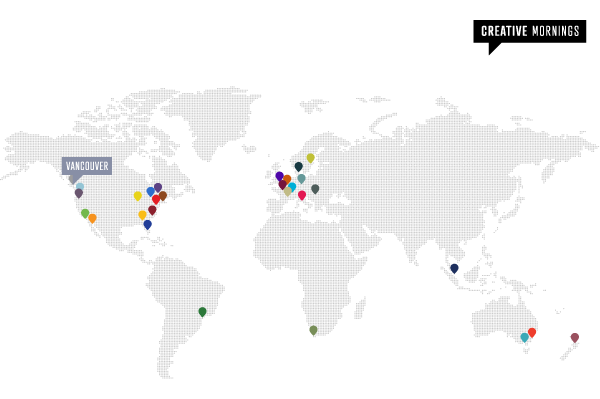 When & Where
25 East Hastings Street
Vancouver, V6A 1M9
Canada

Friday, April 5, 2013 from 8:30 AM to 10:00 AM (PDT)
Add to my calendar