CreativeMornings/Vancouver with Ilana Labow & Marc Schutzbank

Friday, June 7, 2013 from 8:30 AM to 10:00 AM (PDT)
Event Details
IMPORTANT INFO: 
Tickets will not be available until Monday June 3rd @ 11:00am.
When tickets become available please click the "Add to waitlist" link to be entered into a "lottery" from which registered names will be drawn and informed via email.
If you cannot use your ticket, please inform us ASAP so we can allocate the ticket to individuals on our waitlist.
Remaining applicants will remain on the waitlist and informed if a ticket becomes available. Anyone who hasn't checked in by 8:45am on morning of the event forfeits their tickets.
SPEAKER: Ilana Labow & Marc Schutzbank
In June the global theme is "FOOD" and we're excited to have Ilana Labow and Marc Schutzbank joining us.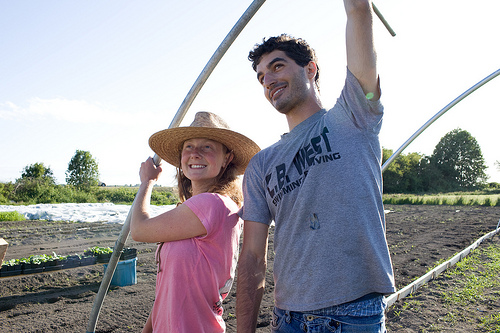 Ilana Labow
Ilana is Director of Fresh Roots Urban Farm Society, creating community-engaged learning opportunities through urban agriculture. Fresh Roots grows resilient, engaging, education-based neighourhood farms accessible to Vancouver's diverse communities. Ilana received urban farm and community development training and subsequently worked with the internationally renowned urban agriculture organization Growing Power (Milwaukee & Chicago, USA: www.growingpower.org), and studied sustainable agriculture and conflict-resolution at the multi-national peace institute Arava Institute for Environmental Studies, in Israel (www.arava.org). Ilana currently sits on the steering committees of Farm to School BC, Sustainabile Opportuntieis for Youth Leadership (SOYL), is a member of the Vancouver Food Policy Council, and was recently nominated as one of the Vancourver Parks Board's Remarkable Women in food of 2013. Along with all this, Ilana loves drinking coffee on her stoop in the sunshine.
Marc Schutzbank
Marc Schutzbank is co-director of Fresh Roots Urban Farm Society, where he is integrating production and local food markets into neighbourhoods.  Marc is a recent graduate of the MSc. Integrated Studies in Land and Food Systems program at the University of British Columbia, where he investigated the economic viability of urban farming - exploring how urban farmers are developing their businesses here in Vancouver. Marc is originally from the United States graduating from the University of Pittsburgh, where he graduated from the College of Arts and Sciences and the College of Business administration.  When Marc is not on the farm, you can find him on the beach or in the forest. 
SUSTAINING SUPPORT PARTNERS

We gratefully acknowledge the financial support of the Province of British Columbia and BC Chapter of the Society of Graphic Designers of Canada, without whom these events couldn't be possible. Thanks also to our media partner VancouverIsAwesome.com, technology partner Fusion Cine, coffee provider Ethical Bean Coffee, and host venue Dodson Conference Centre for their support. Please visit them online to learn more.
PRESENTING SUPPORT PARTNER
Breakfast will be generously provided by this month's support partner Vancity.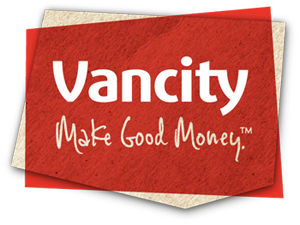 HOW YOU CAN SUPPORT CREATIVE MORNINGS 
Click here or press the "Donate" button below to make a donation via PayPal, helping us continue to produce these important creative community events in Vancouver.
About CreativeMornings
CreativeMornings is a monthly breakfast lecture series for creative types started in New York by Tina Roth Eiesenberg (Swiss-Miss.com). Each event is free of charge, and includes a 20 minute talk, followed by a group discussion and Q&A. The gathering begins at 8:30am with the topic presentation starting at 9:00am and everyone taking off for work by 10am.

CreativeMornings now has chapters in nearly 50 cities around the world, including New York, Chicago, London, Zurich, LA, San Francisco, Berlin, Auckland, Milan, Paris, and Vancouver among others. The Vancouver chapter of CreativeMornings is run by Mark Busse (MarkBusse.ca) and his dedicated team of volunteers.

For the latest info on upcoming CreativeMornings, head over to creativemornings.com 
or follow us on Twitter!

CONNECT
EMAIL vancouver@creativemornings.com
VIMEO vimeo.com/creativemorningsvan
TUMBLER creativemorningsvancouver.tumblr.com
FACEBOOK www.facebook.com/CreativeMorningsVancouver
TWITTER twitter.com/#!/vancouver_cm
FLICKR flickr.com/photos/creativemorningsvancouver
SUBSCRIBE newsletter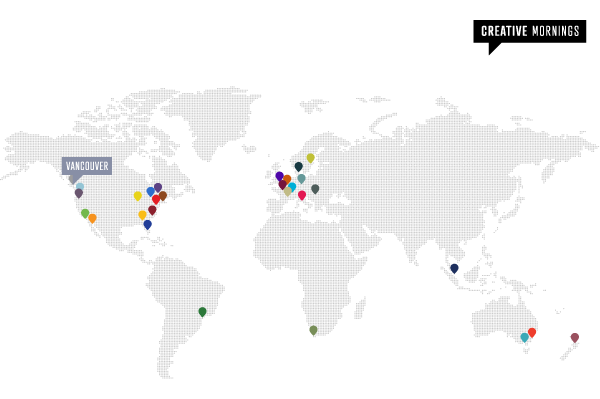 When & Where

Dodson House
25 East Hastings Street
Vancouver, V6A 1M9
Canada

Friday, June 7, 2013 from 8:30 AM to 10:00 AM (PDT)
Add to my calendar
Organizer
Creative Mornings is a breakfast lecture series for the creative community. Our free, monthly events feature a short talk and breakfast!