CreativeMornings/Vancouver with Joseph Wu

Friday, January 4, 2013 from 8:30 AM to 10:00 AM (PST)
Event Details
IMPORTANT INFO: 
For tickets please click "Add to waitlist" to be entered into "lottery" from which registrant names will be drawn and informed via email by end of day Tuesday, Jan 1st. 
If you cannot use your ticket, please inform us ASAP so we can allocate ticket to individuals on waitlist.
Remaining applicants will remain on waitlist and informed by end of day Thursday, Jan 3rd if ticket available and anyone who hasn't checked in by 8:45am on morning of the event forfeit their tickets.
SPEAKER: Joseph Wu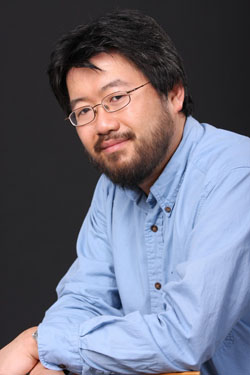 Like many people, Joseph Wu encountered origami as a child, folding paper since the age of three. Unlike most people, he continued practising his craft, and began creating original designs at the age of eleven. Joseph continues to be an active participant in the international origami community. He has been invited to attend conferences, teach classes, give lectures, and exhibit works in many parts of the world. In May, he was invited as the special guest at both the German and French origami conventions. He also co-administers the email discussion group on origami, facilitating communication between enthusiasts from over 35 countries.
Joseph's work has been shown internationally at both conventions and at gallery shows. Photos of his work have graced the pages of many publications, including Rolling Stone, O Magazine, and the New York Times. His clients have included Stolichnaya Vodka, Intel and Air Canada, and he has produced on-set art for such TV shows and movies as Fringe and Underworld 4.
In 2009, Joseph designed, built and installed a 180-foot long origami light sculpture that is the centrepiece of Oru, the restaurant at the Fairmont Pacific Rim hotel in downtown Vancouver. He also contributed origami lights to the Vancouver pavilion at the 2010 Olympic Games. At the end of November, 2011, Jelly Swarm, a collaborative project between Joseph and Tangible Interaction, featuring almost 100 computer lighted jellyfish was installed for view at the Vancouver Aquarium.
JANUARY = HAPPINESS
We're excited to announce that CreativeMornings will be hosting unified themes across our 40+ chapters starting in 2013.
This month, over 5,000 attendees will meet up at CreativeMornings events on six continents for speakers that relate to our January theme, "Happiness" brought to you by MailChimp.
Through these themes, we hope to stir up a global conversation among our fantastic, local creative communities. Themes for future months will be announced later on in the new year.
SUSTAINING SUPPORT PARTNERS

This month's event will be hosted by the generous folks over at W2 Community Media Arts and co-presented by the BC Chapter of the Society of Graphic Designers of Canada. Thanks also to our media partner VancouverIsAwesome.com and technology partner Matrix Video. Please visit them online to learn more.
PRESENTING SUPPORT PARTNER
Breakfast will be generously provided by this month's support partner POWERSHiFTER, a Vancouver-based creative digital agency who believe in the power of creativity and community-building.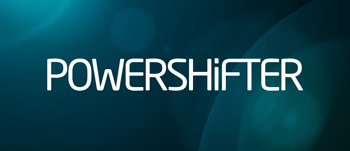 HOW YOU CAN SUPPORT CREATIVE MORNINGS 
Click here or press the "Donate" button below to make a donation via PayPal, helping us continue to produce these important creative community events in Vancouver.
About CreativeMornings
CreativeMornings is a monthly breakfast lecture series for creative types started in New York by Tina Roth Eiesenberg (Swiss-Miss.com). Each event is free of charge, and includes a 20 minute talk, followed by a group discussion and Q&A. The gathering begins at 8:30am with the topic presentation starting at 9:00am and everyone taking off for work by 10am.

CreativeMornings now has chapters in approximately 40 cities around the world, including New York, Chicago, London, Zurich, LA, San Francisco, Berlin, Auckland, Milan, Paris, and Vancouver among others. The Vancouver chapter of CreativeMornings is run by Mark Busse (MarkBusse.ca) and his dedicated team of volunteers.

For the latest info on upcoming CreativeMornings, head over to creativemornings.com 
or follow us on Twitter!

CONNECT
EMAIL vancouver@creativemornings.com
VIMEO vimeo.com/creativemorningsvan
TUMBLER creativemorningsvancouver.tumblr.com
FACEBOOK www.facebook.com/CreativeMorningsVancouver
TWITTER twitter.com/#!/vancouver_cm
FLICKR flickr.com/photos/creativemorningsvancouver
subscribe to our newsletter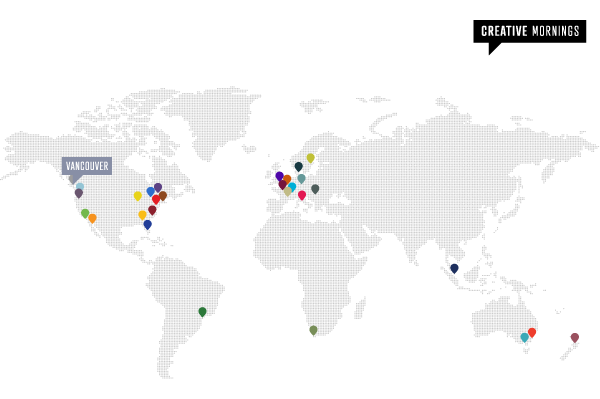 When & Where
Woodwards Building Atrium
111 West Hastings Street
Vancouver, V6B 1H4
Canada

Friday, January 4, 2013 from 8:30 AM to 10:00 AM (PST)
Add to my calendar