CreativeMornings/Vancouver with Natacha Beim

Friday, March 8, 2013 from 8:30 AM to 10:00 AM (PST)
Event Details
IMPORTANT INFO: 
Tickets will not be available until Monday March 4th.
When tickets become available please click the "Add to waitlist" link to be entered into a "lottery" from which registrant names will be drawn and informed via email.
If you cannot use your ticket, please inform us ASAP so we can allocate the ticket to individuals on waitlist.
Remaining applicants will remain on the waitlist and informed if a ticket becomes available. Anyone who hasn't checked in by 8:45am on morning of the event forfeits their tickets.
SPEAKER: Natacha Beim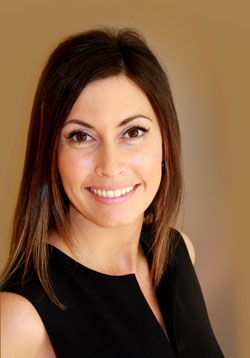 Natacha V. Beim is recognized internationally as an educational leader, author, speaker, child advocate and parenting expert. She created an educational approach based on children's brain development and the values of contribution and empathy. In 1996, she founded Core Education & Fine Arts Junior Kindergarten schools, which are highly recognized in North America. Born in Uruguay and raised in Montréal, Canada, she has traveled extensively and studied educational systems around the world. As a pioneer in the field of modern education, Beim continually pursues studies in the field developmental psychology focusing on the early years.
Beim strongly believes in the power of a well-rounded education. A published poet at the young age of 16, Beim speaks three languages and has worn many hats including teacher, ballerina, model, journalist, painter, writer, actress (theatre) and runner. While she still devotes time to these interests, her passion now lies in helping the next generation of young learners by creating North America's most regarded junior kindergarten program.
Natacha V. Beim won Top 40 Under 40 Entrepreneur Award; WOW Woman of Worth Award for Empowered Educator; and was a Women of Distinction Award finalist for Education Training and Development, two years in a row.
The CEFA methodology has been used successfully for more than 15 years in schools across North America. Beim designed the curriculum as an open learning source, meaning leading educators continually contribute to it, allowing the most creative, up-to-date and advanced philosophies to be incorporated. CEFA teachers are great thinkers, trained to question "what and why" they teach their students. They are empowered to adapt the curriculum to meet the unique needs of each student.
Beim's progressive view on education and incredible passion for life, have made her a fascinating speaker, enriching parents and educators alike. She now resides in Vancouver, Canada, with her husband and two sons. There she divides her time between research, writing, speaking engagements and her most important accomplishment to date – being a mom.
"I always wanted to be a teacher, to help others find their passion in life. Through Core Education & Fine Arts, I know that children have an incredible opportunity to not only explore and learn, but to discover how they can contribute to the world." - Natacha V. Beim
You can find out about CEFA at www.cefa.ca
SUSTAINING SUPPORT PARTNERS

This month's event will be hosted by the generous folks over at Dodson House and co-presented by the BC Chapter of the Society of Graphic Designers of Canada. Thanks also to our media partner VancouverIsAwesome.com and technology partner Matrix Video. Please visit them online to learn more.
PRESENTING SUPPORT PARTNER
Breakfast will be generously provided by this month's support partner Kirk Marketing.

HOW YOU CAN SUPPORT CREATIVE MORNINGS 
Click here or press the "Donate" button below to make a donation via PayPal, helping us continue to produce these important creative community events in Vancouver.
About CreativeMornings
CreativeMornings is a monthly breakfast lecture series for creative types started in New York by Tina Roth Eiesenberg (Swiss-Miss.com). Each event is free of charge, and includes a 20 minute talk, followed by a group discussion and Q&A. The gathering begins at 8:30am with the topic presentation starting at 9:00am and everyone taking off for work by 10am.

CreativeMornings now has chapters in approximately 40 cities around the world, including New York, Chicago, London, Zurich, LA, San Francisco, Berlin, Auckland, Milan, Paris, and Vancouver among others. The Vancouver chapter of CreativeMornings is run by Mark Busse (MarkBusse.ca) and his dedicated team of volunteers.

For the latest info on upcoming CreativeMornings, head over to creativemornings.com 
or follow us on Twitter!

CONNECT
EMAIL vancouver@creativemornings.com
VIMEO vimeo.com/creativemorningsvan
TUMBLER creativemorningsvancouver.tumblr.com
FACEBOOK www.facebook.com/CreativeMorningsVancouver
TWITTER twitter.com/#!/vancouver_cm
FLICKR flickr.com/photos/creativemorningsvancouver
SUBSCRIBE newsletter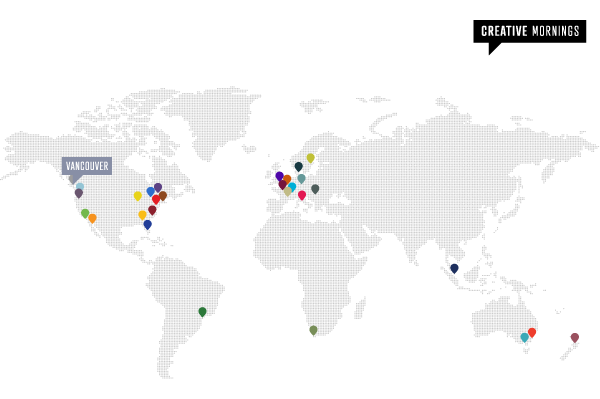 When & Where
25 East Hastings Street
Vancouver, V6A 1M9
Canada

Friday, March 8, 2013 from 8:30 AM to 10:00 AM (PST)
Add to my calendar
Organizer
Creative Mornings is a breakfast lecture series for the creative community. Our free, monthly events feature a short talk and breakfast!