CreativeMornings/Vancouver with Omer Arbel

Friday, August 3, 2012 from 8:30 AM to 10:00 AM (PDT)
Event Details
Tickets will become available on Monday, July 30th, 11:00am. 
NOTE: At 11:00 AM only 50 tickets will be available (Refresh your browser). 
NOTE: The second batch of 50 will be available at 4:00 PM (Refresh your browser).
NOTE: The third batch of 50 will be available at 9:00 PM (Refresh your browser).
 
Securing a ticket:
Prior to the registration time the upcoming ticket will say "N/A".

Once ticket sales open up you will be able to select a ticket to secure.

Once all available tickets are selected the available ticket will say "Pending".

Once all available tickets have been secured the available ticket will say "Sold Out".

Once all of batch "C" tickets have been secured you will be able to select "Wait List".

Tickets that become available for people on the wait list will be given to individuals
in the order that they signed up

.

Remember that you will only be able to secure one ticket per user.
Tickets go very quickly, good luck!
And please do let us know asap if you will not be able to attend so we can free up your ticket.
NOTE: On the morning of the event, if you have not checked in by 8:50 am your ticket will be made available to individuals on the waiting list.
CREATIVE MORNINGS / VANCOUVER DATE
Date: Friday August 03, 2012
Breakfast and Talk : 8:30am - 10:00am
Icebreaker: My most memorable creative failure was…
SPEAKER: Omer Arbel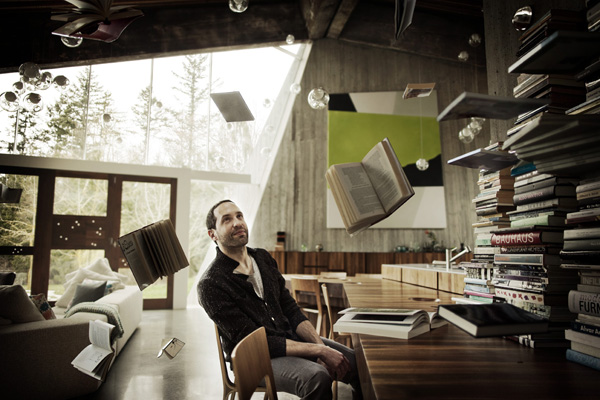 Omer Arbel, born in Jerusalem, is a Vancouver-based designer. He is the founder of OAO, an award winning design practice, and Creative Director of Bocci, an innovative manufacturer of industrial design objects, furniture, lighting, and building technologies. His diverse works include everything from the designs for the 2010 Winter Olympics medals to award-winning interiors for luxurious public and private spaces.
Arbel's many projects also include the 23.2 house outside of Vancouver, bespoke lighting installations like the 28 chandelier, and the innovative yet accessibly priced electrical wall units of the 22 series. All of Arbel's projects are numbered in the sequence in which they were designed, naturally creating a numeric catalog of his design history.
Arbel describes his approach to design as intuitive, taking inspiration from a material's properties and from fabrication methodology. He embraces mass production systems yet seeks ways of creating differentiation, so that each object becomes unique. Often this will involve inventing manufacturing processes that leave significant room for random 'imperfections.'
Often Arbel's designs will feed off each other. A building commission might involve working with a new type of concrete, which in turn inspires a concept for a new type of chair. An example of this process is the 8.0 chair, part of a small collection of indoor/outdoor pieces developed in collaboration with concrete manufacturer Lafarge. The chair is made from a new, high strength concrete called ductal, which OAO applied for the first time outside a construction context. The extraordinary strength properties of Ductal allowed the chair to be extremely thin with a tenuous looking cantilever for the seat. The final design looks thrillingly 'impossible.'
In other situations, a piece of design developed specifically for an architectural project will subsequently be put into production as part of a new Bocci range, such as the poetic 14 series chandelier, initially created for the 15.2 penthouse. The 14 is a reinvention of the idea of a chandelier in that it is ambient -- the opposite of a traditional, central sculptural concept. The 'ambient chandelier' concept could only be born in the context of architectural space making.
To date, the majority of Arbel's industrial designs are made by Bocci, the Vancouver-based manufacturer for which Arbel is also Creative Director. Unlike a traditional European manufacturing company, Bocci works as a loose affiliation or community of experts, craftsmen, suppliers and engineers that varies with each project. The Bocci approach to manufacturing allows an agile response to different briefs and supports the open-minded creative process that characterizes OAO's designs.
For further information on Omer Arbel, please visit omerarbel.com
For further information on Bocci, please visit
bocci.ca
HOST

This month's event will be hosted by the generous folks over at 
W2 Media Café and co-presented by the BC Chapter of the Society of Graphic Designers of Canada. If you are not familiar with our supporters, please visit them online to learn more!
BREAKFAST SPONSORS
Breakfast will be generously sponsored by this month's main sponsor Interior Design Show West.

ABOUT CREATIVEMORNINGS
CreativeMornings is a monthly morning gathering for creative types. Each event includes a 20 minute lecture, followed by a 20 minute group discussion. The gathering begins at 8:30am with the topic presentation starting at 9:00am and everyone taking off for work at 10am.
CreativeMornings are free of charge!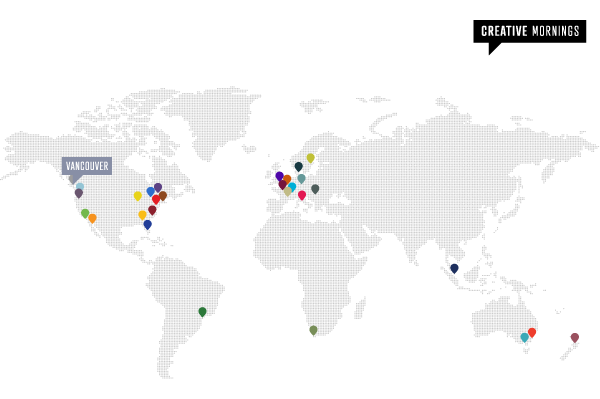 When & Where
Woodwards Building Atrium
111 West Hastings Street
Vancouver, V6B 1H4
Canada

Friday, August 3, 2012 from 8:30 AM to 10:00 AM (PDT)
Add to my calendar