CreativeMornings/Vancouver with Pamela Goldsmith-Jones

Friday, May 3, 2013 from 8:30 AM to 10:00 AM (PDT)
Event Details
IMPORTANT INFO: 
Tickets will not be available until Monday April 29th.
When tickets become available please click the "Add to waitlist" link to be entered into a "lottery" from which registrant names will be drawn and informed via email.
If you cannot use your ticket, please inform us ASAP so we can allocate the ticket to individuals on waitlist.
Remaining applicants will remain on the waitlist and informed if a ticket becomes available. Anyone who hasn't checked in by 8:45am on morning of the event forfeits their tickets.
SPEAKER: Pamela Goldsmith-Jones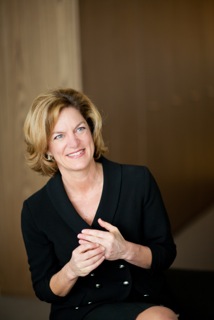 Pam is an effective, creative person. As the former Mayor of West Vancouver she stuck with multiple changes needed to transform West Van from safe to a sense of enterprise and engagement. She's an innovator when it comes to community participation (new working groups instead of advisory committees) and corporate governance (creating a non-profit to manage the award winning community centre/arm's length management and fundraising for the 2010 Olympics, Venue City).
She protested the destruction of Eagle Ridge Bluffs in 2005 (nude calendar girl), banned the use of cosmetic pesticides in WV a decade ago, supported significant restorative work on the foreshore/intertidal zone (UN Global Green City Award). She took on tough jobs as Vice Chair of Translink, pitching the 2 cents/litre increase in gas taxes, as Vice Chair of Metro's Waste Committee, promoting less solid waste, and as West Van Police Board Chair through a massive multi-year corporate culture change.
Pam homeschooled her 3 children for 6 years, has a Masters degree in local government, and is now doing her MBA at SFU, majoring in Aboriginal Business and Leadership. She has her own consulting company helping business work with public policy. Douglas Coupland says "She's incredibly down to earth and wildly generous with her time and spirit…" (Vancouver Magazine, June 2011)
SUSTAINING SUPPORT PARTNERS

This month's event will be hosted by the generous folks over at Dodson House and co-presented by the BC Chapter of the Society of Graphic Designers of Canada. Thanks also to our media partner VancouverIsAwesome.com and technology partner Matrix Video. Please visit them online to learn more.
PRESENTING SUPPORT PARTNER
Breakfast will be generously provided by this month's support partner R&M Trade Laminating.
HOW YOU CAN SUPPORT CREATIVE MORNINGS 
Click here or press the "Donate" button below to make a donation via PayPal, helping us continue to produce these important creative community events in Vancouver.
About CreativeMornings
CreativeMornings is a monthly breakfast lecture series for creative types started in New York by Tina Roth Eiesenberg (Swiss-Miss.com). Each event is free of charge, and includes a 20 minute talk, followed by a group discussion and Q&A. The gathering begins at 8:30am with the topic presentation starting at 9:00am and everyone taking off for work by 10am.

CreativeMornings now has chapters in approximately 40 cities around the world, including New York, Chicago, London, Zurich, LA, San Francisco, Berlin, Auckland, Milan, Paris, and Vancouver among others. The Vancouver chapter of CreativeMornings is run by Mark Busse (MarkBusse.ca) and his dedicated team of volunteers.

For the latest info on upcoming CreativeMornings, head over to creativemornings.com 
or follow us on Twitter!

CONNECT
EMAIL vancouver@creativemornings.com
VIMEO vimeo.com/creativemorningsvan
TUMBLER creativemorningsvancouver.tumblr.com
FACEBOOK www.facebook.com/CreativeMorningsVancouver
TWITTER twitter.com/#!/vancouver_cm
FLICKR flickr.com/photos/creativemorningsvancouver
SUBSCRIBE newsletter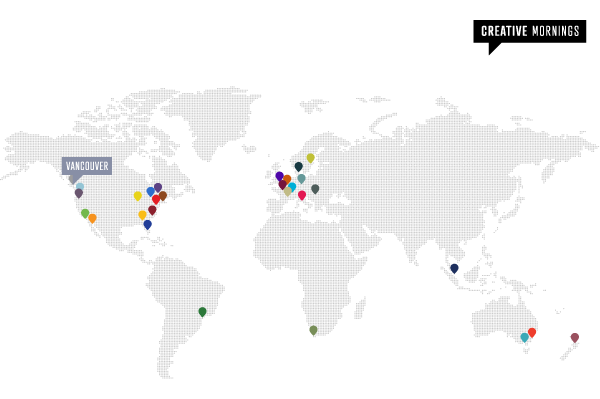 When & Where
25 East Hastings Street
Vancouver, V6A 1M9
Canada

Friday, May 3, 2013 from 8:30 AM to 10:00 AM (PDT)
Add to my calendar