CreativeMornings/Vancouver with Treana Peake

Friday, February 1, 2013 from 8:30 AM to 10:00 AM (PST)
Event Details
IMPORTANT INFO: 
Tickets will not be available until Monday January 28th.
When tickets become available please click the "Add to waitlist" link to be entered into a "lottery" from which registrant names will be drawn and informed via email by end of day Tuesday, Jan 29th. 
If you cannot use your ticket, please inform us ASAP so we can allocate the ticket to individuals on waitlist.
Remaining applicants will remain on the waitlist and informed by end of day Thursday, Jan 31st if a ticket is available. Anyone who hasn't checked in by 8:45am on morning of the event forfeits their tickets.
SPEAKER: Treana Peake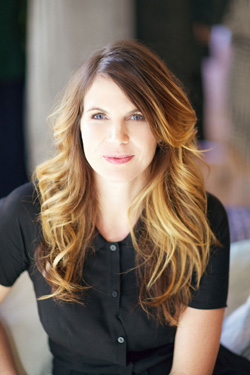 Treana Peake is a Canadian fashion designer. In 2005 she founded Obakki, a luxury brand that focuses on urban, easy-to-wear and effortlessly cool clothes for women. Treana believes that collaboration and innovation are the keys to staying current in fashion; her sexy styles evolve season after season thanks to the eclectic input from the fashion collective she oversees. Recently her collections have been featured in top fashion publications such as Vogue, InStyle, and WWD. Her modern vision and progressive working methods have paid off: the Obakki flagship store in Vancouver, Canada won the Governor General's award, and Obakki retail points span the globe. 
Aside from fashion, Treana's heart has always been in philanthropy; ever since she can remember, she has looked for ways to integrate her two passions. Her vision finally became a reality in 2009, when she launched the Obakki Foundation. Focusing on educational development and clean water projects, the Foundation uses the fashion world as a vehicle to raise funds and awareness for big-picture global issues. Over the past 15 years, Treana has traveled to Africa, living and working in the very environments that she seeks to transform, and getting to know the people that she has committed to empower. She recently launched the Obakki Foundation collection, consisting of screen-printed t-shirts, scarves and totes, with 100% of the proceeds destined to help children in orphanages in Cameroon. Her goal is to bring together artists, musicians, actors and "movers and shakers" to promote self-sufficiency, health and education in African villages. 
Treana fully embodies the values and aesthetics of the Obakki customer: she is a wife and mother, a humanitarian, a businesswoman, and a global citizen who understands that true style and a commitment to making the world a better place are by no means mutually exclusive.
SUSTAINING SUPPORT PARTNERS

This month's event will be hosted by the generous folks over at W2 Community Media Arts and co-presented by the BC Chapter of the Society of Graphic Designers of Canada. Thanks also to our media partner VancouverIsAwesome.com and technology partner Matrix Video. Please visit them online to learn more.
PRESENTING SUPPORT PARTNER
Breakfast will be generously provided by this month's support partner Capilano University.

HOW YOU CAN SUPPORT CREATIVE MORNINGS 
Click here or press the "Donate" button below to make a donation via PayPal, helping us continue to produce these important creative community events in Vancouver.
About CreativeMornings
CreativeMornings is a monthly breakfast lecture series for creative types started in New York by Tina Roth Eiesenberg (Swiss-Miss.com). Each event is free of charge, and includes a 20 minute talk, followed by a group discussion and Q&A. The gathering begins at 8:30am with the topic presentation starting at 9:00am and everyone taking off for work by 10am.

CreativeMornings now has chapters in approximately 40 cities around the world, including New York, Chicago, London, Zurich, LA, San Francisco, Berlin, Auckland, Milan, Paris, and Vancouver among others. The Vancouver chapter of CreativeMornings is run by Mark Busse (MarkBusse.ca) and his dedicated team of volunteers.

For the latest info on upcoming CreativeMornings, head over to creativemornings.com 
or follow us on Twitter!

CONNECT
EMAIL vancouver@creativemornings.com
VIMEO vimeo.com/creativemorningsvan
TUMBLER creativemorningsvancouver.tumblr.com
FACEBOOK www.facebook.com/CreativeMorningsVancouver
TWITTER twitter.com/#!/vancouver_cm
FLICKR flickr.com/photos/creativemorningsvancouver
SUBSCRIBE newsletter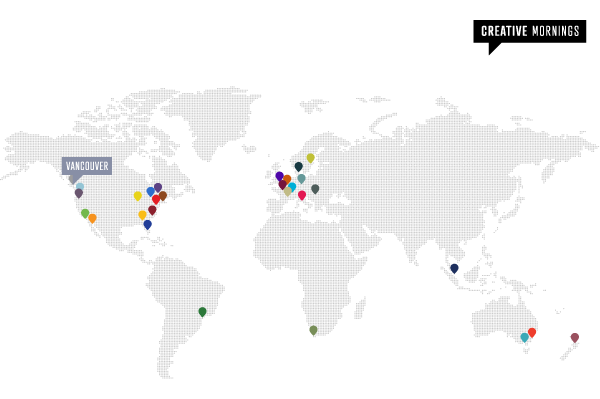 When & Where
Woodwards Building Atrium
111 West Hastings Street
Vancouver, V6B 1H4
Canada

Friday, February 1, 2013 from 8:30 AM to 10:00 AM (PST)
Add to my calendar