CreativeMornings/Vancouver with Vikram Vij

Friday, October 5, 2012 from 8:30 AM to 10:00 AM (PDT)
Event Details
Tickets will become available on Monday, October 1st, 11:00am. 
NOTE: At 11:00 AM only 50 tickets will be available (Refresh your browser). 
NOTE: The second batch of 50 will be available at 4:00 PM (Refresh your browser).
NOTE: The third batch of 50 will be available at 9:00 PM (Refresh your browser).
 
Securing a ticket:
Prior to the registration time the upcoming ticket will say "N/A".

Once ticket sales open up you will be able to select a ticket to secure.

Once all available tickets are selected the available ticket will say "Pending".

Once all available tickets have been secured the available ticket will say "Sold Out".

Once all of batch "C" tickets have been secured you will be able to select "Wait List".

Tickets that become available for people on the wait list will be given to individuals
in the order that they signed up

.

Remember that you will only be able to secure one ticket per user.
Tickets go very quickly, good luck!
And please do let us know asap if you will not be able to attend so we can free up your ticket.
NOTE: On the morning of the event, if you have not checked in by 8:50 am your ticket will be made available to individuals on the waiting list.
CREATIVE MORNINGS / VANCOUVER DATE
Date: Friday October 05, 2012
Breakfast and Talk : 8:30am - 10:00am
Icebreaker: The most creative food I ever tried was...
SPEAKER: Vikram Vij –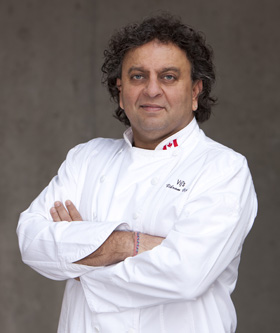 Vikram Vij was born in India in December 1964 and lived in New Delhi and Bombay until 1984.  He studied, work and lived in Austria until 1989, during which time he received his chef certificate from theSalzburg Hotel Management School. Vikram moved to Canada in 1989 to work at the Banff Springs Hotel in Alberta.  In September 1994, Vikram opened Vij's Restaurant in Vancouver, BC. In early 1995, his wife, Meeru Dhalwala, joined him and the two began collaborating on the menu.  Vikram became a certified sommelier from the International Sommelier Guild in 2000, and is passionate about pairing wines with his cuisine.  In 2004, Vikram and Meeru opened up a second restaurant and market called Vij's Rangoli. The market sells Vij's Inspired Indian Cuisine, a line of prepackaged gourmet curries, which are based on popular recipes from Vij's Restaurant. In order to keep up with the growing demand for the packaged meals in BC, and to expand the availability of the products across Canada, a purpose-built food production facility in Surrey, BC, was constructed by Vij's in early 2011.
Vikram is past president and active member of the Chef's Table Society of British Columbia, which is dedicated to supporting innovative and sustainable food programs involving chefs, producers and others working in the local food industry.  With the help of many members of the Chef's Table Society, Vikram and fellow BC chef Robert Clark spearheaded the 2nd Canadian Chefs' Congress on Vancouver Island, BC. The 2010 focus was "Oceans for Tomorrow". Additionally, Vikram has been involved with Farm Folk City Folk Organization, Ocean Wise Sustainable Seafood, UBC Farm fundraisers and the Green Table Society. His work as president of the Cambie Village Business Association and contributing chef to the Vancouver Food Vendor Pilot Project has helped support the growth of local business in Vancouver. Vikram is a passionate supporter of the arts in the Indo-Canadian community, and lends his support to related events and organizations such the Vancouver International Bhangra Celebration Society.
Vikram was a guest judge on Top Chef Canada in 2011, and has been invited back for the 2012 season. In June 2011, the BC Food Processors Association honoured Vikram with the Rising Star Award. In October 2011, he was awarded The Ernst and Young Entrepreneur of the Year award for the Pacific Region's Hospitality and Tourism category. With Meeru, Vikram has penned two cookbooks: Vij's: Elegant and Inspired Indian Cuisine, which won the Cordon d'Or Gold Ribbon International Cookbook Award, and Vij's at Home: Relax, Honey. Vikram and Meeru live in Vancouver with their two daughters.
HOST

This month's event will be hosted by the generous folks over at 
W2 Media Café and co-presented by the BC Chapter of the Society of Graphic Designers of Canada. If you are not familiar with our supporters, please visit them online to learn more!
BREAKFAST SPONSOR


Breakfast will be generously sponsored by this month's support partner Eventbrite.
ABOUT CREATIVEMORNINGS
CreativeMornings is a monthly morning gathering for creative types. Each event includes a 20 minute lecture, followed by a 20 minute group discussion. The gathering begins at 8:30am with the topic presentation starting at 9:00am and everyone taking off for work at 10am.
CreativeMornings are free of charge!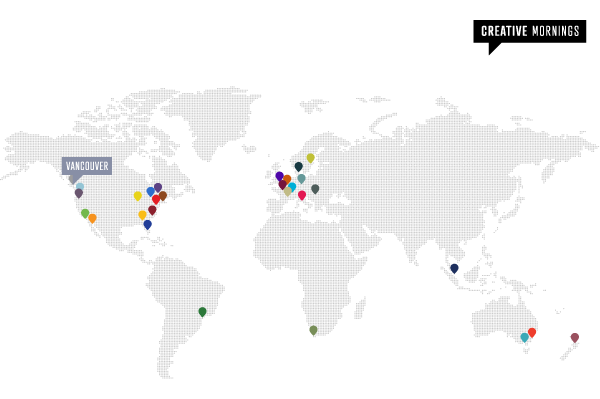 When & Where
Woodwards Building Atrium
111 West Hastings Street
Vancouver, V6B 1H4
Canada

Friday, October 5, 2012 from 8:30 AM to 10:00 AM (PDT)
Add to my calendar