Description
Take an invigorating ride as we explore creativity, productivity, rhythms of work, and staying focused in the attention-hovering world we live in today.
The creative process, by nature, is unpredictable and messy. In many ways, it runs counter to the time is money injunction imposed by purveyors of productivity. So in an ever-evolving world of work, we need to rethink not only what we value - but how to make sacred space for creativity.
In this jam-packed session, you'll gain insights on how to best manage your energy, maintain healthy rhythms of work, structure procrastination, and optimise for creativity. But most of all, you'll be able to put these ideas straight into action.
6:00-6:30 DRINKS / 6:30-7:30 WORKSHOP
Part talk and part workshop, you'll gain tips and tricks for managing your time and energy, fuelling your creativity, and working in a much more deliberate and dynamic way.


TAKEAWAYS

+ Hear about the rhythms and rituals of some of the most prolific creators of all time

+ Gain actionable tips on ways you can improve both your creative process and output

+ Learn from one another on what works (and what doesn't) across industries and disciplines

+ Connect with a group of leaders, innovators, creators, and mavericks from across industries
FACILITATOR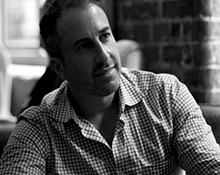 Everywhere he looks, Jonas Altman sees a change in the way we work. He believes that work is becoming much more fluid and fulfilling. Jonas is a partner at award-winning innovation firm Social Fabric, an adjunct professor innovation and entrepreneurship at UBC Sauder School of Business, international speaker, and writes for Quartz, Inc and The Guardian. He's now penning his second book about meaningful work.
This article will give you a head start in advance of the workshop :)


Come roll up your sleeves and learn to be more creative at work and perform at your peak.


SPACES LIMITED FOR THIS EVENT
Book early to avoid disappointment!



Organizer of Creativity at Work