Take your creativity to another level with Natalia Seth as she shares insights into her creative process, portraiture, and social media.
About this event
When: Monday November 8, 2021 | 5pm - 6:45pm PST / 8pm - 9:45PM EST
Where: ONLINE - Webinar
Cost: FREE - RSVP to secure your spot.
Join us on Monday, November 8th for an online Socality x Canon Creator Lab workshop and Q&A with portrait photographer, content creator, and TikTok star Natalia Seth (@escapingyouth) as she shares her creative process, the tools and techniques needed to create captivating portraits and self-portraits, and tips and tricks for leveraging these on TikTok and Instagram. Natalia Seth has acquired a dedicated following on social media thanks to her creative portraiture and whimsical editing, and has mastered the art of sharing this process through short-form video on TikTok and Instagram Reels.
This session will cover a variety of themes including:
Natalia's brainstorm process when ideating and finding inspiration in daily life
Pushing creative boundaries
Natalia's photography workflow with self portraiture vs. models
Set-up and best practices for creating a magical portrait
Tips on TikTok storytelling and success
Developing a cohesive and attractive social profile while maintaining an authentic voice
Editing workflow with Lightroom, photoshop, and mobile apps
Q&A Session and more
This workshop will offer the combination of a live workshop session with Natalia and a Q&A portion.

About Natalia Seth:
Natalia Seth is a self-taught photographer and digital artist on a mission to transform the everyday into a visual playground. She produces, shoots and stars in her own images, and has a unique style that has grown a community of 2.6M across socials. Her photoshop magic transports the viewer to unconventional worlds full of bananas, rainbows, eggs… and anything you can dream of.
You can find more about Natalia on TikTok, Instagram and her YouTube.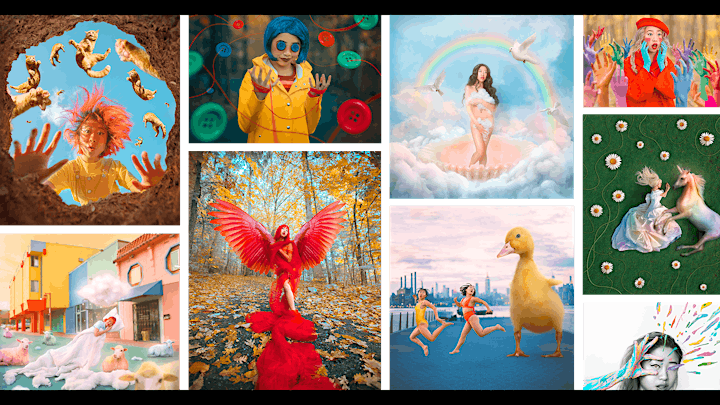 Who's this workshop for?
This workshop will be valuable for photographers and creatives from all backgrounds looking to grow their social media or creative skills, and shoot and create more in portraiture or self-portraiture. Whether you're a photographer, videographer, digital creator, model, blogger, or just getting started on your creative journey, these workshops provide an opportunity to connect with others in the community and learn something at the same time.  
—
Any further details will continue to be updated and communicated as we get closer to the workshop. RSVP to secure your spot.