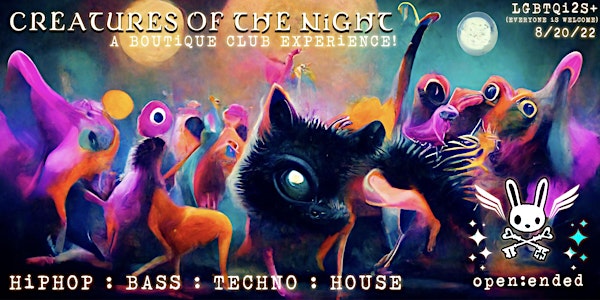 CREATURES OF THE NiGHT
A BOUTiQUE CLUB NiGHT FEATURiNG ViSUAL & PERFORMANCE ARTS, ARTiSAN VENDORS & STELLAR LOCAL DJS!
When and where
Location
Sunset Labs 400 Herald Street Victoria, BC V8W 3N8 Canada
Refund Policy
Contact the organizer to request a refund.
Eventbrite's fee is nonrefundable.
About this event
Get ready for a legendary night of dancing, community, local arts & underground culture! This venue is the most intimate & private in the city so be aware we are in for a cozy good time with full accessibility, limited capacity, beautiful people & absolutely iconic local underground arts/music. This is a creature theme so think clubkids, cute animals, creatures, sexy animal prints, kinky costumes, puppies, furries, kittens, bears, whatever you can dream up & feel comfortable about, just have fun with it! ✨FYi✨ open:ended events are always lgbtqs2+, race/gender inclusive, kink / body positive, age inclusive (18+) spaces where folx are welcome to express themselves however they feel comfortable, free of any judgments or shame.
THiS iS A SAFE SPACE FOR EVERYONE & We acknowledge & respect the Lekwungen peoples on whose traditional territory where we are creating inclusive/diverse culture, and the Songhees, Esquimalt and WSÁNEĆ peoples whose historical relationships with the land continue to this day. We thank you in advance for remaining aware, respectful & peaceful at this gathering!
✨💜🦄💜✨DANCEFLOOR & DJS✨💜🦄💜✨
:: BiOSHiP :: [ALiEN BASS / FEMME HiPHOP] https://soundcloud.com/bioshipp
"Our body is a bioship for the soul, we travel in this lifetime on planet earth. This female DJ duo from Victoria, BC brings intergalactic frequencies from far reaches of the galaxy to awaken the alien within. bioship's sound can be described as intergalactic space bass, it's dark, sensual, exotic, and always gantsa AF."
:: PSYCHEDA :: [TECHNO / TECH HOUSE] | https://soundcloud.com/psycheda
"Cicadas have prominent eyes set wide apart, short antennae, and membranous front wings. They have an exceptionally loud song, produced in most species by the rapid buckling and unbuckling of drumlike tymbals. Most cicadas are cryptic. This particular species has an affinity for dark and deep subterranean beats. They will be serving proper techno & tech house"
:: SUNDOG :: [ORiGiNAL BASS MUSiC PRODUCER ] https://soundcloud.com/officialsundog
"Sundog is a bass music producer, multi instrumentalist and turntablist who spins a selection of raw bassy beats with tasteful percussion. The music he shares is infused with the influences of old school hip hop and jazz, combined with forward thinking bass music, and sound system culture. A proper blend of hard hitting beats with an organic lively feel. Rooted in a desire to deeply connect with his audience, Sundog translates his love for music into a memorable dance experience!"
:: TRiiKSTR :: [GHETTO HOUSE / TECH] | https://soundcloud.com/triikstr
"TRiiKSTR Is a character who lives to disobey ordinary rules and conventional behaviour. As a longtime supporter of LGBTQ+, Pride, Fetish & Rave events in BC / Europe, he is continuously cultivating diverse & inclusive event spaces. Formerly known as the Co-Founder of 'Luminosity Gathering' in BC, rebirthed as 'open:ended' in 2019. Triikstr has acquired well curated archives over the years, will be serving a range of styles from Ghetto House & Tech House w strong underground femme & Hiphop influences."
---------------------------------------
✨💜🦄💜✨PERORMANCE ARTiSTS ✨💜🦄💜✨
:: COSMiC HONEY [silk fans/ gogo] "A self taught dancer & flow artist. Using silk fans as her medium, she draws her audience in to a captivating and whimsical experience" https://instagram.com/stemlessflower
:: SoRa "A mystic sent to channel hidden messages throught the mask of a dragon skull. They work together to reveal what haunts the middle world and strip away what is false. Allow this creature to speak to you with its movement and invoke the unknown mysteries within.
:: MOTEVOTiON :: SHiBARi ROPE BONDAGE <3
https://instagram.com/motevotion
:: THE SPECiALiST :: FLOW HOOP PERFORMER
----------------------------------------
✨💜🦄💜✨ViSUAL ARTiSTS & ARTiSAN VENDORS ✨💜🦄💜✨
:: CATLYNE FABLE :: Visual Artist
https://instagram.com/catlynefable
:: ENRAPT LEATHERCRAFT :: Leatherwork & Bondage
https://instagram.com/getenrapt
:: COYOTE CORRAL :: Visual Artist
https://instagram.com/coyote.corral
:: COSMiC CRANE :: Jewelrey & Fine Art
https://instagram.com/cosmic.crane
:: NESSiE :: Visual Artist
https://instagram.com/lil__nessie
:: ART BY MOKii :: Visual Artist
https://instagram.com/triikstr
---------------------------------------
✨💜🦄💜✨TiCKETS✨💜🦄💜✨
::: LiMiTED TiCKETS AVAiLABLE ::: iNTiMATE VENUE :::
EARLYBiRD TiCKETS - SOLD OUT
:: GENERAL ADMiSSION $30 (Low Income Tickets Available) if you want to E transfer openended.bc@gmail.com to avoid corporate service fees, thats awesome, but be sure to leave the FULL NAME of the folx you are purchasing tickets for, and make sure the PASSWORD is "CREATURES"
Thanks everyone for the support & we cannot wait to ViBE with you on the dancefloor!! stay tuned for updates.