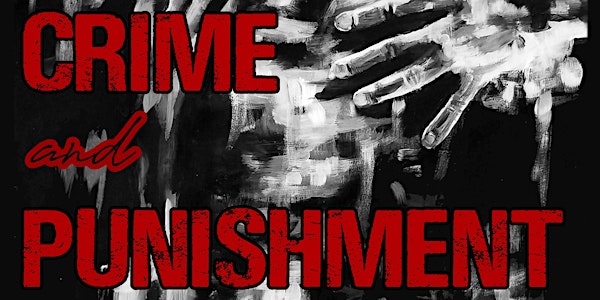 CRIME and PUNISHMENT
An enthralling dance theatre adaptation of the classic masterpiece by Fyodor Dostoyevsky
Refund Policy
Contact the organizer to request a refund.
Eventbrite's fee is nonrefundable.
About this event
Ticketing and Viewing Options:
Nov 10, 2021 7:00 PM MT: Livestream (Opening Night Watch Party)
Nov 21, 2021 7:00 PM MT: Livestream (Closing Night Watch Party)
Video-on-Demand (Nov 10, 2021, 7:00 PM MT - Nov 28, 2021 10:00 PM MT)
Dostoyevsky's masterpiece Crime and Punishment follows a dark path of illness and delusion as the classic anti-hero Raskolnikov battles his way through oppressive systems, ultimately murdering a cruel pawnbroker in the hope of personal and communal advancement. This warning against the delusion of nihilism (a rejection of social values) follows his crime and his personal punishment as the detective Porfiry follows closely, using the newfound science of psychology to ensnare Raskolnikov. Meanwhile, the poverty of Raskolnikov's family and friends inflame his drive to break the system.
In the height of navigating health and safety restrictions, Kunji Ikeda has turned to green-screen technology to safely tell this story of isolation and delusion. Thanks to an incredible team of over 25 artists, Cloudsway Dance Theatre adapts one of the greatest literary masterworks to unfold how many of the social warnings of 1866 still resonate today.
Created by: Kunji Ikeda
In collaboration with: Kaili Che, Jared Tobias Herring, Ainsley Hillyard, Richard Lee
Featuring the Voice Talent of: Yoshie Bancroft, Patrick Quinn, Julie Tamiko Manning, Mike Tan
Rehearsal Director: Maryn Bjorndahl
Raskolnikov Understudy: Morgan Yamada
Dramaturg: Ellen Close
Stage Management: Jenny Yeung
Set, Light, Costume Design: Alison Yanota
Composer: Sebastien Bolessa
Sound Editor: Chad Blain
Digital Editing: Matthew Waddell & Laura Anzola
Cinematography: Matt McKinney
Editing: Lela Sanders
Choral Composer: Jean Louis Bleau
Choral Performer: Chenelle Roberts, featuring Artio
Production Management: Alexandra May
Publicity: Jessie Northan
Religious Consultant: Father Ryan Bishop
Previous Performer Contributions: Barbara England, Rufi Oswald
Original Poster Photo: Tim Nguyen
Augmented Poster Art: Sören Wacker and Shy Weeks
Special Thanks: Joanne Ikeda, Charles Hamilton, Kat Armstrong, Quest Theatre, Trickster Theatre, Beddington Theatre Arts Centre
Supported by: Canada Council for the Arts, Alberta Foundation for the Arts, Calgary Arts Development Authority, The Banff Centre