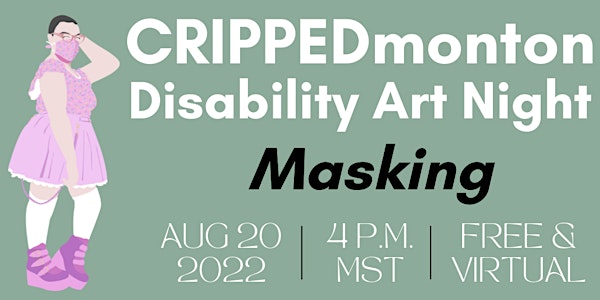 CRIPPEDmonton Disability Art Night August 2022: Masking
A virtual evening where disabled artists (of all levels of experience) are welcome to share their art to express their Disability Pride!
About this event
Register now to attend the first official event for CRIPPEDmonton (pronounced "Cripped Edmonton")!
This August, we're showcasing disabled artists and the work they've created to explore their relationship with masking, whether masks during the pandemic, masking neurodivergent traits to be perceived as neurotypical, or the masks we wear when we aren't able to be our authentic self.
Tickets are free but you must register for permission to attend the event. If you have already been accepted as an artist for this event, you will not need a ticket to join.
This event will be hosted via Zoom.
There are two open spots available for last-minute submissions. Please arrive early to claim one of these spots if you missed your chance to register as an artist for the evening.
The event begins at 4:00 p.m. MST but we'll launch at 3:45 p.m. to give people a chance to connect and to get settled! Follow @CRIPPEDmonton on Instagram to be notified of details on the artists participating.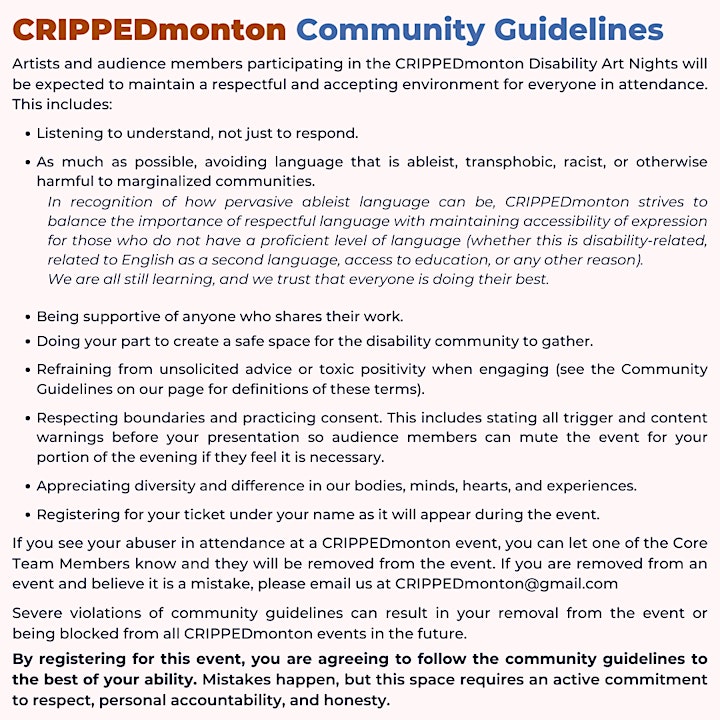 ACCESSIBILITY
Our events will be held virtually on Zoom.
Hosts and event information will be communicated plainly.
Captions will be enabled on Zoom and participants may use this feature if they would like.
We will ask all speakers to speak slowly and clearly.
Please arrive in whatever way feels most comfortable for you; you can join us from bed, you can be wearing your pajamas, you can stim as you listen. These events are in the presence of people who understand.
The CRIPPEDmonton Team will communicate all accessibility needs for the group at the start of the event and prompt participants with reminders if they forget.
Worried you forgot something or have a question for us? Send us an email!
One of our Team Members will monitor the Chat Feature for questions or any requests for accessibility. These will be communicated to the group as they come up.
Accessibility is more than access to physical/virtual space, but also to emotional space. If someone at the event is causing you to feel unsafe, please reach out to us.
Please contact our Team if you would like an accessibility feature that isn't listed above. Please note that CRIPPEDmonton is run by volunteer members of the disability community. We will do as much as possible to meet all requests or else discuss alternative options in advance of the event.
Do you have any services or skills that you'd be willing to volunteer to help our events become more accessible? Please let us know!
Image Description 1: Sage green background with White block text reading "CRIPPED Edmonton Disability Art Night" and italicized in black text below, "Masking". In a white script font beneath reads "August 20, 2022", "4 P.M. MST", and "FREE & VIRTUAL" with black vertical lines between. On the left side of the banner is an artistic depiction of Aggie from the Instagram account @Aggie_Panda, turned to the side and staring back at the viewer through thick glasses. They're wearing pink skater skirt with a strap hanging on the side, and a pink shirt with matching mask that both have a sprinkles pattern.
Image description 2: Orange and blue text reading: "Artists and audience members participating in the CRIPPEDmonton Disability Art Nights will be expected to maintain a respectful and accepting environment for everyone in attendance. This includes: Listening to understand, not just to respond. As much as possible, avoiding language that is ableist, transphobic, racist, or otherwise harmful to marginalized communities. In recognition of how pervasive ableist language can be, CRIPPEDmonton strives to balance the importance of respectful language with maintaining accessibility of expression for those who do not have a proficient level of language (whether this is disability-related, related to English as a second language, access to education, or any other reason). We are all still learning, and we trust that everyone is doing their best. Being supportive of anyone who shares their work. Doing your part to create a safe space for the disability community to gather. Refraining from unsolicited advice or toxic positivity when engaging (see the Community Guidelines on our page for definitions of these terms). Respecting boundaries and practicing consent. This includes stating all trigger and content warnings before your presentation so audience members can mute the event for your portion of the evening if they feel it is necessary. Appreciating diversity and difference in our bodies, minds, hearts, and experiences. Registering for your ticket under your name as it will appear during the event. If you see your abuser in attendance at a CRIPPEDmonton event, you can let one of the Core Team Members know and they will be removed from the event. If you are removed from an event and believe it is a mistake, please email us at CRIPPEDmonton@gmail.com . Severe violations of community guidelines can result in your removal from the event or being blocked from all CRIPPEDmonton events in the future. By registering for this event, you are agreeing to follow the community guidelines (to the best of your ability). Mistakes happen, but it will require an active commitment to create this space."