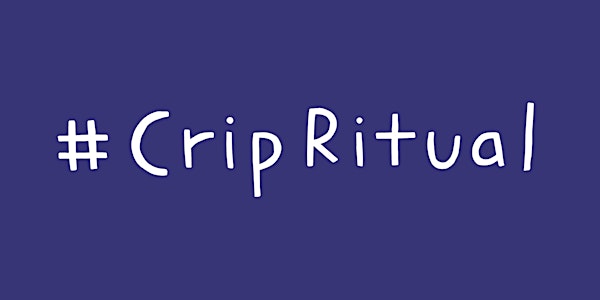 #CripRitual Panel Discussion: Negotiation and Resistance
A conversation about resisting and negotiating ableism with artists from the exhibition #CripRitual
About this event
Join artists Fran Ledonio Flaherty, Alex Haagaard, and RA Walden in conversation with disability arts expert Eliza Chandler, co-presented by Tangled Art + Disability and the Doris McCarthy Gallery as part of the exhibition #CripRitual. This panel explores themes of resisting and negotiating ableism as a ritual familiar to many disabled people, here explored through Flaherty's artwork, a commentary on negotiating service dog entrance to public spaces, Haagaard's project Shitty ALT text which highlights crip resistance to subpar accessibility technology, and RA Walden's manifesto for accessibility in feminist arts and activist spaces.
This free program is open to everyone. It will be hosted on Zoom and will have ASL interpretation and captioning. If you have other accommodation needs, please let us know when registering or contact dmg.utsc@utoronto.ca.
ABOUT THE EXHIBITION
This talk is presented as part of the programming for #CripRitual, multi-site and online exhibition featuring works by more than 20 artists curated by the Critical Design Lab, co-presented by the Doris McCarthy Gallery and Tangled Art + Disability from January 21 - April 1, 2022.
The exhibition features artworks that illustrate and create examples of crip rituals — practices that disabled, crip, d/Deaf, Mad, and Sick people undertake alone and in groups to care for each other, build political and social power, survive in the face of discrimination and oppression, and manage the ways that others see us. This exhibition recognizes crip rituals as processes and events for surviving ableism and claiming power that may be secular, spiritual, political, or in-between.
Visit CripRitual.com for more information and to engage with the exhibition virtually.
-----
The Doris McCarthy Gallery provides an open space for the critical and civil exchange of ideas. By registering for this program you agree to help create an atmosphere of mutual inclusion and respect for all persons. This includes speaking, acting, and behaving in a way that is absent of violence, harassment, racism, intimidation, bullying or discrimination of any kind regardless of, and not limited to gender, sexual orientation, race, ethnicity, culture, age and ability.
The Doris McCarthy Gallery at times records programs and events for the purposes of education, archive, and promotion. The Doris McCarthy Gallery will not use these recordings for commercial purposes. Participants will be notified at the beginning of a program or event when recordings will be taken. Please disable your video and/or microphone if you do not wish to be recorded.