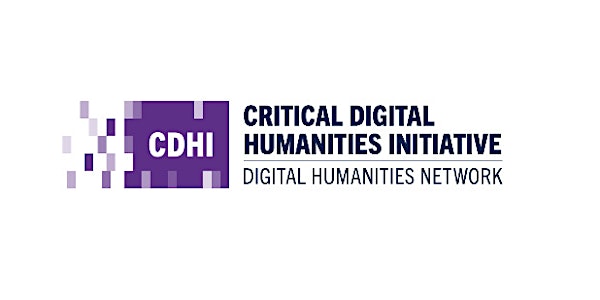 Critical Digital Humanities International Conference
The Critical Digital Humanities International Conference is being held at the University of Toronto from Sept 30-Oct 1, 2022.
When and where
Location
1 Devonshire Pl 1 Devonshire Place Toronto, ON M5S 3K7 Canada
Refund Policy
Refunds up to 30 days before event
Eventbrite's fee is nonrefundable.
About this event
The Critical Digital Humanities Initiative (CDHI) at the University of Toronto cordially invites your to join us for our 2022 international conference, to take place Friday, September 30 and Saturday, October 1, 2022.
This year's Critical Digital Humanities International Conference foregrounds critical DH research, praxis, and community partnerships. Critical DH is an intersectional field that emphasizes questions of power, social justice, and critical theory in making, analyzing, and using digital technologies. This is a version of digital humanities that places anti-racist, de/anti/postcolonial, feminist, and queer/trans/non-binary work at its core, and which understands our current shift in digital technology as an opportunity for social and political transformation. Critical DH foregrounds creative praxis, co-creation, public engagement, and community-based research.
Confirmed keynote speakers include Jennifer Wemigwans, President of Invert Media and Assistant Professor, University of Toronto; Wendy Hui Kyong Chun, Canada 150 Research Chair in New Media Studies, Simon Fraser University; and Lisa Nakamura, Gwendolyn Calvert Baker Collegiate Professor, University of Michigan. Keynotes will be live-streamed.
Additionally, we will host in a special virtual plenary session Safiya Noble, Co-Founder and Faculty Director of the University of California-Los Angeles Center for Critical Internet Inquiry (C2i2), Ángel David Nieves, Professor of Africana Studies, History, and Digital Humanities at Northeastern University, and Alex Gil, Senior Lecturer II and Associate Research Faculty of Digital Humanities in the Spanish and Portuguese Department at Yale University.
All faculty, librarians, museum practitioners, staff, postdoctoral fellows, graduate students, and community partners are welcome to attend! A snapshot of the program is included below. The full program will be available on our conference webpage.
DRAFT SCHEDULE as of 21 July 2022
Friday, September 30, 2022 [virtual only up until the in-person plenary at end of day]
8:45-9 am Welcome/Land Acknowledgement
9:00-10:30 am Virtual Plenary: Jennifer Wemigwans
10:40-12:10 pm Virtual Sessions 1-6
12:10-12:40 pm Lunch
12:40-2:10 pm Virtual Plenary Roundtable
2:20-3:50 pm Virtual Sessions 7-10
4:00-5:00 pm Virtual Sessions 13-18
5:45-7:15 pm In-person Plenary and reception: Lisa Nakamura [attendance is limited ]
Saturday, October 1 , 2022 [in person only: keynotes will be livestreamed but sessions will not be available on line; registration to this date is limited by the size of the venue to 110 person including presenters]
9:00-10:30 am In-person Sessions 1, 2, 3
10:45-12:15 pm In-person Sessions 4, 5, 6
12:15-1:00 pm Lunch
1:00-2:30 pm In-person Sessions 7, 8, 9
2:45-4:15 pm In-person Sessions 10, 11, 12
4:30-6:00 pm In-person Plenary: Wendy Hui Kyong Chun
6:00-7:30 pm Closing Reception