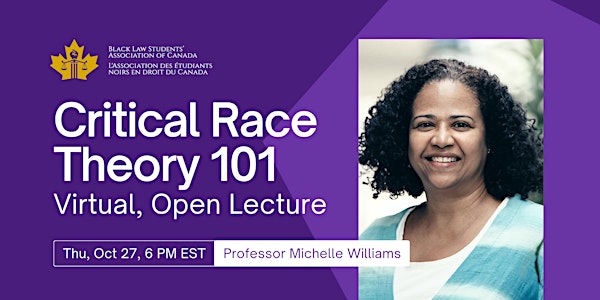 Critical Race Theory Lecture - Hosted by BLSA Canada
Join a virtual, intro Critical Race Theory lecture taught by Professor Michelle Williams (Schulich School of Law, Dalhousie University)
About this event
About the Lecture & Professor Michelle Williams
Critical Race Theory (CRT) is an academic field of inquiry interested in the intersection of law and racial inequality. This lecture, taught by Professor Michelle Williams at the Schulich School of Law at Dalhousie University, will provide an introductory overview of CRT. Professor Williams teaches criminal law and has been a leader in the field of restorative justice. She currently sits as the inaugural chair of Schulich's Equity, Diversity and Inclusion Committee. She has been recognized nationally for her research on African Nova Scotian law and critical race theory.
This is a lecture for prospective and future Isaac Moot competitors, law students, and the community at-large.
About the Julius Alexander Isaac Moot
The Black Law Students' Association of Canada (BLSA Canada) has hosted the annual Julius Alexander Isaac Moot, the only for-credit moot in Canada which encourages law students to apply critical race theory in responding to a legal problem, for 15 years. BLSA Canada recognizes that some law faculties have dedicated CRT courses while most have no Professors versed in, or courses that discuss CRT. We believe having an open lecture for potential Isaac Moot competitors will go a long way in improving competencies and leveling the playing field. While this session is not required for Isaac Moot competitors, it is strongly recommended that they attend as it will not be recorded.
A note from our Moot Problem writer, Professor Joshua Sealy-Harrington:
The structure of this moot may make some participants uneasy, or uncomfortable. Many law schools tend to emphasize doctrine, and rarely explore theory. But certain forms of oppression simply cannot be fully understood by the limited imagination of traditional legal discourse.
The 16th Annual Isaac Moot will be held from Thursday, February 2, 2023 - Saturday, February 4, 2023 at the Ontario Court of Appeal. Click here to learn more.
About BLSA Canada
Founded in 1991, BLSA Canada is a national, student-run non-profit organization. BLSA Canada is dedicated to supporting and enhancing academic and professional opportunities for Black law students, and welcoming allies from all backgrounds who seek to make a meaningful contribution to social justice initiatives. We aim to promote racial diversity in Canadian law schools and foster a more culturally competent legal profession.
BLSA Canada and its chapters at law schools nationwide are concerned with challenges faced by the Black community as they relate to the legal system. Launching various initiatives to promote increased representation of racially diverse students in law schools and assist in facilitating their success are a priority. We are proud to provide opportunities for formal and informal discussions about many subjects including legal policy issues, effective career strategies, evolutions in substantive law and access to justice for marginalized groups.