The SECOND event in this series of honest talks about innovation features Wendy Chun, Director of the Digital Democracies Institute.
About this event
Have you ever observed a divisive, rage-fuelled fight online and wondered about the role technology played in the background? In her most recent work, Wendy Chun reveals how polarization is a goal – not an error – within big data and machine learning, and how these elements encode discrimination to create agitated clusters of comforting rage. Chun, the Canada 150 Research Chair in New Media at Simon Fraser University, looks at how recommender systems foster the formation of angry groups of like-minded users, who are "trained" to become authentically predictable via a politics and technology of recognition.
On February 10, Chun will address these issues directly and engage in a disruptive conversation with two featured respondents and a live-streamed audience. Moderated by Marcel O'Gorman, University Research Chair and Founding Director, Critical Media Lab with Brie Wiens (Postdoc, Communication Arts) and Queenie Wu (4th year, Systems Design Engineering).
This event will take place at 7:00 pm. in GATHER TOWN , a unique 2D meeting space. An informal social mixer will follow from 8:00 pm - 9:00 pm. You will receive a link to the event on February 9.
In addition to the conversation, a limited number of tickets are available for a "DATA JAM" at 6:00 pm, led by the University of Waterloo's qCollaborative. This fun, interactive event engages participants in a critical design session related to the topic of "discriminating data." Results of the Data Jam will be shared during the 7:00pm conversation with Wendy Chun.
CRITICAL TECH TALK, produced by the Critical Media Lab at the University of Waterloo, is a series of honest dialogues about technological innovation. From data harvesting to the conflict minerals in our smartphones, critical thinking is shifting the momentum towards positive change – towards Tech for Good®. Each of the university's six faculties will co-host a techno-critical speaker and invite Waterloo students and local tech sector members to participate in an on-stage dialogue and lead a post-event discussion online. The series is sponsored by Communitech, the Office of Research at the University of Waterloo, and the faculties of Arts, Environment, Engineering, Health, Math, and Science.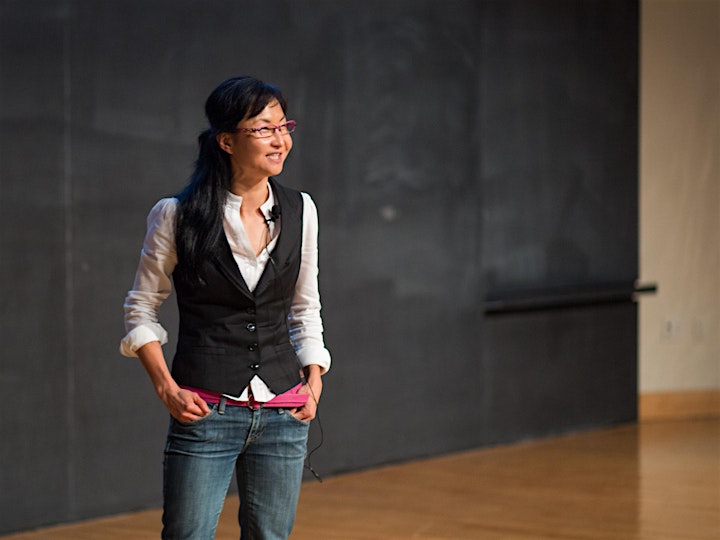 WENDY HUI KONG CHUN is Simon Fraser University's Canada 150 Research Chair in New Media in the School of Communication and Director of the Digital Democracies Institute. She studied both Systems Design Engineering and English Literature at the University of Waterloo, disciplines that combine and mutate in her work on digital media. Her recent books include Discriminating Data: Correlation, Neighborhoods, and the New Politics of Recognition (2021), Updating to Remain the Same: Habitual New Media (2016) and Programmed Visions: Software and Memory (2011).
Thanks to our partners: