Description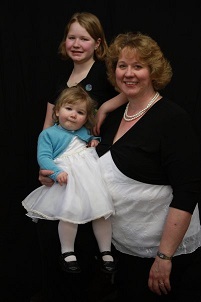 MaryAnn with Mikeala and Marissa
Crop For A Cause Brantford ~ In Memory of MaryAnn Sawkins Hodgson
1st Anuall all day Scrapbook Crop from 9am-8pm.
This is a non-profit fundraiser and the proceeds raised will go to the Heart & Stroke Foundation of Brantford.
This event is in the memory of MaryAnn Sawkins Hodgson. At the young age of 39, MaryAnn, died suddenly June 10th in 2009 of a massive heart attack. MaryAnn left behind, her husband John, and two young, precious daughters, Mikaela, then 10yrs old and Marissa, only 2 years old. Mary Ann did not recognize the signs that she was having a heart attack.
The event will raise awareness for the Heart and Stroke Foundation and funds for research. MaryAnn's story was sadly preventable. Proudly, this event will keep her name and spirit alive. For she touched and connected many lives through scrapbooking, while she owned 'Scrapbook Heaven' in St. George, Ontario.
Sharing MaryAnn's story will hopefully make a positive impact on saving lives. Our goal is to help educate ways to help prevent premature heart disease & stroke is through learning healthy lifestyle behaviours.
Early Bird tickets purchased by May 1st 2017, will be $45. per seat. After May 1st. tickets will be $55. per seat.
There will be prizes, raffle draws and a silent auction. This will be a fun day of inspiration, techniques, games and some surprises! Dinner is optional, $5.00 will give you 2 slices of pizza and a side salad and a beverage. The crop is located downtown and in walking distance to several food establishments.
For any other information regarding the fundraiser and questions, contact Heather Miller or to learn how you can help, contact Pam Brown the manager of Brantford's Heart and Stroke Foundation. 519-752-1301