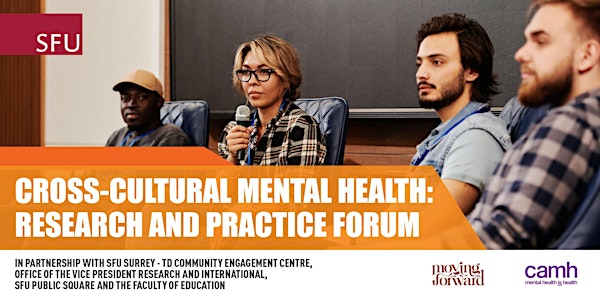 Cross-Cultural Mental Health: Research and Practice Forum
A research and practice symposium on culturally adapted therapies for mental health care.
Date and time
Friday, May 5 · 8:45am - 1pm PDT
Location
SFU Surrey on University Drive (SRYE) 10285 University Drive Surrey, BC V3T 4B7 Canada
About this event
4 hours 15 minutes

Mobile eTicket
Join us to learn, share, and network with researchers and practitioners interested in improving the cultural safety and relevance of evidence-informed mental health practices.
This event will feature a partnered research project led by the Centre for Addiction and Mental Health (CAMH) that developed and evaluated Culturally Adapted Cognitive Behavioural Therapy to improve community mental health services for Canadians of South Asian origin. Dr. Farooq Naeem, Clinician Scientist and Principal Investigator, will provide a keynote address.
The keynote will be followed by a networking poster and showcase session. Posters will include graduate research and practice explorations in cross-cultural mental health care. Showcase booths will feature community initiatives, programs, and organizations that work with diverse communities to support mental health and wellness.
The event will be capped off with a facilitated panel discussion to further explore innovations, opportunities, and challenges in culturally responsive mental health care for equity deserving communities. Stay tuned for more information about the panelists.
This free event is for mental health practitioners, researchers, community support organizations, students, and community members. Light refreshments will be provided. Registration is required.
Keynote Speaker: Dr. Farooq Naeem
Dr. Farooq Naeem is a Professor of Psychiatry at the University of Toronto and a psychiatrist at the Centre for Addiction & Mental Health.
Farooq pioneered techniques for culturally adapting cognitive behaviour therapy (CBT). These techniques have been used to adapt CBT in South Asia, North Africa, Middle East, Kenya and China. Most recently, this methodology has been used to culturally adapt and evaluate CBT for South Asians in Canada. His significant contribution in implementation science is establishing a national organization to train and accredit CBT therapists, deliver therapy, promote research and educate the general public - the Pakistan Association of Cognitive Therapists. This remains the only example of national implementation of CBT in a low-income country. 
For more information on Dr. Farooq and his work, please follow this link.
Jshandeep Jassal (she/her) is the co-founder of Let Her Talk, the South Asian Healing Network, GenConnect, and a co-director of Solid State Community Industries. She is also a Master's student at UVic's program of Child, Youth, Family, & Community Studies, hoping to increase awareness of the needs of South Asian youth specifically by increasing culturally responsive care while decreasing colonial or racist approaches. She is passionate about doing work in areas where she has lived expertise, and believes it is important to participate in self-healing when you work in fields of care or nurturing others. 
Tania Bakas is a graduate student at Simon Fraser University, defending her Master's thesis in Counselling Psychology this term. Her research focuses on how genocide perpetrators/ex-prisoners, from the 1994 Genocide against the Tutsi in Rwanda, make meaning of their lives as they engage in the process of action-based psychosocial reconciliation with survivors.Recent coordination work for the North Shore Committee to End Violence Against Women in Relationships focused on responding to and addressing gender-based violence. Currently, in her counselling practice she specializes in trauma therapy for relationship and family violence, intergenerational trauma, and childhood abuse and neglect. She particularly enjoys developing innovative streams for accessing therapy and psychoeducation through an intersectional lens, such as therapeutic book clubs and support groups for underserved populations.
Dr. Masahiro Minami is an associate professor in the Faculty of Education at Simon Fraser University. His area of specialization is the implementation of science and mental health services research in post-war, conflict, and genocide environments. He is involved in several grant-funded projects aimed at improving access to mental health services in Bosnia & Herzegovina, Canada, Japan, Jordan, Kazakhstan, Rwanda, and the UK.
Heather Lynch is of West African origin and Jamaican heritage and a first generation Canadian-born that was raised in the Lower Mainland. She completed her Criminology Degree at Simon Fraser University and obtained her Masters in Leadership at Royal Roads University. A priority for Heather is spending quality time with her husband of 18 years and her spicy yet comedic 16-year-old daughter. Options Community Services Society (OCS) has been Heather's place of employment for the past thirty years and in her role as Senior Manager, she coaches compassionate care teams in the Youth Services Division, Clinical Counselling Department, and the Fraser Health Crisis Line. Prior to her work with OCS, Heather was employed in the Mental Health field at two former Provincial institutional facilities. Coming from a family line of social justice worriers, Heather is passionate about promoting equitable practices, encouraging healthy work cultures, and fostering inclusion for all. You can find her experiences published in news articles and magazines of being the 'only' black person at tables and her learning lessons on the importance of belonging.
SRYE Building at SFU Surrey Campus
Please note that the event will be taking place at the new SRYE building at the SFU Surrey Campus (10285 University Drive Surrey, BC V3T 4B7), located across the street from the original campus building at Central City.
Accessibility
There are accessible washrooms located on all floors of the building and all floors within the building are serviced by elevators. If you have any questions, concerns, or comments regarding this event's accessibility, feel free to connect with us at psqevent@sfu.ca. If you require ASL or other language interpretation please submit this request no later than 3 weeks in advance. 
Visitor Parking
Central City Mall parking is for retail shoppers only. SFU visitors are not permitted to use mall parking. There are other paid parking lots in the vicinity of SFU Surrey available for visitors. These lots are public and SFU takes no responsibility for these lots.
Transit
SFU Surrey is located close to the Surrey Central Skytrain station and is accessible by a number of busses and Park and Ride options. Visit the Translink website for routes and schedules.
Agenda
8:45 AM
Registration and Networking (light refreshments provided)
9:15 AM
Indigenous Land Acknowledgement and Welcome
9:45 AM
Keynote Dr. Farooq Naeem | Culturally Adapted CBT research and training manual
10:45 AM
Break (light refreshments and snacks provided)
11:00 AM
Networking Poster and Showcase Session
11:45 AM
Panel: Adapting Mental Health Services for Equity-Seeking Groups
About the organizer
Public Square is a part of SFU: The Canadian university that is Engaging the World