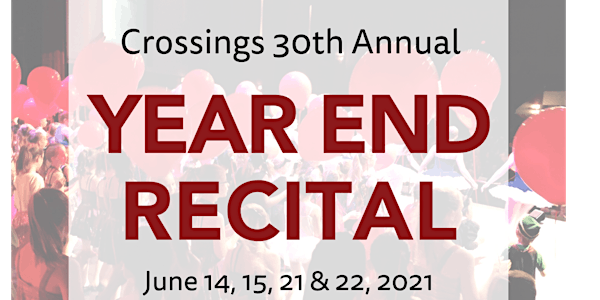 Crossings 30th Annual Year End Recital
Join us for our 30th Annual Year End Recital as our dancers lead us in celebrating the great JOY of COMMUNITY!
When and where
Location
Sunwest Church 260 Midpark Boulevard Southeast Calgary, AB T2X 0A1 Canada
About this event
We are THRILLED to have this privilege to celebrate the end of the 2020/21 Dance Season with a LIVE performance! Due to Covid-19 restrictions and limited capacity, we ask that you purchase tickets ONLY for shows in which your dancer is performing.
*Please refer to your Recital Newsletters for student performance and rehearsal details.
RECITAL A, B, D, E, F - 4 tickets (max) per family
RECITAL C - 6 tickets (max) per family
***Children ages 2 & under receive FREE admission (lap seating only). To help us keep accurate records of ALL audience members, please reserve a FREE ticket for these attendees (this does not count towards your max number of tickets).
Tickets are available ONLINE ONLY, and are non-refundable. Please PRINT your ticket at home and bring it to the Recital with you for proof of purchase.
Monday, June 14th
RECITAL A (5:00-5:45pm)
Primary Ballet
Primary Jazz/Modern
Acro/Tap (Mon)
Acro/Tap (Tues)
Ballet/Jazz (Fri)
RECITAL B (7:30-8:15pm)
Pre-Junior 1 Ballet
Pre-Junior 2 Ballet
Pre-Junior 2 Jazz/Modern
Acro A
Tap 8+
Musical Theatre
Tuesday, June 15th
RECITAL C (7:30-9:00pm)
Vocational 2/3 Ballet
Vocational 2/3 Modern
Vocational Jazz
Open Vocational Ballet
Vocational 4 Ballet
Vocational 4 Modern
Monday, June 21st
RECITAL D (4:30-5:15pm)
Tiny Toes (Mon)
Tiny Toes (Wed)
Tiny Toes (Sat)
Pre Prim Ballet (Mon)
Pre Prim Ballet (Tues)
RECITAL E (7:30-8:30pm)
Inter 2 Ballet
Inter 2 Jazz
Inter 2 Modern
Vocational 1 Ballet
Vocational 1 Modern
Acro B
Adult Tap - Beginner
Adult Tap - Advanced
Tuesday, June 22nd
RECITAL F (6:30-7:30pm)
Junior 1 Ballet
Junior 1 Jazz/Modern
Junior 2 Ballet
Junior 2 Jazz
Junior 2 Modern
Inter 1 Ballet
Inter 1 Jazz
Inter 1 Modern
Ballet/Jazz (Mon)