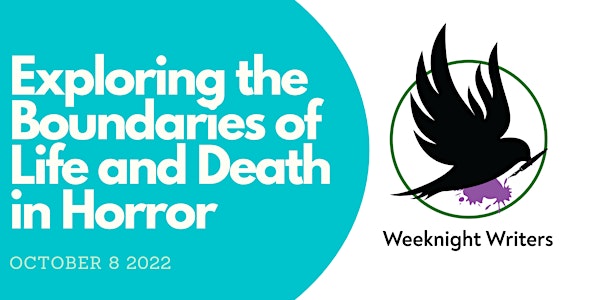 Crossroad Blues: Exploring the Boundary Between Life and Death
This panel will discuss how to explore the boundaries between life and death in your horror stories.
Refund Policy
Contact the organizer to request a refund.
Eventbrite's fee is nonrefundable.
About this event
Horror often seeks to explore the depth of human experience… including the boundary between life and death. This panel will discuss how to work these themes into your own horror stories.
Moderator
Laura Nettles is a California girl living in Canada. She lights special effects for films by day, and pens terror by night. Flash, drabbles and short stories are her bread and butter with 20 horror stories sold so far to publications including Lovecraftiana, Black Hare Press, and Tales to Terrify. She is currently querying a middle grade horror novel. Snuggles with her dog Roy, and warm cups of rooibos tea sustain her. Follow her journey and read some of her fiction at lauranettles.com.
Panelists
Lorina Stephens has worked all sides of the publishing desk: writer, editor, publisher. From freelance journalist for regional and national periodicals, to editor of a regional lifestyle magazine and then her own publishing house, she's been at this professionally since 1980. For 12 years Lorina operated Five Rivers Publishing as a house which gave voice to Canadian authors. Due to life circumstances, she had to change direction, and so now the house exists as a bit of a vanity press for her own work.
Barbara A. Barnett is a Philadelphia-area writer, musician, orchestra librarian, coffee addict, wine nerd, and all-around geek. Her short fiction has appeared in publications such as Lady Churchill's Rosebud Wristlet, Beneath Ceaseless Skies, Vastarien (forthcoming), GigaNotoSaurus, Fantasy Magazine, Black Static, Daily Science Fiction, and In Somnio: A Collection of Modern Gothic Horror. A 2007 graduate of the Odyssey Writing Workshop, Barbara is currently managing editor of the workshop's blog and a critiquer for the Odyssey Critique Service. You can find her online at babarnett.com or roaming the wilds of southern New Jersey, where she lives with her husband, a herd of surly unicorns, and a pantsless stuffed monkey named Super Great.
Bethany Perry has had many lifetimes – one in the American South, one in the American West, and one both before and after sobriety. She's always had a passion for reading and writing, and when she's not working, or hanging with her kids or partner or pets, she's likely at the computer, writing. Poetry, horror, fantasy, sci-fi, you name it. If it's got an off-beat twist, she's probably into it. Her debut novel, Reclamation, a sci-fi horror story about life after the zombie apocalypse and the Cure, and its sequels, Reclamation 2: Revolution, and Reclamation 3: Reconstruction are available wherever books are sold. Her dark fantasy novel entitled Give Me Grace from NineStar Press won runner up in the 2021 Rainbow Awards. If she were in front of you, she'd tell you to read a book. But also that a little TV is OK too, as long as it's Supernatural or Star Trek.
Jean M. Hodges has worked as a graduate student editor of Fairleigh Dickinson University's prestigious literary journal, The Literary Review, as well as having past experience as a publishing intern for the Sojourn Magazine of Stockton University (2016), winner of the Joseph Courtier Fiction Award (2018) for her urban fantasy short story, The Monster And the Itch, as well as being a featured article writer for The Comics Journal (2020-present)
Conference
This event is part of Storycrafting Sessions: Horror, a virtual conference hosted by the Weeknight Writers Group. Check out the other panels too:
Haunted Houses and Other Spooky Places: Creating Atmospheric Settings in Horror
Spirits, Ghosts, and Ghouls: Emotional Echoes and Supernatural Encounters
Dire Warnings: Building Social Critique and Concern Into Your Horror Writing
Gothic, Cosmic, Apocalyptic: Understanding Subgenres of Horror