Description
Join the Canadian Roundtable for Sustainable Beef (CRSB) for our Semi-Annual meeting in Guelph ON.
April 12-13, 2017
Delta Marriott Hotel & Conference Centre
ALL ARE WELCOME TO ATTEND! OPEN TO MEMBERS & NON-MEMBERS
This Semi-Annual meeting will include important updates about the CRSB, progress and exciting plans for the launch of CRSB's verification framework for sustainable beef in Canada. Highights will include:
30-day public consultation (Draft 2 of the CRSB Sustainability Indicators for Beef Production)
Preliminary results from on-the-ground verification framework beta tests
Indicators and verification for beef processing
Financial model for verified sustainable beef
CRSB Communciations and Marketing strategy
Discussion on development of claims and labelling for verified sustainable beef
Requirements for the next National Beef Sustainability Assessment
There will be an optional group supper planned on Wednesday, April 12, followed by a hospitality suite to continue fellowship.
Dinner will feature Dr. Jim Squires, CHAIR and Dr. Katherine Wood, Assistant Professor, Ruminant Nutrition & Physiology, Dept of Animal BioSciences from the Univeristy of Guelph.
**If you would like to attend, please be sure you purchase a separate ticket for the supper when you register.
---
The agenda will include the Members' Semi-Annual meeting, a CRSB Council meeting, as well as gatherings of our committees, including:
Joint Indicator and Verification committees

Communications and Marketing Committee
NEW! Scientific Advisory Committee
See full Agenda below.
Registration starts at 8:00 am April 12.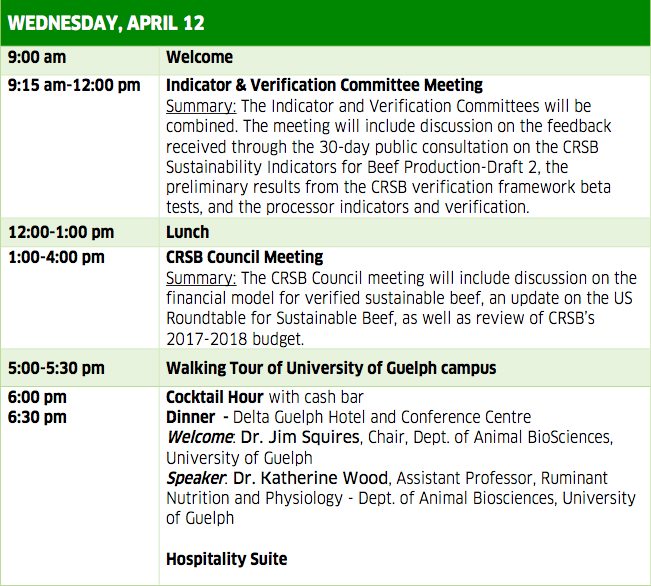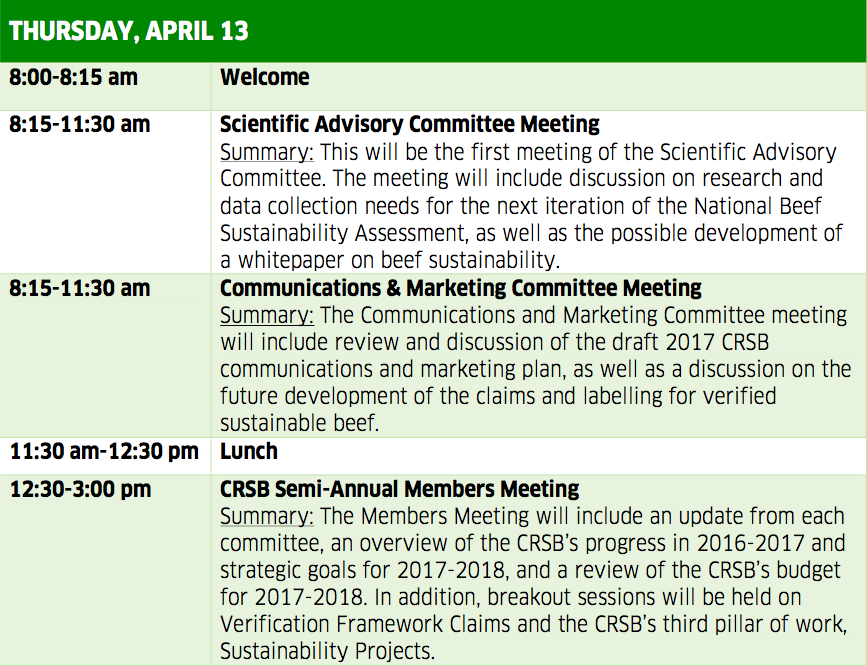 Please note that committee and council meetings are open to all CRSB members and attendance by non-committee members is encouraged.
---
Accommodations:
Accommodations can be made through the Delta Guelph Hotel & Conference Centre , or by calling 519.780.3700.
Transportation:
We have arranged a shuttle service with Red Car Service. Delegates will receive $10.00 discount per reservation ($20.00 discount on round-trip) when booking our Shared Ride Shuttle Service from/to Toronto Pearson Airport when they enter the Booking Code: CRSB17 into our online booking engine at www.redcarservice.com.
If you know of other people travelling on similar flights, you might consider booking on the same reservation to cave costs.
Shuttle services are also available from Red Car Service at other area airports; however, this special discount code is only valid for Pearson airport. Rates are as follows:
Toronto Pearson $75.00 (each additional passenger on the same reservation is $25.00)
Hamilton International $125.00 (each additional passenger on the same reservation is $5.00)
Waterloo International $55.00 (each additional passenger on the same reservation is $5.00)
**All fares are subject to 13% HST.