Crypto & Chill Toronto
Join us for an engaging session of valuable resources, networking and fun vibes! Learn about the 3 Crypto income streams, NFTs and more!
When and where
Location
The Westin Harbour Castle, Toronto 1 Harbour Square Toronto, ON M5J 1A6 Canada
About this event
Are you excited about creating wealth with Crypto? Do you believe in multiple streams of income and want to network with like-minded individuals who are also excited about Crypto, NFTs and Blockchain? Beginners are welcomed!
Then this is for YOU! Join our community and events to learn more about this exciting space. Our event will be a combination of education and networking with a welcoming vibe. Let's grow, learn and earn with Crypto while having fun doing it!
We're an online and in-person Crypto & Wealth-enthusiast group hosting live speaking events on a range of Crypto topics. You can join us in person if possible or on one of our live streams. Look out for our virtual happy hours and other networking events
P.S. We believe in diversity and inclusion. We understand crypto can be male-dominated and want to encourage women to join and feel welcomed in this space. Regardless of where you're at in your journey, everyone is welcome. This is a judge-free space. This will be a live in-person workshop. Beginners are welcomed!
You will learn:
The 3 Crypto Income Streams
Crypto Investment Strategies
Intro to NFTs
Resources
& More
There are limited tickets for this exclusive free workshop.
Transportation
Free parking is available at the hotel.
Via Rail
UP Express connects Canada's two busiest transportation hubs, Toronto Pearson International Airport and Union Station in downtown Toronto in just 25 minutes. Trains depart every 15 minutes. Click to learn more
Covid-19 Protocols:
Covid-19 measures will be in place. Masks are recommended. Sanitizer will be provided upon entry. Please do not attend if you are experiencing any symptoms. We encourage you to participate in our upcoming virtuals events.
Frequently Asked Questions:
Do you need prior knowledge about Crypto to attend?
Not at all! This is a beginner-friendly event and we encourage those who are new to the space to attend.
Is this open to all ages?
Yes, all ages are welcomed. We are passionate about helping youth learn about financial literacy and this new exciting space. We will have some resources available for them.
Can I bring a few friends?
Yes! Learning and networking are always more fun with friends! So yes, you can definitely bring them along.
Do I need to bring anything?
We recommend bringing a notebook, a pen and a smile!
What do I need to prepare for the event?
Make sure you have the event time in your calendar blocked off and start planning your way there. You can also look at some FREE Crypto content here.
Is there parking available?
Yes! There is free parking available at the hotel.
Crypto Workbooks:
Grab the premium and exclusive Crypto workbook that includes both the hardcopy and digital ebook copy. It covers investing, trading, the latest crypto trends and more!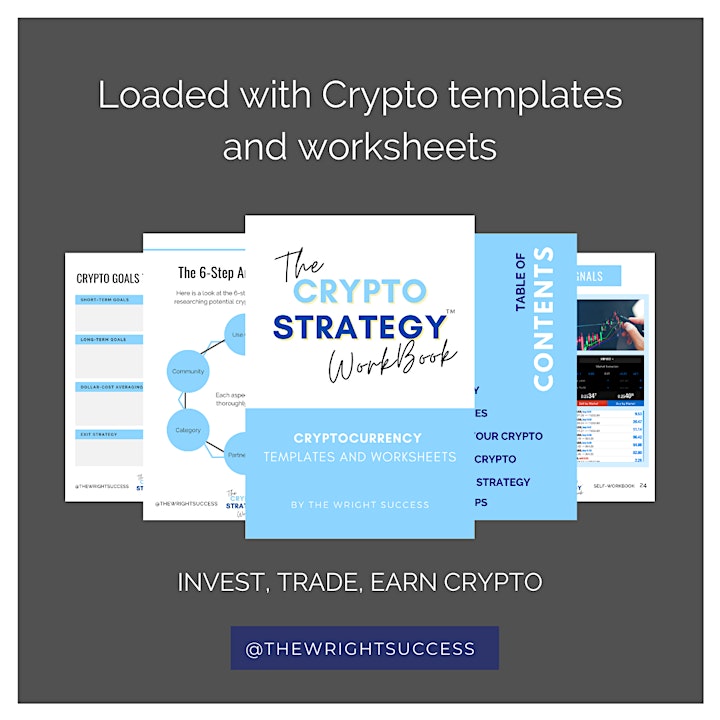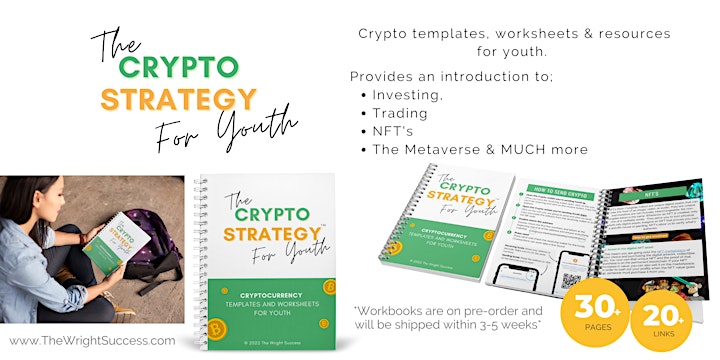 Your host & Crypto Coach:
Ashley Wright
Founder, The Crypto Strategy Academy
Ashley is an energetic and ambitious Girlboss who quit the corporate 9-5 world to pursue her love of Crypto, travel and empowering others. She's on a mission to help others create generational wealth through Crypto and has built a global brand with her Crypto Strategy Academy.
She leads the industry as one of the top Crypto Educators in Canada and is the co-founder of Crypto Babes, an online community for women excited to learn about crypto, which has over 22,000 members. Ashley has spoken at many conferences, was featured by "Women of Influence" and "Gal Talks Tech" and she continues to impact others.