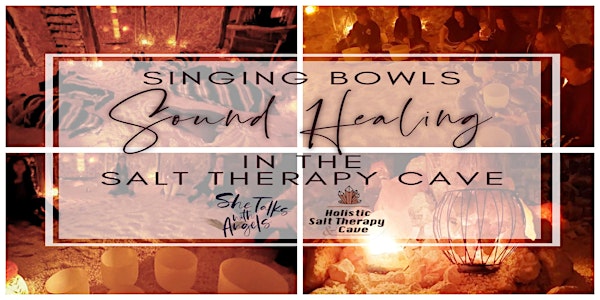 Crystal Bowls Sound Healing in the Holistic Salt Therapy Cave
Crystal Singing Bowls Sound Healing + Basalt Hot Stone Restoration + Meditation in the Holistic Salt Therapy Cave
When and where
Location
Salt Therapy Cave 16 Brock St.W. Uxbridge, ON L9P 1P2 Canada
About this event
• Halotherapy (Salt Therapy)
• Guided Breathe Meditation
• Sound Healing with 432 Hz Crystal Singing Bowls & Ocean Drum
• Basalt Hot Stone Grounding
• ...near the end of the session try your hand at singing a bowl!
SALT CAVE
Himalayan salt is anti-inflammatory, antibacterial, antifungal + bacteria, fungus & virus cannot live, breed or grow on or within the salt.
A medical halo-generator grinds up the salt into a fine micro-mist transforming the cave into a micro-medical climate.
Halotherapy (Salt Therapy) is beneficial for overall wellness, treats respiratory issues, enhances lung capacity, improves the function + appearance of the skin, boosts the immune system, reduces stress + aids in better sleep.
SOUND HEALING
Crystal Singing Bowls are made of pure quartz + sand in a spinning mold at 4000 degrees. Notes of the crystal bowls are tuned to specific frequencies within the human body causing our cells to move in harmony with the healing sound waves.
The body then goes into a deep meditative state reducing stress, pain, anxiety & anger; lowering blood pressure, improving concentration, boosting the immune system + increasing feelings peace + joy.
www.angeltalk.ca
www.instagram.com/she.talks.with.angels/