Sonic Sound Journey With Crystal Journey. Cross Canada Tour Brings David Hickey To Victoria.
About this event
Friday, May 22nd (NEW MOON)
Church of Truth
111 Superior St.
Victoria, BC
7:00-9:00pm
Cost $25/Person At The Door
Bring Yoga Mats Or
Blankets To Lie On
Limited space to lie down, arrive early if that is desired.
What You Can Expect From Crystal Journey:
The show will take place in two 40 to 50 minute sets. David's usual set up includes 6 Quartz Crystal Bowls, 8-10 Paiste Planet Gongs, 2 Santoors, Shruti Box & Harmonica. Occasionally David Uses His Vocals To Create Harmonized Chants.
Nothing is amplified, pre-recorded or rehearsed. Each set and performance is sonically pure, unique and completely improvised. You can purchase CDs and other merchandise at the shows with cash or cheque or online with a credit card.
We invite you to take a seat or lay down as close to the instruments as possible to get the greatest effect. Remember to bring a yoga mat, blanket and/or pillow as most venues will have floor space to lay down. Chairs for regular seating are also available. Where possible we encourage you to share rides and car pool. It not only saves gas but helps to reduce our carbon foot print on the earth and traffic.
www.crystaljourney.ca
For more info about the music.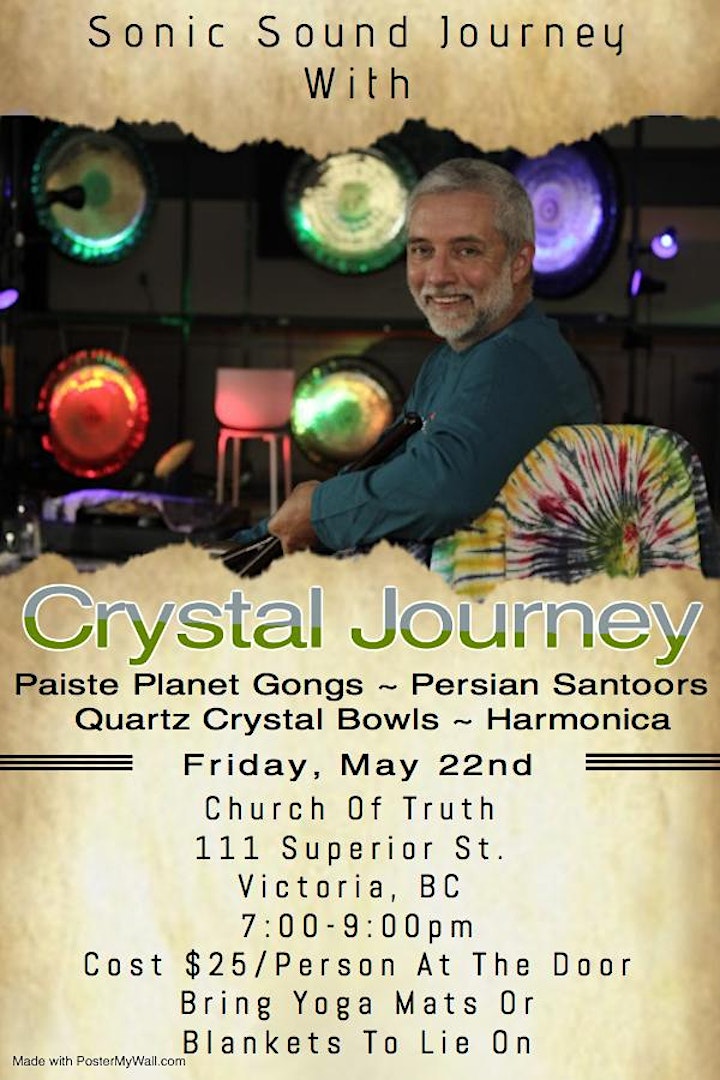 Organizer of Crystal Journey In Victoria, BC
Based in Parry Sound, Ontario, Crystal Journey and David Hickey performs with 8-12 Paiste Planet, Symphonic and Sound Creation Gongs. Every Gong features a strong fundamental note tuned to represent a natural harmonic series based on the orbital properties of the Sun, the Earth, the Moon and the other planets. This Theory is based upon Pythagorean Cosmology.
2 Persian Santoor's. The Santoor is an Indo-Persian trapezoid-shaped hammered dulcimer or string musical instrument made of walnut with seventy-two strings. It is the national musical instrument of Iran. It dates back to ancient time, Mesopotamia (1600-911 BC) and Babylonia. It's a Beautiful sounding instrument often sounding like a piano. The Gongs and Santoor are accompanied by 6-10 Quartz Crystal Singing Bowls. Each produces a pure note or tone, the purest there is.
Crystal Journey has been touring Canada and the US coast to coast for the past 16 years and has performed over 1300 shows. Crystal Journey has also released 9 CDs to date. I have played the Bowls and Gongs accompanied by various musicians as well as with the Winnipeg Chamber Orchestra in June of 2006.
As 2020 unfolds, I hope to create more awareness of my music through new recordings, a greater online presence and some live videos. The world and in particular the human race is at a crossroads. Music can help ease some of our stress and hostility. Each Crystal Journey concert is aimed at providing the audience with a safe and relaxing environment. Each of my performances are completely improvised, and unique. The music attracts a full range of listeners. My concerts are typically in two sets, each lasting about an hour in length.
My main musical inspirations are, Frank Sinatra, Bing Crosby, The Beatles, Bob Dylan, Tom Petty, Pink Floyd, The Who, Jerry Garcia to name a few.