Description
2020 is a reporting year. Register, Attend & Earn OAA credits at each of our seminars!

Seminar details are as follows:
1:30-2:30 PM - Seminar 1 - CSA S478 Guideline on Durability in Buildings
2:45-3:45 PM - Seminar 2 - The Law of Universal Consequences

4:00-5:00 PM - Seminar 3 - Biophilic Design Makes Sense
---
Seminar 1 - CSA S478 GUIDELINE ON DURABILITY IN BUILDINGS

Speaker: David De Rose, M.A.Sc., P.Eng. BSS
Principal at Synergy Partners Consulting Ltd
David is a building enclosure specialist. He has over 20 years of experience in evaluating building enclosure performance problems (such as air and water leakage and thermal performance) and designing repairs.
---
Seminar 2 - THE LAW OF UNIVERSAL CONSEQUENCES: What interior designers create can have effects that are unanticipated or "unintended".
Goal: The goal of this seminar is to enhance awareness of the role that interior design plays in clients' product decisions, by showing how designers are planning with environmental resilience in mind, how selecting one product can have a significant impact in the world, and what to look out for when specifying resilient products. We will give examples of effective approaches for specifying and building projects that do not have unintended consequences impacting the world. The topics discussed will range from the top three things you can do as a designer to avoid unintended consequences to specific project case studies.


Topics of discussion:
Case studies of unforeseen problems that can arise when specifying environmentally friendly or resilient products

Environmental changes and when using resilient products saved money

Examples of a product specification and their positive environmental impact

How to prevent unknown or unintended consequences when specifying products.

What to look for? Red listed ingredients
Speaker: Roberta Diachok

ARIDO, LEED AP, PMP, SSLP, CR.w, CIN, IDC, Fitwel
VP, Project Management & Design at Savills
INTERIOR DESIGNER & PROJECT MANAGEMENT PROFESSIONAL - WORKPLACE STRATEGIST
Roberta started her journey as an interior designer in 1997 and has been volunteering as a passionate advocate for the profession ever since. She is a senior professional with over 22+ years of experience leading high-performance teams with a collaborative approach in interior design, workplace strategy, and project management. Focused on the customer, she maintains strong partnerships and enhances team productivity by leading strategy, conceptual design and contract negotiations to ensure quality and drive innovation. She has practiced in architecture, interior design and real estate firms, as well as internally on the client-side, and has practiced in the corporate, healthcare, retail, hospitality, residential and education sectors. Roberta is the current President for the ARIDO GTA Chapter and volunteers for IMPACT2030 and Green Teams of Canada. A dedicated lifelong learner, Roberta is currently working on her WELL AP and PROCSI, CMP accreditations.
---
Seminar 3 - BIOPHILIC DESIGN MAKES SENSE: Discussing how Biophilic Design uses our senses to improve our productivity, immune and wellbeing.
Goal: The seminar's goal is to share the latest products, designs, and effects of biophilic design using specific design examples and reviews of the latest industry research.
You will learn:
A high-level evolution of biophilic design – with respect to products direct in nature, and indirect with nature.

The latest research on the effects of biophilic design on people's wellbeing, physiologically, mentally, and cognitively.

How biophilic design affects our senses using light, hearing, touch, and smell.

To discuss the connection with sustainability and biophilic design.

To review the latest trends in biophilic design.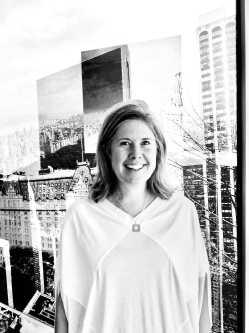 Speaker: Sperry Bilyea, BSc., MBA
CEO of Wallumination
Sperry began her career in corporate wellness from the ground up with a degree in human biology from Queens University. From there, her passion for wellness grew as she completed her MBA in the US and France majoring in workplace health and productivity.
For over 25+ years, Sperry has worked in health-based companies, including Cerner and NaviMedix. In these roles, she saw firsthand the impact of focused wellness in large medical centers across Canada and the US. Having these experiences developed her profound belief that a focused multi-faceted approach to wellness improves overall wellbeing in both a business and therapeutic setting.
As Director of Corporate Wellness at Highpoint Wellness Center, Sperry worked with organizations such as Bell Canada, Canada Post, General Mills, and health and safety associations to implement wellness programs into work environments. Working with these companies and her lifelong passion for nature and design inspired Sperry, to learn about Biophilic Design as a mechanism to improve overall wellbeing. As CEO of Wallumination, their beautiful sustainable art boxes are designed to bring the tranquillity and beauty of the natural world to every space.
Sperry lives in Toronto with her husband, three children, and their dog Carly. She is the co-founder of Shift Your Thinking--A charity that supports families and teachers of children with Learning Differences, ADHD and mental health challenges including anxiety, furthering her commitment to bringing greater wellness to families.
---
SEMINAR REGISTRATION INFORMATION
Please provide your name, company, position, and email address. All registrants will receive a badge and seminar passport on the day of the show at the main registration desk. Note any registrations received after February 14th will not receive a pre-printed badge. Blank badges will be available at the registration desk.

This is for SEMINAR registration only. Please see below for Attendee, Exhibitor & Luncheon registration.
- ATTENDEE
- LUNCHEON
- 2020 CSC BUILDING EXPO - RESILIENT DESIGN
Join us as we Educate, Communicate and Collaborate!