CSCE Dinner Presentation: Brighton Block - Design and Construction
Description
Brighton Block Redevelopment:
Learn more about The Brighton Block and its historical significance here.
RJC is providing structural engineering services on this three-storey, 1912 Edwardian mixed-use building. The project intent is to add three storeys totalling 15,000 sq. ft., completely demolish the 19,337 sq. ft. of interior, and rebuild it. To support the additional levels it was vital to design and complete a new support structure for the building including a new foundation, new support columns, and new cast in place concrete floor slabs.

The redevelopment involves complete removal of the existing wood frame structure to accommodate for the new construction, flat plate cast-in-place concrete floors are used to maximize floor clearance. The building perimeter columns were constructed first within the existing structure to stabilize the existing masonry walls, which have been designated as a heritage resource.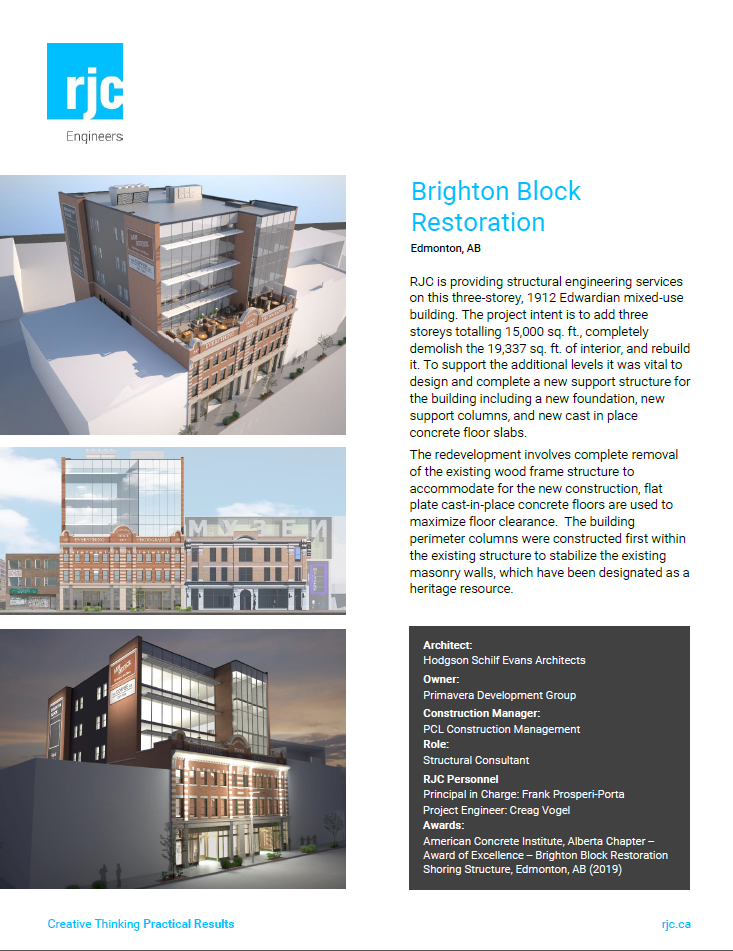 Presenters:
Creag Vogel, B.Eng., P.Eng., LEED® AP
Associate, Structural Engineering Team, RJC
A graduate with first class standing from the Civil engineering program at Lakehead University, Creag joined RJC in 2007 and obtained his Professional Engineer designation with the Association of Professional Engineers and Geoscientists of Alberta (APEGA) in 2011. Creag has also successfully completed the Principles of Construction Documentation course through the CSC, Project Management Bootcamp through PSMJ Recourses, and is a LEED® Accredited Professional.
Creag is an Associate with Edmonton's Structural Engineering Team and is involved in the structural design of new and existing buildings, and evaluation of existing structures. His latest projects have included the 44-storey Encore Tower, and the renovation to the 1912 Brighton Block which involved the complete replacement of the interior structure while maintaining the historical façade of the building. He has also been recognized for this work with the University of Alberta, most notably the 87 Avenue Pedway structure which was a finalist in the 2017 Alberta Steel Design Awards of Excellence.

---
Tim Dalphond, CET
Project Manager, PCL
With over 17 years in the construction industry, Tim has grown into a project manager who meets construction challenges with a strategic and methodical approach. Tim takes a collaborative approach towards creating open lines of communication with all project stakeholders, and has consistently demonstrated an ability to meet client needs by working with all project stakeholders to understand their expectations and requirements on each project.
Tim's career covers a wide range of project types, and challenges. He has successfully delivered multiple complex projects for the University of Alberta in both healthcare and institutional builds. His ability to problem solve and proactively manage complex project sites has made him a respected and reliable partner to EPCOR on multiple Wasterwater Treatment Plant expansion projects. Tim's ability to deliver high quality projects isn't limited to new construction, as he's been involved in demanding redevelopment and renovation projects from the crucial pre-construction phases through to project turnover. The recently completed historic Brighton Block redevelopment required Tim to work through multiple structural issues while respecting the heritage of the building and delivering on the client's requirements. Through his project leadership, he was able to foster an environment of collaboration and value engineering to find creative solutions that fit the budget, schedule and vision for the project.
---
Marty Stepanick
Superintendent, PCL
Over the 16 years of his construction career, Marty has acquired a broad exposure to the construction industry through his various field leadership roles here in Edmonton. He has built a strong resume of successful redevelopment, healthcare, commercial and institutional projects of varying complexity and scale. Marty is a natural on-site leader who is always up for a challenge, he leads by example and inspires his team to achieve a high quality product on-time and on budget.
Familiar with all delivery formats, Marty is a client focused superintendent who fosters both trust and confidence in his relationships with all project stakeholders and believes that effective planning, scheduling and cost control are a combined team effort.
Marty's strong leadership style proves valuable in executing field operations and managing his designated set of trade contractors. He is committed to applying an approach of collaborative and open communication to effectively managing the cost, schedule, safety and quality requirements throughout the project lifecycle.
---