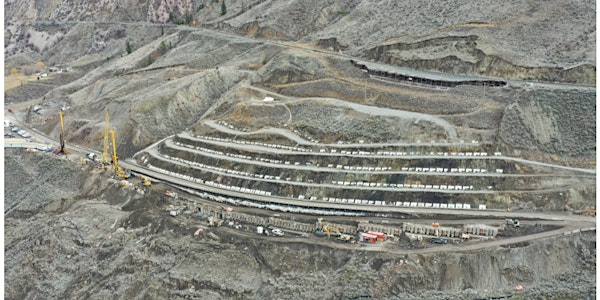 CSCE Edmonton Webinar Presentation: Ten Mile Slide Stabilization
Come join us for a wonderful presentation!
About this event
Presentation Synopsis:
The presentation will summarize the design and construction of slope stabilization at Ten Mile Slide undertaken by the BC Ministry of Transportation and Infrastructure (Ministry) on Highway 99, which was successfully completed in Fall 2021. The landslide forms part of a much larger, dormant "soil glacier" called the Tunnel Earthflow and has been continuously active for decades, spanning the highway and upslope railway. The stabilization project, approximately 17 km northeast of Lillooet on the left bank of the Fraser River, resulted in improved long-term safety and reliability for people and goods travelling the highway and the CN rail line above. Highway 99 is an essential route between the rural communities of Lillooet, Xaxli'p first nation and transportation networks in Kamloops. The retained portion of Ten Mile Slide is 200 m wide at the highway and is 300 m long with an estimated volume of 1,000,000 m 3 of soil material.
Presenter:
Rod Kostaschuk, M.Eng
Rod Kostaschuk, M.Eng., is a Principal Geotechnical Engineer with BGC Engineering Inc. based in Kelowna BC. He has over 35 years experience in geotechnical engineering with project work in foundation engineering, hydrogeology, slope stability and numerical modelling for transportation and resource sector projects including highways and railways, oil and gas, mining, water supply and hydroelectric dams and infrastructure, largely within BC and Alberta. Recent experience includes a focus on slope support and stabilization using structural elements and other earthworks, drainage and ground improvement measures. For the Ten Mile Slide Stabilization Project he is the lead geotechnical engineer and EoR and coordinated the supporting structural and highway engineering, field review during construction and geotechnical monitoring and interpretation.
Disclaimer: Digital Screenshots could be taken at today's virtual event. By taking part in this event you are granting Canadian Society for Civil Engineering (CSCE) Edmonton Section full rights to use the images resulting from the digital screenshots at this event. This might include (but not limited to), the right to use them in CSCE Edmonton Section's printed and online publicity and social media.