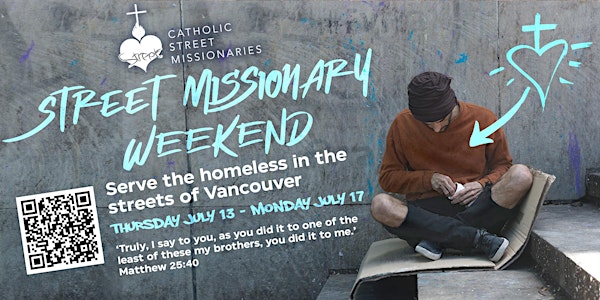 CSM Street Missionary Weekend
Spend a weekend with other young adults in reaching out to our less privileged brothers and sisters on the streets of Vancouver.
By Catholic Street Missionaries
Date and time
Thu, Jul 13, 2023 9:00 AM - Mon, Jul 17, 2023 9:30 AM PDT
Location
St. Mary's Roman Catholic Church 5251 Joyce Street Vancouver, BC V5R 4G8 Canada
About this event
The CSM Street Missionary Weekend is designed to introduce young people to the life of a street missionary, sharing a life of prayer and service with others who go out into the streets bringing the love of Jesus to the homeless.
For the weekend, participants will live a communal life, praying, learning, and reaching out to our homeless friends on the streets. We will also enjoy recreational activities together. Participants will stay overnight in the church hall or office basement at St. Mary's Parish.
Who can apply?
Young adults 19-39 who would like to serve Jesus in the poor. No experience required. Training is provided. Because of the unique nature of this event and very limited number of spaces, applicants will be interviewed and asked to supply two character references. If accepted, we request a $20 donation to CSM to help cover expenses for the weekend.
Event Overview*
Day 1 - Thursday - Retreat
Introduction, talks, testimonies, prayer and meditation
Day 2 - Friday - Stay Out and Fellowship
Stay in the streets for a day to build compassion and understanding of our street friends followed by fellowship activities
Day 3 - Saturday - Introduction to Outreach
Homeless outreach training, prayer and outreach to homeless, free time to socialize and explore the city.
Day 4 - Sunday - Outreach and Conclusion
Spiritual reading, additional training and outreach, sharing and closing prayers.
* Tentative - subject to change without notice
What to bring?
Overnight essentials, photo ID, a sleeping bag and mat, extra set of clothing for street outreach, water bottle.
How can I contact the organizer with any questions?
Email catholicstreetmissionaries@gmail.com or call Mildred 778-885-9611
What is Catholic Street Missionaries?
To learn more about Catholic Street Missionaries, visit www.catholicstreetmissionaries.org
About the organizer
Catholic Street Missionaries is a registered charity started in the Archdiocese of Vancouver in 2016.  Our mission is to develop young lay missionaries to reach out to the margins of society, to restore their sense of dignity and to accompany them through life.  To learn more about Catholic Street Missionaries, please go to our website at www.catholicstreetmissionaries.org or contact Mildred at 778-885-9611 (email: catholicstreetmissionaries@gmail.com)