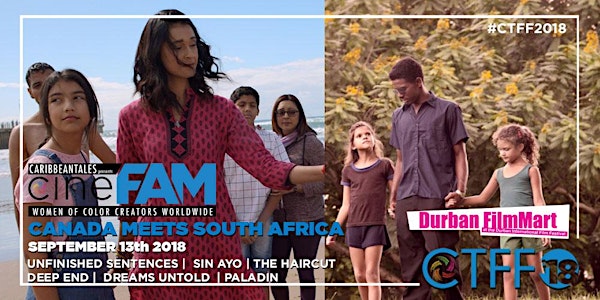 CTFF2018 - CineFAM Building Bridges: Canada Meets South Africa
When and where
Location
The Revue Cinema 400 Roncesvalles Ave Toronto, ON M6R 2M9 Canada
Refund Policy
Contact the organizer to request a refund.
Description
CineFAM is a Haitian-Creole word meaning 'films by women'. CTFF is a proud supporter of women of colour creators, highlighting films by international female filmmakers each year.

*** Join us for our annual CineFAM reception before the screening at Aniq Restaurant, 403 Roncesvalles. 5:30pm.***
Part 1 - Canada:

Screening Begins at 7pm

Leading the way this year is Mariel Brown's feature film 'Unfinished Sentences' a deeply personal documentary exploration of the father/daughter relationship. Surrounded by short films that illustrate the trials and tribulations of navigating family relationships, all through the lens of a woman.

Co-presented by WIFT-T, Film Fatales, Women in View & This is Worldtown
Featured Screening:

UNFINISHED SENTENCES directed by Mariel Brown

Runtime: 95 min [ watch trailer ]
A filmmaker daughter and her writer father navigate the conflicting issues of their relationship: race and art, adoration and disappointment, success and failure. Until he dies and in her grief, she discovers that his poetry and prose transcend death, allowing her to hear his voice again and find a way back to herself.
Featured Short Films:

THE HAIRCUT directed by Maya Annik Bedward

Runtime: 10:30 min [ watch trailer ]

Marvin came to Canada from Jamaica in the early 1950s. With no Black barbers in his new neighbourhood, he endured many painful haircuts as a child. At 65, he still hates to get his haircut.
A funny and refreshing take on the classic immigrant story, The Haircut is an exploration of assimilation and resistance through the portrait of one man's refusal to cut his hair.
SIN AYO directed by Elizabeth Francisco

Runtime: 12 min [ watch trailer ]

We are immediately drawn to the humming of a young girl. We see her uncovering the past through old memorabilia belonging to our protagonist Flor Marie. This work of fiction takes us on a reflective journey around the true events on the morning of November 6th of 1967 in Curacao.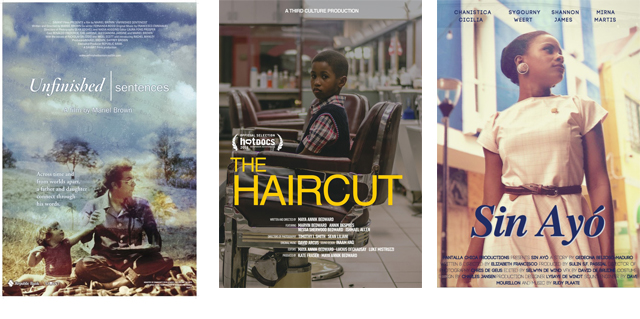 Part 2 - South Africa:

Screening Begins at 9pm
For years CaribbeanTales has nurtured a powerful partnership with South Africa and the Durban Film Mart. This year, we are proud to host the World Premiere of Eubulus Timothy's 'DEEP END', a coming of age surf love story.
Featured Screenings:
DEEP END
directed by
Eubulus Timothy
FEATURED SCREENING – WORLD PREMIERE
Sunitha Patel has lived her 'daddy's' dream all her life and now wants to find her own way in the world, even if it means making waves in her society. Through her desire to become a surfer, she gets into conflict with her father who has different visions for her future. But by finding herself on her surfboard, she finds love and even herself.
Runtime: 90 min
Country of Production: South Africa
---
PLUS: THE WORLD PREMIERE OF THE WINNING SHORTS OF THE CINEFAM SHORT FILM CHALLENGE
PALADIN
SHORT FILM – CONTEST WINNER!
While reading comic books on the roof of her apartment building, a young woman's psychosis causes visions of herself as the valiant superhero Paladin, saving citizens from the evil Iblis, who seeks to steal their fate, and ultimately their freedom. At great personal risk, she charges headfirst into battle, hoping to emerge victorious.
Runtime: 5 min
Country of Production: Canada
---
DREAMS UNTOLD
directed by J.L. Whitecrow
SHORT FILM – CONTEST WINNER!
Upon returning from a long trip, a young woman hopes to recover after leaving an abusive relationship, but as she lays down to rest, her dreams urge her to confront her deepest horror. Mare is a sleep paralysis demon that is as old as sleep, theorized to haunt individuals who've experienced traumatic events. As Mare comes to her bedside, she must choose save herself or to be eaten by fear.
Runtime: 5 min
Country of Production: Canada