Description
SOLD OUT - WAITING LIST AVAILABLE AT THE DOOR
Winston Hall was a notorious fugitive adored by the people of Barbados for his cunning tenacity in evading the law. In a time when corruption was commonplace on the island, Hall stood for liberty and justice among his community. Join CTFF for our annual Bajan Invasion -- featuring a true jailbreaker of a documentary with music by Kid Site, Red Plastic Bag and MADD.
-----------------
7.00pm: OPENING RECEPTION

9.00pm: SCREENINGS BEGIN

-----------------
Featured Screening:
HALL directed by Rommel Hall
Runtime: 94 mins [ watch trailer ]
What follows are tales of daring escapes and police chases as Hall seemed to be always one step ahead of the long arm of the law. Twice he was recaptured and twice he defied the odds by escaping maximum-security prison and fleeing to neighbouring Caribbean islands. Hall would become somewhat of a folk hero in Barbados where locals would speculate as to his whereabouts and spin incredible tales about how he was able to escape custody as often as he did while others could not.
Featured Short Film:

ROOTS / ROUTES directed by Kia Redman
Runtime: 15 min [ watch trailer ]

"If you think of culture always as a return to roots — R-O-O-T-S — you're missing the point. I think of culture as routes — R-O-U-T-E-S — the various routes by which people travel, culture travels, culture moves, culture develops, culture changes, cultures migrate, etc." – Stuart Hall
Posters: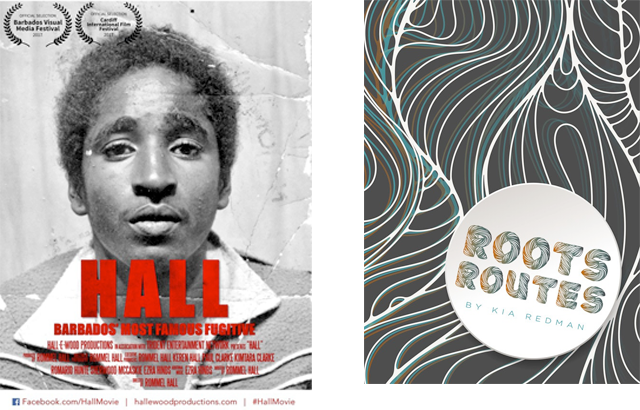 Organizer of CTFF2018 - Draw Fire: Bajan Invasion
CaribbeanTales is a registered Canadian charity (no. 87896 4618 RR0001) that creates, markets and distributes educational programs and products intended to promote racial equality in Canada and abroad.
Our mandate is to foster and encourage intercultural understanding and citizen participation through the creation and distribution of educational films, videos, theatre as well as new media programs, products and resource materials that reflect the diversity and creativity of Caribbean-Canadian heritage culture.
Black Films Matter.