Description
Jah Moon, Jamrock, Jamdown. Jamaica has many names and many different identities. One thing is for sure: this culturally rich island is never short of masterful stories. Come and see films that tell of its history and it's present, weaving a deep reality that surrounds the Jamaican people. Always political and ever truthful, seeking redemption from the woes of it's past. You'll soon see that Jamaican filmmakers are a force to be reckoned with.
*EARLY BIRD Ticket Sales End August 20th!
Featured Screening:
DANCEHALL'S ASIAN AMBASSADORS directed by Kaneal Gayle
Runtime: 43 min [ watch trailer ]
This documentary takes a look at the lives of four Japanese women who fell in love with Dancehall music and decided to move to Jamaica to build lives and careers. They also dismiss talks about cultural appropriation and profess their love for the island, the music, the people and the culture.
Featured Short Films:

ABEEKU AND THE MAROONS directed by Kevin Jackson
Runtime: 4 mins [ watch trailer ]
Set in 18th century Jamaica, an escaped slave tries to free his pregnant sister from McNab's cane plantation. They are forced to separate when they are attacked by guardsmen. Abeeku must find the freedom fighters called the Maroons to help him find and rescue his sister once again.
THE INCURSION directed by Sasha-Gay Lewis
Runtime: 24 mins [ watch trailer ]
On May 23, 2010 a joint police/military operation famously known as "The Incursion" was launched in the innercity community of Tivoli Gardens, Jamaica to capture the notorious drug lord Christopher 'Dudus' Coke. This search climaxed in a deadly clash between the security forces, residents and supporters of Coke.
Told from the perspective of the residents, "The Incursion" is an immersive experience that chronicles the events of that day, the emotional and personal trauma the residents' endured and its lingering effects on their lives today.
KINTO directed by Joshua Paul
Runtime: 16 min [ watch trailer ]
Kinto, 14 years of age, lives on the streets of Kingston, Jamaica wiping the windscreens of cars at stoplight intersections. This graphic short story depicts a day in the life of this young boy and the hardships he has to endure. Despite the harsh circumstances he faces, Kinto embraces his identity when he makes an unexpected act of kindness.
Posters: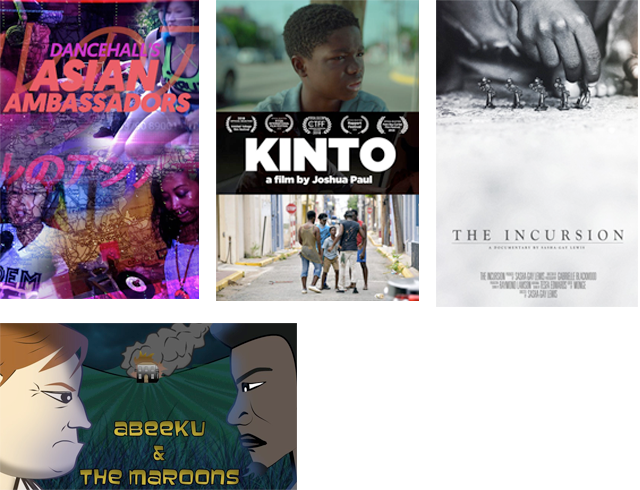 Organizer of CTFF2018 - Redemption Tales
CaribbeanTales is a registered Canadian charity (no. 87896 4618 RR0001) that creates, markets and distributes educational programs and products intended to promote racial equality in Canada and abroad.
Our mandate is to foster and encourage intercultural understanding and citizen participation through the creation and distribution of educational films, videos, theatre as well as new media programs, products and resource materials that reflect the diversity and creativity of Caribbean-Canadian heritage culture.
Black Films Matter.