Description
Where does justice lie? Is it in our communities, fighting for our basic rights? Or in our families, working for a better future? 3 films about black justice from around the world, each with a differing viewpoint. Films that encourage dialogue about gentrification, intersectionality, activism and everything in between. This is a night to air your truth and to feel vindicated.
*EARLY BIRD Ticket Sales End August 20th!
Featured Screening:
NOT IN MY NEIGHBOURHOOD directed by Kurt Orderson
Runtime: 95 mins [ watch trailer ]
As cities around the world catapult themselves into 'World Class', Global City status, we have to ask ourselves, "at what cost"? Not in my Neigbourhood gives the account of citizens on the frontline of the struggle against the intersectional nature of Gentrification from three seemingly World Class Cities.
The film explores the effects of various forms of spatial violence on the spirit and social-psyche of citizens. It follows their daily struggles, trials and triumphant moments, as they try to shape the cities they live in, from the bottom up! Portraying our characters as active citizens, fighting for their right to the city, the film acts as a portrait of stories telling the history of spatial violence within the background of Architectural Apartheid to Gentrification.
Featured Short Films:
LESSONS INJUSTICE directed by Karen Chapman
Runtime: 9 min [ watch trailer ]
Danardo Jones sets out on a car ride with his teenage son in hopes of having a conversation that some parents dread and others are unaware of.
As a lawyer, Jones is well aware that the law can do little to protect his son against the anti-black racism and discrimination that has become a part of his complicated identity.
HOW TO BUILD A TREEHOUSE directed by Gavin Mendoca
Runtime: 12 mins [ watch trailer ]
A one guitarist sits on the Sea Wall, at the coast of the Atlantic Ocean strumming his guitar. He closes his eyes and begins hearing powerful words in the ancient and native Patamona language, perhaps the voice of 'Kai'. When he opens his eyes, he finds himself in a new, unfamiliar place.

THE DELIVERER directed by by Ron Morales, Paul Pryce
Runtime: 14 min [ watch trailer ]
Joseph Chike recuses a man at sea: the mysterious Shane Khan. Reluctantly, he gives the man refuge in the village until he recuperates. Shane learns of the predicament facing the village and shrewdly brokers a deal with Joseph: help him traffic cocaine from Venezuela to Trinidad using fishing boats and he'll get him the money he needs to bribe any government official to leave the village in peace.
With no options left, Joseph takes Shane up on his offer and together they set sail to Venezuela on their first drug run.
Posters: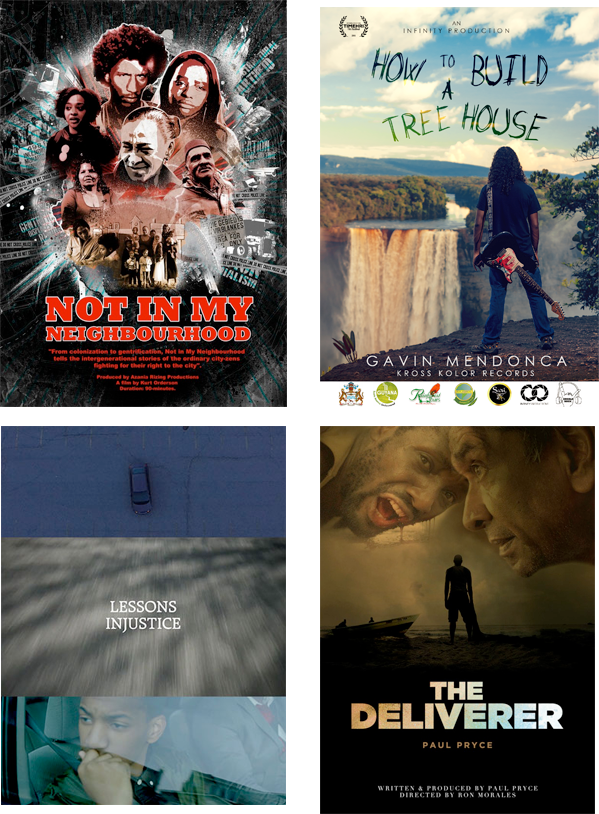 Organizer of CTFF2018 - Shades of Justice
CaribbeanTales is a registered Canadian charity (no. 87896 4618 RR0001) that creates, markets and distributes educational programs and products intended to promote racial equality in Canada and abroad.
Our mandate is to foster and encourage intercultural understanding and citizen participation through the creation and distribution of educational films, videos, theatre as well as new media programs, products and resource materials that reflect the diversity and creativity of Caribbean-Canadian heritage culture.
Black Films Matter.