Description
The world has watched as Haiti has suffered through many catastrophes. One can feel hopeless, or one can seek to make a change. Come celebrate the beauty of the Haitian people and help us raise money for 'the land of the high mountains' while watching films that illustrate how far this little island has come and how far it has to go.
Featuring a deep account of UN Peacekeeper violence from the feature documentary 'It Stays With You'. Half of all ticket proceeds will be donated to Artists for Peace and Justice.
Featured Screening:
IT STAYS WITH YOU: Use of Force by UN Peacekeepers in Haiti directed by Cahal McLaughlin & Siobhan Wills
Runtime: 43:21 min [ watch trailer ]
Between 2005-2007 UN peacekeeping troops carried out several raids on Cité Soleil, a severely economically depressed neighbourhood of Port-au-Prince. Although the raids were specifically targeted against leaders of criminal gangs, scores of civilians were killed and many more injured. This film returns to Cité Soleil to examine the impact of those raids on the community and to find out how survivors of the raids have fared in the ten years since. The film is produced using participatory practices, where the survivors retain control over their own contribution and were consulted during the filmmaking process and prior to public viewing.
More information can be found at www.itstayswithyou.com
Featured Short Films:
HAITIAN CHICKEN IN TIJUANA directed by Todd Kellstein
Runtime: 15:30 min [ watch trailer ]

What do Tijuana and Haitians have in common? Recently… a whole lot. Tijuana has become home for a community of thousands of Haitian refugees. They took great risks and traveled long distances to live somewhere they felt would be a better life and provide better working conditions. However, many of them have gotten stuck within a frisbee's throw south of the US border due to recent border control laws and are now iving in limbo.
SOUND OF THE FUTURE: HAITI directed by Luke Versalko
Runtime: 18:55 min [ watch trailer ]
Once known as 'The Pearl of the Antilles', Haiti has become a place where many fear going and are just as eager to escape. However, a renaissance of sorts is underway. Young Haitians in the arts are working together to make their country the destination of the Caribbean.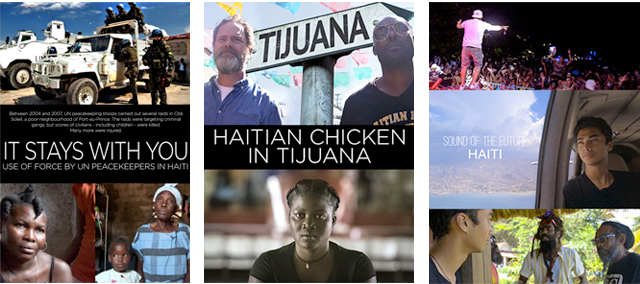 Organizer of CTFF2018 - Torchsong: Haiti
CaribbeanTales is a registered Canadian charity (no. 87896 4618 RR0001) that creates, markets and distributes educational programs and products intended to promote racial equality in Canada and abroad.
Our mandate is to foster and encourage intercultural understanding and citizen participation through the creation and distribution of educational films, videos, theatre as well as new media programs, products and resource materials that reflect the diversity and creativity of Caribbean-Canadian heritage culture.
Black Films Matter.