Description
ENGLISH (FRENCH will follow)
special afro-cuban week end
Percussion-dance-music
10 hours of classes in 1 week-end:
lodging in a share (2) room + 5 meals + classes+ special afro-cuban night on sat.: 340$

Lodging in a private room + 5 meals + classes+ special afro-cuban night on sat.: 420$

classes only of the entire workshop + special afro-cuban night on sat: 200$

all levels

no paiement on site
OUR TEACHERS:
DANCE: Chiquitico Dixon, Daisy Villalejo, Melissa Noventa
PERCUSSION: William Hernandez, Javier Campos Martinez, André Dupuis
SONGS: Jesus Moré Bengochea
see the bio at the end!
---
FRANÇAIS
C'est le retour de notre fin de semaine intensive de percussions et danses afro-cubaine, Vième édition

6 professeurs expérimentés + 1 chanteur
DANSE: Daisy Villalejo, Chiquitico Dixon, Melissa Noventa
PERCUSSION: William Hernandez, Javier Campos Martinez, André Dupuis
et Jesus Moré bengochea (accompagnement en chant)

Inscription en danse OU en percussion (10 heures de cours)
Niveaux débutant et inter-avancé (pour la danse et la percussion)

Des cours de Son avec musiciens live, des cours de Congo, chancleta (apportez vos sandales scholl!), Yoruba et plusieurs autres
des cours de percussions: cajones, congas, bata et des styles variés: rumba, yoruba, congo...et plus encore

Vous pouvez vous inscrire aux cours seulement (sans hébergement) OU avec Hébergement
et bien sûr notre soirée "Bembe sous les étoiles"

Prix
-sans hébergment: 200$
-hébergement double avec repas: 340$
-hébergement simple avec repas: 420$
-aucun paiement sur place
tous nos prix incluent la soirée afro-cubaine
Paiement par eventbrite
si vous voulez éviter les frais (mais faîtes vite!)

Paiement par chèque: à Ilulade, Culture & Traditions
10615 Rancourt, Montréal, Qc, H2B 2P4
(reçu sur réception par courriel)

d'autres modalités de paiement sont disponibles sur demande: contactez-nous!
514-527-6828
---
BIO:
Daisy Villalejo:
Madame Daisy Villalejo, est bien connue des milieux des Arts afro-cubains autant comme danseuse soliste que pour sa grande expérience comme professeure et chorégraphe. Elle est diplômée de l'institut supérieur des Arts de l'Université de la Havane avec spécialisation en danses folkloriques afro-cubaines.
Elle débute sa fructueuse carrière comme ballerine du Ballet Patakin en 1974. Elle y interprète plusieurs danses afro-cubaines comme soliste et fera de nombreuses tournées à travers le monde pour de nombreux évènements nationaux et internationaux.
En 1980, elle intègre le célèbre Conjunto Folklorico Nacional de Cuba où elle poursuit sa fructueuse carrière de danseuse soliste tout en amorçant un travail de chorégraphe et de professeur qu'elle poursuit toujours à ce jour. Ces deux aspects de son travail sont reconnus par plusieurs médailles d'honneur et des prix divers.
Parallèlement à son travail au Conjunto, mémoire et tradition du ballet folklorique afro-cubain, elle participe et dirige de nombreux stages dans plusieurs pays d'Europe et d'Amériques et fait grandement connaitre la danse et les traditions afro-cubaines. Elle enseigne également au centre de la danse du Consejo Nacional de las Artes escénicas.
Chiquitico Dixon:
Cuban-born George Dixon Davis (Chiquitico to his friends), studied traditional Afro-Cuban dance under revered Cuban masters, Rodolfo Reyes, Ramiro Guerra and Roberto Espinosa.
Armed with this solid background, he went on to form his own dance company, PATAKIN, destined to become one of Cuba's most renowned folklore ensembles, and with whom he was able to exercise his talents as a dancer and choreographer.
During the 1970s, he performed as lead dancer in the prestigious Conjunto Folklorico Nacional de Cuba, that guardian of oral tradition and Afro-Cuban folk ballet.
In the course of a fruitful career that spanned over 20 years, Chiquitico shared his talents as teacher, performer and choreographer with numerous ensembles among which, Nuevo Teatro y Danza, Grupo de Danza de Medicina, Grupo Kalunga and Papo Angarica Orchestra; he also performed alongside several well-known Cuban artists such as Omara Portuando, Celina Gonzales, Elena Burke, Los Papines, Tatagüines and Los Van Van.
In addition, he has collaborated on several film productions such as Oggun (which won praise in the US), La rumba and La rumba de Papà.
On numerous occasions, he has travelled to far-away countries in Europe, Asia and the Americas, sharing his knowledge and leading master-classes on the rich heritage of Afro-Cuban culture.
Over the years, his work has earned him several awards and decorations among which:
1974 – Award for Most Outstanding Artist at the East-German Youth Festival
1969 – Best choreographer at the Annual Cuban Carnival in Havana
1990 - Second prize for choreography at the Annual Cuban Carnival in Havana
1997 - The Gösta Knutsson Award for his work with Swedish youth
Chiquitico Dixon has been living in Sweden since 1992, where he works as a dance teacher and choreographer at the Royal Academy of Music, the College of Dance, the Stockholm Ballet Academy and the Music Academy of Malmö. He also runs his own studio in Upsala where he offers classes on the folk and popular dance repertoires of his native Cuba.
Javier Campos Martinez:
Javier est l'un des plus grand spécialiste de la percussion cubaine vivant à l'heure actuelle en France. Il est arrivé en Europe à la fin des années 1990 en Hollande, pour travailler avec le saxophoniste Mark Lotz.
Langue parlées : Espagnol, Français, dialectes africains parlées à Cuba (Yoruba, Efik).
Né à La Havane, dans le quartier populaire "el Cerro", il commence à jouer la rumba à l'âge de 7 ans. Il entre ensuite dans l'ensemble de carnaval le plus célèbre de Cuba, la comparsa "El Alacrán". Il y côtoie les principaux musiciens de son quartier, et s'initie avec eux à la percussion telle qu'on l'apprend « dans la rue », c'est-à-dire de manière traditionnelle. Il est également à l'occasion un surprenant chanteur.
-Professeur et jury à l'Instituto Superior de Artes (I.S.A.) à La Havane (plus haute Université d'Art de Cuba). Jury des diplômes supérieurs de la I.S.A. avec Tatá Güines, José Luis Quintana "Changuito", "Palillo", et José del Pilar Suárez.
-Professeur au Conservatoire de Rotterdam (Hollande).
-Professeur au Conservatoire d'Amsterdam (Hollande).
-Professeur à l'École de Musique Cubaine Abanico à Paris, devenue par la suite l'I.S.A.A.C. (Institut Supérieur des Arts Afro-Cubains). Cette école comprend des formations en chant, musique et danse dans tous les styles cubains, avec des formations agréées
-Formateur avec l'ADDM et le CEFEDEM dans les régions Bretagne et Pays de Loire (à Nantes et St. Brieuc).
-Cours et Masterclasses à la Universidad Católica de Lima, au Pérou.
-Stages internationaux en Sicile à plusieurs reprises.
-Masterclasses dans diverses structures en France (CNR de Toulon, ENM de St. Brieuc, IMFP à Salon-de-Provence, CMAC à Fort de France, …).
Il est sous contrat avec la firme Pan Records (Hollande) qui a produit l'album de son groupe "Afrekete" (« Iyabakuá ») avec des figures de la musique afro-cubaine, telles que : Marta Galarraga, Ernesto Gatell, José del Pilar Suárez, Lázaro Rizo, Pancho Quinto Mora et "Lucumí". Pan Records a également produit son dvd pédagogique sur la rumba.
-Percussionniste du groupe Obá Ilú de Gregorio "El Goyo" Hernández, une des figures les plus marquantes de la rumba et du folklore afro-cubain.
-Percussionniste du groupe Bayuba Cante (Hollande), orchestre de musiques du Monde composé de musiciens de tous pays (Hollande, Allemagne, Iran, Cuba, Malte, Turquie).
-Percussionniste du groupe du saxophoniste Mark Lotz, qui a créé plusieurs projets autour de la musique cubaine.
-Percussionniste du groupe de la chanteuse Marta Galarraga et de son groupe, Marta y su Galarumba.
-Il a tourné avec Omar Sosa, Orlando Poleo, El Hadj N'Diaye, Julien Loureau…
-Il a fondé à Paris le groupe de rumba « Rumbabierta » avec Miguel « Puntilla » Ríos, Abraham Manfaroll, Onildé Gómez, Sebastian Quezada…
Melissa Noventa:
Melissa Noventa, est spécialisée en danse afro-cubaine. Après des études de baccalauréat en danse contemporaine et en chorégraphie, elle obtient une maîtrise en ethnologie pour laquelle elle étudie la culture afro-cubaine à travers les différentes formes de musiques et de danses qui y sont associées.
Elle fait de nombreux voyages à Cuba pour se former auprès de plusieurs compagnies de danses, notamment Cutumba (Santiago de Cuba) et Danz Art (Havane).
Depuis 2010, elle enseigne à l'Université de York où son talent, sa musicalité et sa pédagogie sont appréciés de ses élèves.
Elle danse sur de nombreuses scènes en plus de donner des ateliers spécialisés de danse afro-cubaines au Canada et aux États-Unis. Elle est également la directrice artistique de Ilédè Afro-Cuban Drumming and Dance, qu'elle a contribué à fonder avec Michael Marcuzzi.
Elle danse avec le chœur Ilu Ladé depuis 2011
André Dupuis:
Percussionniste talentueux doué d'une originalité et d'une technique précise qui l'ont fait connaître, André Dupuis est spécialisé dans la musique latine et plus particulièrement la musique afro-cubaine pour laquelle il est la référence au Québec. Il se perfectionne continuellement auprès des plus grands maîtres et sa carrière professionnelle est jalonnée de prix et reconnaissances diverses pour les formations auxquelles il donne son talent. Il est le percussionniste attitré du groupe La Volée d'castors.
William Hernandez: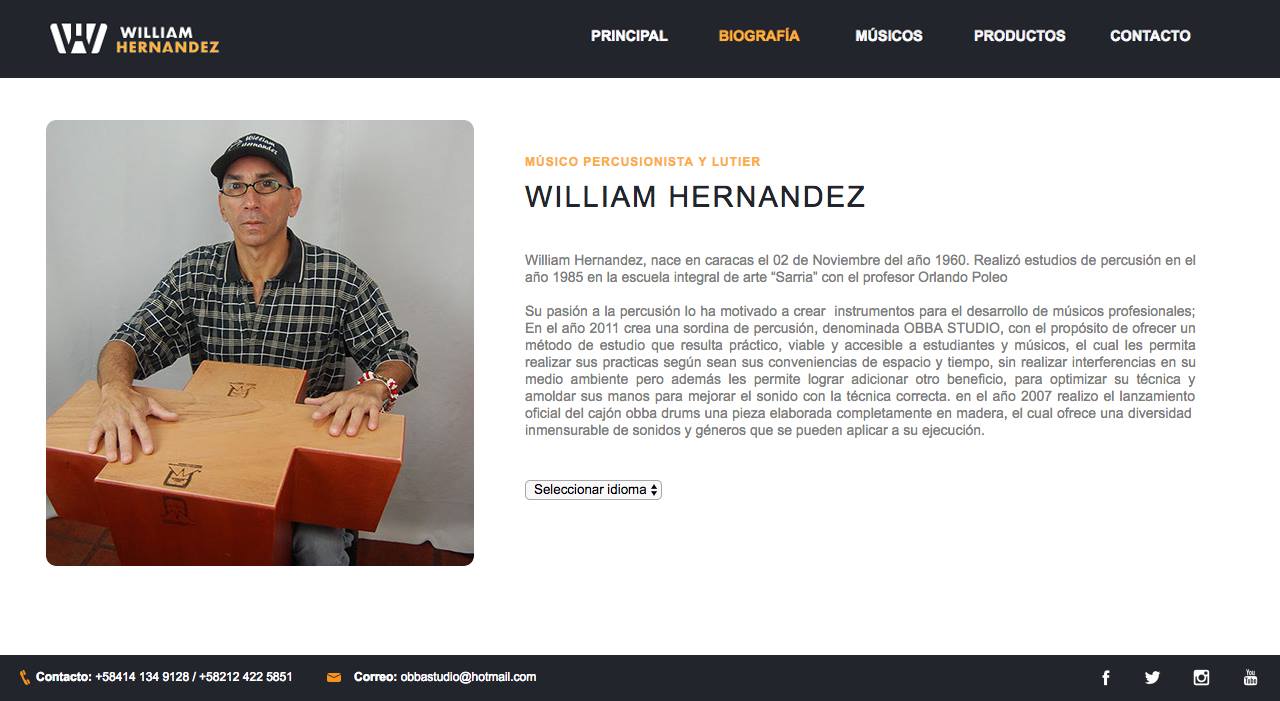 Jesus Moré Bengochea:
Jesus Moré Bengochea , artiste cubain spécialisé dans le chant choral, possède une vaste expérience autant dans l'enseignement que comme chanteur professionnel. De 1986 à 2012, il enseigne à la Escuela Nacional de Instructores de Arte à la Havane mais aussi comme professeur invité et comme conférencier dans plusieurs pays d'Amérique latine.
Il prête son talent à plusieurs ensembles notamment le chœur Exaudi dont il est un des membres fondateurs, et avec lequel il parcourt plusieurs pays d'Europe, d'Amérique et d'Australie. Avec ce chœur, il reçoit le premier prix aux concours internationaux de chorale de Hongrie (1990), d'Allemagne (1993) et d'Espagne (1992,1993, 1994, 2005).
Il participe à de nombreux enregistrements discographiques de musique populaire et baroque.
En 2012, il immigre au Québec et devient le soliste attitré et le chef de chœur de la chorale Ilu Ladé