Location
Wellness Centre – South Health Campus (South Hospital, Main floor)
Front Street Southeast
Address Line 2
Calgary, AB T1X
Canada
Description
Do you …
Need a refresher on how to bake gluten free?
Want to prepare and taste gluten-free recipes?
Want to try working with different gluten-free ingredients?
Need gluten-free recipes & ideas to make during the holiday season?

Want to check out the Wellness Kitchen and Wellness Centre at South Health Campus?
Get your hands dirty in the South Health Campus Wellness Kitchen! Join Nutrition & Culinary Solution's registered dietitian Kristyn Hall & Wellness Kitchen Consultant & registered dietitian April Matsuno & bake up delectable dishes using gluten-free flours and ingredients!
During this hands-on cooking session, we will:
Discuss gluten free flours and their unique properties

Work with gluten-free flours and lentils

Taste delicious gluten free baking

Discuss the nutritional challenges of eating gluten-free

Discuss who needs to follow a gluten-free diet

Share recipes, ideas and tips for gluten free holiday baking

Meet and network with people interested in gluten-free baking
Each participant will walk away with:
Tasteful gluten-free recipes

Gluten-free resource package

Skills to help you confidently prepare and enjoy gluten-free baking
Date: Tuesday November 19, 2013
Bake 6:00 – 8:30 pm
Location: Wellness Kitchen
Wellness Centre – South Health Campus (Main floor)
4448 Front Street SE Calgary AB
http://www.albertahealthservices.ca/Facilities/SHC/page86.asp
Cost: $79
Receipts issued from Registered Dietitian Kristyn Hall for reimbursement from flexible health spending account

Recipes will include eggs, butter.

Please advise if you have any food allergies.
Questions? Contact Kristyn Hall at 403.874.1715 khall@nutritionandculinarysolutions.ca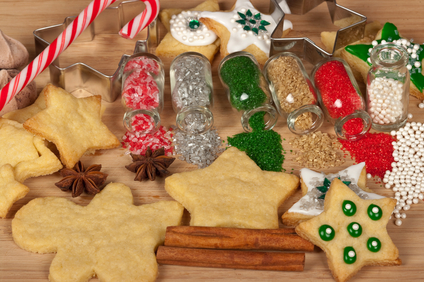 MENU
Culinary Bootcamp: Gluten Free Baking and Cooking
Baking (all gluten-free)
Holiday Clouds

Festive Cookies

Apple Spice Cake

Gingerbread Cupcakes
Notes about the class:
Recipes will include eggs, butter.

Please advise if you have any food allergies.

This class will include some hands-on baking.

We will be working in small groups. Everyone will have an opportunity to sample the foods prepared.

Please bring close-toed shoes and something with which to tie back your hair.
How to find South Health Campus
South Health Campus (SHC) is located in the southeast of Calgary. Take Deerfoot Trail to Cranston Av/Seton Blvd exist and head one block east on Seton Boulevard. South Health Campus will be on your right. www.albertahealthservices.ca/Facilities/SHC/page86.asp
Parking at South Health Campus
Public parking is located in the underground parking Lot 1 on Level P1 (parkade entrance B). Park in the Forest section. Parking rate is $2.00 per half hour. Pay stations are located throughout the campus and accept cash and all major credit cards. Two-hour free parking is available on the south side of SHC on Front Street, by the main entrance.
How to find the Wellness Kitchen
Turn left off the Forest elevators or turn right from the stairs from the Forest parking lot. Follow the hallway to the Wellness Centre on the right (climbing wall across from Diagnostic Imaging). The Wellness Kitchen door is just inside the main doors.
Brought to you by Nutrition and Culinary Solutions and the South Health Campus Wellness Kitchen
Cancellation policy: To maintain our operations, we must receive your request to cancel your registration via email by Friday November 15, 2013. Otherwise, you will be charged the full amount of the session. Completion of registration will count as understanding and acceptance of this policy. Cancellations will be subject to a $20 administration fee.