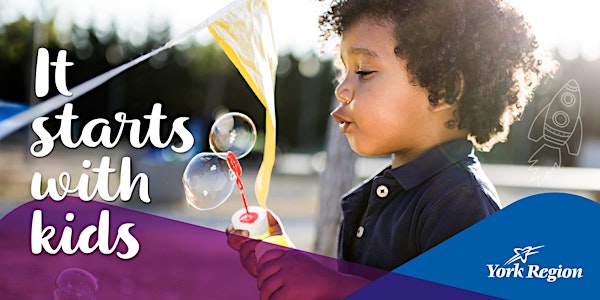 Cultivating Children's Interests to Support of Meaningful Curriculum
Join us for this Free virtual training session for Early Learning and Child Care Professionals who work in York Region.
About this event
Cultivating Children's Interests to Support of Meaningful Curriculum
This is an interactive, virtual training session.
Educators will be encouraged to participate through voice and video in order to collaborate with each other and to practice skill development.
Observe and listen to children playing in environments that are rich with possibilities.
You will see that indoors and outdoors; children will discover, and they will respond with interest. They will conduct their own experiences because of this interest, constructing knowledge, and developing their own theories.
Children are theory builders. In their explorations they are always asking "why? Teachers are also theory builders. Teachers observe children "because when they ask "why?" they are not simply asking for the answer from you.
We must think deeply about interests and how and why we are using them for curriculum development.
Join this interactive webinar to explore children's interests and theories as inspiration for programming.
This session will be facilitated online via Zoom and you will receive a link the day before the session takes place.
About the Presenter:
Dr. Diane Kashin, RECE
Diane is a registered early childhood educator who started her career teaching at a child care centre where she later assumed a supervisory position. In the early nineties Diane moved to York Region and was the child care coordinator at the York Region District School board. She taught at Seneca College until retiring in 2014 at both the degree and the diploma level and was instrumental in the development of the Bachelor of Child Development degree program at King campus.
Diane is a graduate of the Ontario Institute of Studies in Education/University of Toronto. Diane's doctoral thesis on emergent curriculum was published in 2009 and she has co-written three ECE textbooks including Outdoor and Nature Play in Early Childhood Education (2019). From 2014 to 2018, Diane was a lead researcher with Okanagan College in the development of an open access, web-based learning resource designed to increase the capacity of early childhood educators to offer outdoor and nature experiences for children funded by the Lawson Foundation.
Diane is the past president of the Association for Early Childhood Educators of Ontario and current coordinator of the York Region Nature Collaborative which provides Land-based learning experiences for educators, children and their families.
Diane writes a blog to support professional learning in early childhood education, Technology Rich Inquiry Based Research and loves to engage in continuous professional learning through social media platforms. Diane presents workshops, webinars and keynote addresses in Ontario, across Canada and internationally.
For more information about this training and other professional development and training opportunities offered by York Region, please visit our Eventbrite Page or email capacitybuilding@york.ca.
York Region Children's Services
Organizer of Cultivating Children's Interests to Support of Meaningful Curriculum
York Region Children's Services supports children, families, child care providers and the community in providing high-quality services so that children have the best start in life and grow to become part of strong communities. Our mission is to work together to provide access to inclusive services for all children and families of York Region through collaborative partnerships with the early years community.  To learn more about Children's Services and programs, visit york.ca/children or call the KIDS Line at 1-888-703-KIDS (5437).