A 90-minute video call to cultivate community, practice relational presencing, and experience and learn the hosting arts.
About this event
What began many months ago as a regular gathering for remaining socially together while physically apart has cultivated a warm and welcoming community. We continue to Cultivate Community and have made that our explicit aim.
During our last gathering we explored the crossroads at which each of us found ourselves. We then enjoyed a reflection on Mark Nepo's poem, The Appointment. We wondered 'what the bird knows' and 'the appointment we were born to keep'.
What are the conversations bubbling up in your community? Which conversations would you like or want to be part of? Which ones do you feel we really, really need to have? Which ones would be, well, really cool? This Friday, join us to explore what you are sensing and to where, if anywhere, you are drawn.
Every two weeks we host these 90-minute calls to make space for people to connect with their experience and intentions, with others, and to move toward their preferred future.
There is no cost to join this call. Newcomers are always welcome!
We look forward to seeing you Friday, February 5, at 7:00 AM PST / 10:00 AM EST / 3:00 PM GMT / 4:00 GMT + 1
You MUST REGISTER to receive the link to this call.
If you choose to join us please:
Arrive several minutes early and ensure your mic and camera are connected and working properly prior to the start time.
Be open to being present to others
Come prepared to share your stories and gifts
These commitments will offer us the best chance possible cultivating resonance and community between us.
If you can only attend for part of the call it is far better to join us on time for the beginning and leave early, than to arrive after the call has started.
If you have any questions, write to events@axiomnews.com.
A Deeper Dive Into a New Way of Living and Leading
Axiom News is now offering a longer series based on the success of our work with the Peterborough Dialogues. This Axiom News Dialogue Series will be for a cohort of people who stay together for the entire 6-part series and are interested in deepening the experience and learning the practices we work with during our Friday calls. Learn more about that series beginning February 4, 2021 by clicking here.
This call is held by video conference and will be recorded. You can opt out of using video or having your image or voice appearing in public circulation. Details about this will be presented at the beginning of the call. Alternatively, if you would like to enquire privately about this, please write to peter@axiomnews.com.
The event image features sketchnotes from the Jan. 22 Cultivating Community call by Yvonne Hollandy. See the full image below: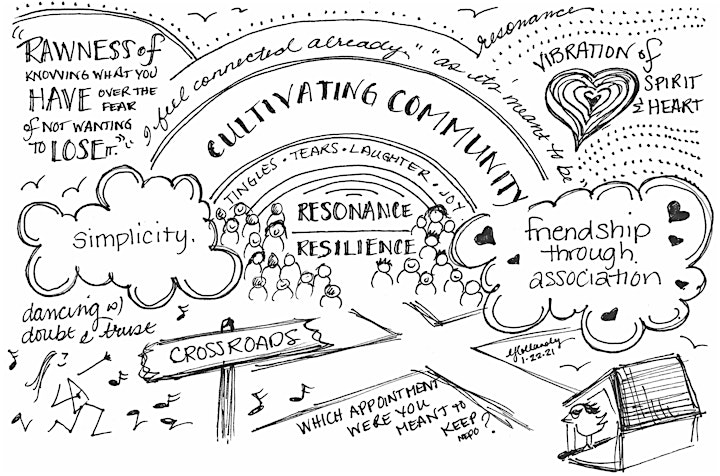 Sketchnotes from the Jan. 22, 2021 Cultivating Community call by the talented Sylvia Collins: