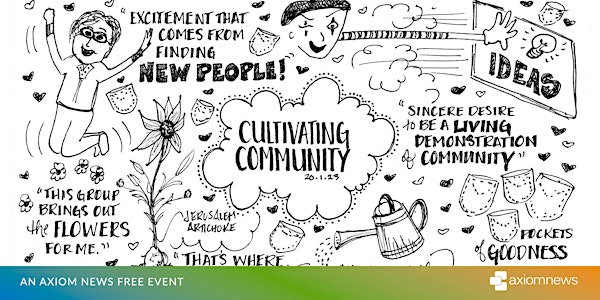 Cultivating Community
A 90-minute video call to cultivate community, practice relational presencing, and experience and learn the hosting arts.
Date and time
Fri, Feb 3, 2023 7:00 AM - 8:30 AM PST
About this event
What If We Nurtured Intention While Being Open to Emergence?
Community Conversations offer a regular space for you to discuss what is important to you, cultivate enduring relationships, and shape new possibilities.
FOR ALMOST THREE YEARS NOW, we've been hosting 90-minute gatherings every two weeks with an intention to Cultivate Community. We hold steadfastly to a pattern of small-group dialogue, led by carefully crafted questions, followed by light whole-group reflection. Each dialogue round deepens connection and enlivens possibility between and amongst those who participate.
The intention, form, time and date do not change. These can be counted upon and offer a stable, welcoming, and predictable pattern.
This liberates us to be open to what is alive in the moment as we shape the subject for each week's conversation.
A small group of facilitator-hosts and community members meets 30 minutes prior to each call to sense into what is alive in community. We then weave this all together to shape the questions we'll invite you to explore in dialogue with other participants. Our questions are always general enough to invite what is important to you and precise enough to encourage deeper understanding and emerging possibility.
Relying on well-worn practices we host a generative space for connection, conversation, and light collaboration.
WE INVITE YOU TO JOIN US for the next in our series of conversations to surface new possibilities for community on Friday, February 3, 2023 from 10:00 – 11:30 am EST.
These Community Conversations provide an opportunity for learning about holding conversational space. Please feel welcome to join us 30 minutes before the start to explore how to hold the conversation and remain with us 30 minutes after the call to debrief the conversation.
If you would like to experience:
Genuine connection with others
Being heard
Patience, levity, and laughter
Warmth, light, smiles
Curiosity towards and around who each person is
New, deepening, and healing relationships
People being at centre of intention and action
Knowing that we have the solutions in the present
Asset sharing
Possibility that galvanizes commitment
Then this call could be for you.
There is no cost to join this call.
We look forward to seeing you Friday, February 3 at 10:00 AM EDT.
BE SURE TO CHECK YOUR TIME ZONE using this online converter.
You MUST REGISTER to receive the link to this call.
If you choose to join us please:
Arrive several minutes early and ensure your mic and camera are connected and working properly prior to the start time.
Be open to being present to others
Come prepared to share your stories and gifts
These commitments will offer us the best chance possible cultivating resonance and community between us.
If you can only attend for part of the call it is far better to join us on time for the beginning and leave early than to arrive after the call has started.
If you have any questions, write to events@axiomnews.com.
This call is held by video conference and will be recorded. You can opt out of using video or having your image or voice appearing in public circulation. Details about this will be presented at the beginning of the call. Alternatively, if you would like to enquire privately about this, please write to peter@axiomnews.com.
The event image features sketchnotes done live during the Jan. 20 Cultivating Community call by Yvonne Hollandy. See the full image below: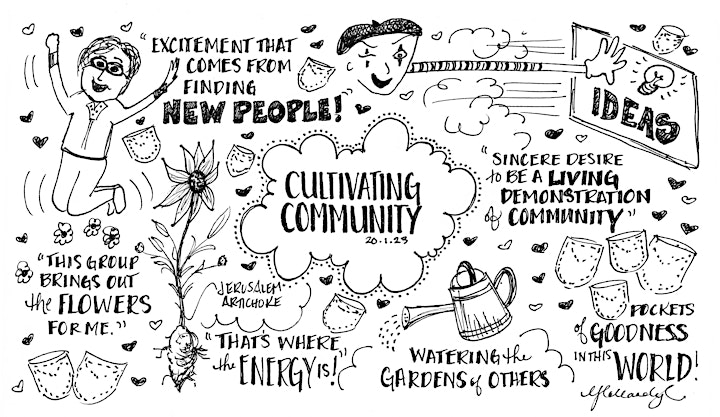 About the organizer
Axiom News produces news and events that cultivate possibility and move people toward their preferred future.