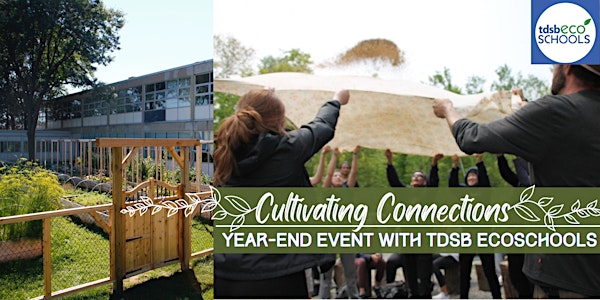 Cultivating Connections: Year-end Event with TDSB EcoSchools
Come celebrate environmental learning and climate action within the TDSB with garden tours, talks, food and fun at Don Mills Collegiate!
When and where
Location
Don Mills Collegiate Institute 15 The Donway East Toronto, ON M3C 1X6 Canada
About this event
Cultivating Connections: Year-end Event with TDSB EcoSchools
You are invited to join the TDSB's EcoSchools and OISE ESE teams for a year-end event, "Cultivating Connections," to celebrate educators' strength and resilience after another challenging year. Hosted by secondary teacher Dan Kunanec and his students at Don Mills Collegiate Institute, this event showcases the seeds of change being planted in their extraordinary school gardens, and provides an educational/social event for elementary and secondary teachers involved in environmental learning and climate action within the TDSB. Join fellow teachers for a talk by Evergreen's Urban Agriculture Lead, Isaac Crosby (a.k.a. "Brother Nature"), tours of the garden led by DCMI students, and light refreshments catered by Chef Tyler Malenfant and students in the school's hospitality program. Come to cultivate connections and get a taste of what an EcoSchool can achieve!
Schedule
Date: Tuesday, June 14, 2022
Time: 4:30pm – 6:30pm ET
Location: Don Mills Collegiate Institute (DMCI)
Cost: Free!
Keynote Talk by Isaac Crosby a.k.a "Brother Nature"
Isaac Crosby (Evergreen's Urban Agriculture Lead) comes from a small farming community 30 minutes south of Windsor, ON called Harrow, ON. He is proud of his Ojibwa/Black Canadian heritage and looks forward to sharing their histories. He studied Landscape Horticulture Tech at Humber College and currently leads urban agriculture programming at Evergreen Brick Works, now virtually! He incorporates his education and traditional First Nations farming to grow great crops, to teach others, and to do his part in saving the Earth.
Garden Tours hosted by DMCI's very own Dan Kunanec and students
Dan Kunanec teaches Green Industries, Technological Design and Hospitality & Tourism at Don Mills CI. His 20 + year journey as an educator connects his past experience in industry with the current and future successes of his students. Urban possibilities, local Indigenous connections and an overall sense of community wellness and well-being drive his classroom pursuits.
Light Refreshments will be provided
A light tasting menu has been created and will be prepared during the event by DMCI partner Chef Tyler Malenfant, Dan Kunanec and DMCI students. This menu features DMCI's approach to food: rustic, seasonal, local and artisanal. There will be gluten-free and dairy-free/vegan options.
Registration Instructions
****You must register on Eventbrite using your TDSB or OISE/UofT email address in order for your registration to be valid.*** Please click 'Register' and then choose a ticket type that applies to you (TDSB employee or OISE graduate student). After selecting your ticket type, choose 1x ticket and click on 'Checkout' to be guided through the registration process. Your free registration includes the talk, garden tours and light refreshments. Your registration is only confirmed when you have fully completed the check-out process. You will receive an email confirmation from Eventbrite once your registration is complete (if you do not appear to have received this after registering, please check your junk/spam folder - TDSB email accounts often automatically flag Eventbrite emails as spam).
Questions or issues with your registration?
If you have any issues, questions or need to cancel your registration, please contact Alysse Kennedy at alysse.kennedy@tdsb.on.ca
NOTE: This event has very limited capacity. If you register but are no longer able to attend, please cancel your registration on Eventbrite or contact us to cancel ASAP (by June 7th) in order to allow someone from the waitlist to attend.
We look forward to hosting you on June 14. Can't wait to learn more? Check out this 8-minute "Education & Green Cities" YouTube video showcasing DMCI!