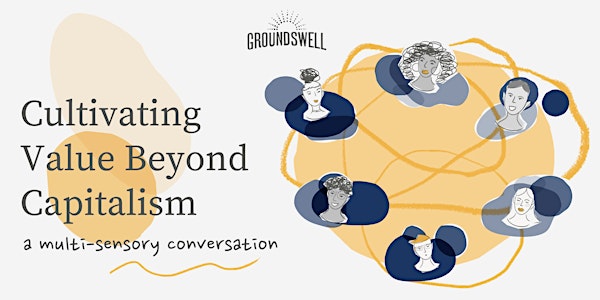 Cultivating Value Beyond Capitalism : a multi-sensory conversation
How can we cultivate alternative forms of value so that we can be in better relationship with ourselves, our work, and our communities?
Refund Policy
Contact the organizer to request a refund.
Eventbrite's fee is nonrefundable.
About this event
We are already cultivating so many forms of value in our lives, even while living under an economic system that counts money as the singular measure of value. Capitalism connects time to money in uncomfortable ways, values certain kinds of work more than others, and discounts so much of what we need to survive and thrive. Let's come together and explore how we can divest from capitalism and invest in more of what matters.
What forms of value are we already cultivating that help us survive and flourish? What forms of value connect us meaningfully to each other and all living things? And how can these help us build alternative futures of work for ourselves and the communities we belong to?
In this virtual event, you're invited to imagine and envision with all your senses: How can we cultivate alternative forms of value so that we can be in relationship with ourselves, our work, and our communities, in ways that work for us?
You'll experience a multi-sensory conversation celebrating alternative forms of value that our special guests are already cultivating in their work. You're invited to create your own multi-sensory environment while you attend: surround yourself with music, food, art, scents, textures, plants, people - whatever makes you feel full of the wealth that matters. Come to listen, watch, learn, and imagine futures where value means so much more than money.
Your hosts for the event are Samita Manhas, Groundswell's Director of Programs, and Paola Qualizza, Groundswell's Director of Ecosystem Development.
- - - - - - - - - -
Land and Location
Groundswell is situated on the stolen and occupied territories of the xʷməθkwəy̓əm (Musqueam), Skwxwú7mesh (Squamish), and səlil̓wətaʔɬ (Tsleil-Waututh) Nations. We will learn where each of our speakers are joining us from during the event, and we also invite you to share about the land and territories where you are situated.
- - - - - - - - - -
Accessibility
This event will be happening via Zoom Webinar. Once you register for the event, you will receive the link to join.
Live captioning will be provided during the presentations. Live captioning is sponsored by Community Futures - Entrepreneurs with Disabilities Program.
All are welcome and if you are able to, you have the option to make a donation. All proceeds will go towards future events.
----------
Featuring special guests:
Daniela Guerrero-Rodriguez
I am a queer Latinx-Canadian femme living on the ancestral lands of the Musqueam, Squamish and Tsleil-Waututh peoples in what is colonially known as Vancouver. I am of African, European and Indigenous ancestry.
In my work I seek to empower people to engage more confidently in social change through education, creativity and community. I offer education on topics that we need to decolonize in our liberation journey, and coaching support for folks that want to integrate this education into their lifestyles, in order to create the change we want to see in our communities.
Deirdre Pinnock
Deirdre is a talented Rug Hooker, passionate mental health advocate, aspiring entrepreneur, and self-identified 'woman of colour' based in Vancouver, BC. She is passionate about fusing different materials, vivid colours and therapeutic qualities into her work with a dash of playfulness.
She is best known for her yarnbombing of positive and uplifting messages such as "be kind" and "you are enough" into public fences around the city as well as performs stand-up comedy about being Black in Vancouver. Her work also expands to hosting workshops, guest speaking on the issue of diversity through art, and her memorial pieces known as Hearts of Honour, which act as a living memory that allows families to grieve their loss. Courtesy of CTV, she is publicly known as the Vancouver Yarnbomber. 
The purpose behind Deirdre's art revolves around self-healing and the empowering ability to battle through her grief, anxiety and pain. Deirdre also weaves the current  political climate into her Fiberart and confronts the issues in a very whimsical and humorous way.
Nadine Nakagawa
Nadine is a community organizer, listener, activist, and city councillor. She loves doing work that elevates underrepresented voices and that makes deep system change. She is often found doing this work from her seat on city council in New Westminster. She also loves sparkly eyeshadow and wearing flowers in her hair.Nadine has over a decade of activism on issues relating to housing, public spaces, reconciliation, public engagement, public health, and harm reduction, and childcare. For her work in the community, Nadine was named the 2017 Citizen of the Year at the Chamber of Commerce Platinum Awards. She has spent most of her adult life working and volunteering in the non-profit sector and has worked in both municipal and provincial government. Nadine holds a Masters Degree in Interdisciplinary Studies with a focus on communication and leadership.
When not working on community projects, Nadine prances with delight towards patches of wildflowers, is fond of skirts and dresses that encourage twirling, and can be found hugging trees and embracing whimsy. She is also a creative writer, curls at the Royal City Curling Club, and spends time wandering around looking at moss and mushrooms, and snuggling her two cow-patterned cats Bill and Moo.
Nadine is a sought-after speaker on timely, challenging topics. She is a mixed-race settler on the unceded territory of the Hən̓q̓əmin̓əm̓ speaking peoples.
Norm Leech
Norm has been the Executive Director for the Vancouver Aboriginal Community Policing Centre (VACPC) since May 2016, and is a frequent speaker, facilitator, and storyteller, about the experience of Indigenous peoples in Canada.
Norm shares about the Indigenous Worldview and ways of being and knowing and communicating, and sharing about Indigenous relations including genders, the written word, and with the land.
He is trained in facilitation with the Canadian Human Rights Foundation (now Equitas) and with St'at'imc Restorative Justice in Lillooet. Norm was the Facilitation Specialist with the National Centre for First Nations Governance and worked with communities across Canada to develop Indigenous governance models and constitutions. For the VACPC, Norm facilitates the cultural sessions for Police Academy and Sheriffs Academy at the Justice Institute. He has been teaching Indigenous Tools For Living (ITFL) across Canada and online. ITFL is built upon Indigenous Focusing Oriented Therapy (IFOT), which is an Indigenous, body-centred and land-based approach to trauma.